Lifetime Is Dramatizing Another True Crime With 'Secrets of a Marine's Wife'
What's the true story behind 'Secrets of a Marine's Wife'? Learn about the murder of Erin Corwin before the premiere of the Lifetime TV movie.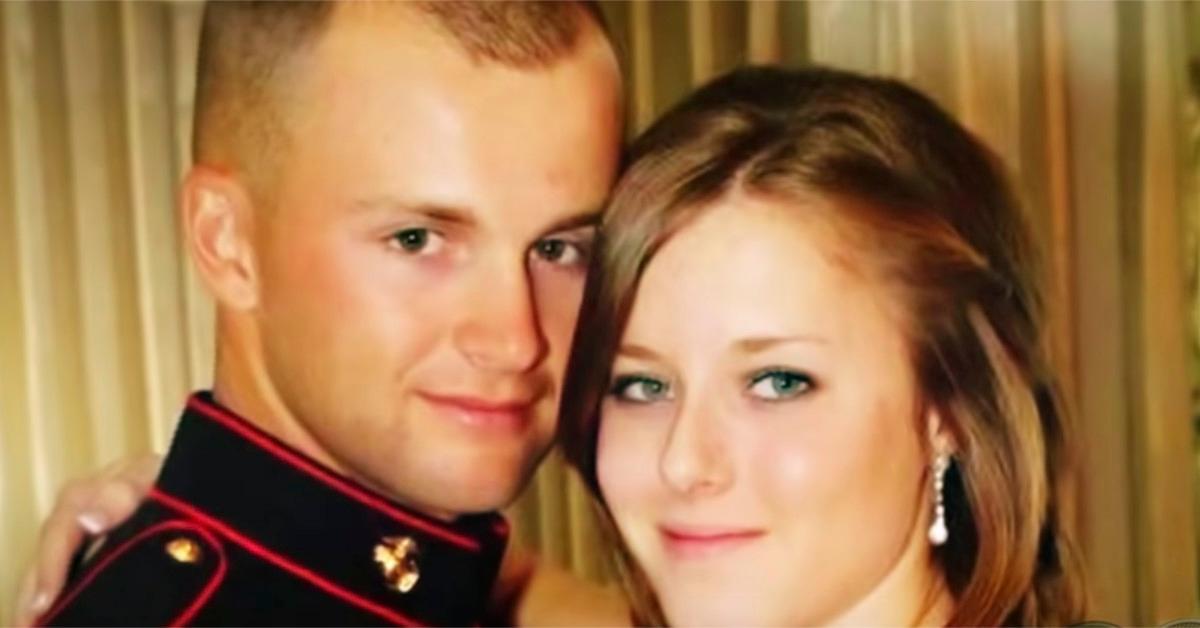 The plot of Lifetime movie Secrets of a Marine's Wife boasts a compelling synopsis. It summarizes: "19-year-old Erin Corwin (Sadie Calvano) … was married to U.S. Marine Corporal Jon Corwin (Evan Roderick) and expecting her first child when she suddenly went missing. Erin's disappearance sparked a grueling search led by family, friends, and local law enforcement in the extreme conditions of the Joshua Tree National Park until her body was found … at the bottom of an abandoned mineshaft."
Article continues below advertisement
Lifetime continues: "Suspicions mounted quickly in the tight-knit Marine community, and residents began to wonder if the killer was one of their own. In their investigation, detectives uncover a friendship turned illicit relationship between Erin and her neighbor, Marine Christopher Lee (Tom Stevens), which consumed them both and called into question the paternity of Erin's baby. Was this a motive for murder? Who was responsible?"
Naturally, folks have wondered: Is it based on a true story?
Is 'Secrets of a Marine's Wife' based on a true story?
Yes, Secrets of a Marine's Wife is based on a gruesome true story.
Erin went missing in June 2014, and her body was found nearly two months later. That August, Lee was arrested in Alaska where he and his family had moved, according to The Desert Sun. Prosecutors argued that he and Erin had an affair, and he killed her to cover the relationship. And officials also said Erin was pregnant with Lee's child.
Article continues below advertisement
At a November 2016 criminal trial in San Bernardino County, Calif., Lee testified that he killed Erin in a fit of rage. "I'm no longer scared to tell the truth," he said, per the newspaper. "People have to know what I did."
He claimed Erin confessed to molesting his daughter.
In his testimony, Lee said he took Erin out to the desert for a surprise, and her friends said that she thought he was going to propose to her.
In the desert, however, Lee approached Erin from behind and strangled her with a piece of rebar for at least 5 minutes before pushing her body down a mineshaft and igniting the space, per ABC7.com.
Article continues below advertisement
But Lee also claimed that he was angry because Erin had admitted, in a conversation near that mineshaft, to molesting his daughter. "I made the decision to kill her," he added in his testimony. "I was controlled by the anger. The hate I felt that day, it was something I never want to experience again."
Article continues below advertisement
He went on: "I was afraid to tell the truth and thinking I could get away with it. I was still really angry at the time, I didn't want anyone to find her then," Lee said. "I'm not angry anymore, and I'm no longer scared to tell the truth. This is something that I have to do. I have to let everyone know what I did and accept the punishment that they give me for it."
Lee is serving a life sentence for first-degree murder.
Later that month, Lee was found guilty of first-degree murder, and he was sentenced to life in prison without parole, as ABC7.com reported at the time.
Article continues below advertisement
At the trial, Erin's loved ones spoke about the lasting trauma of her murder. "When a family loses someone so senselessly, every little thing takes on a new meaning," DeeAnna Heavilin, Erin's sister-in-law, said at Lee's sentencing. "I'll never be able to hear the words 'strangle,' 'propane,' 'rebar,' or 'mine' without being brought back into the hell that we've been thrust into for the past two years."
Secrets of a Marine's Wife airs on Saturday, June 19, at 8 p.m. EST. on Lifetime.
If you need support, call the National Sexual Assault Hotline at 1-800-656-4673 or visit RAINN.org​ to chat online one-on-one with a support specialist at any time.
If you or someone you know is experiencing domestic violence, call the National Domestic Violence Hotline at 1−800−799−7233.