Selena Gomez and Her Sister Aren't Here for the Hate, Thank You
Selena Gomez faced body shaming following her appearance at the 2023 Golden Globes, and she shut the haters down with an Instagram Live video.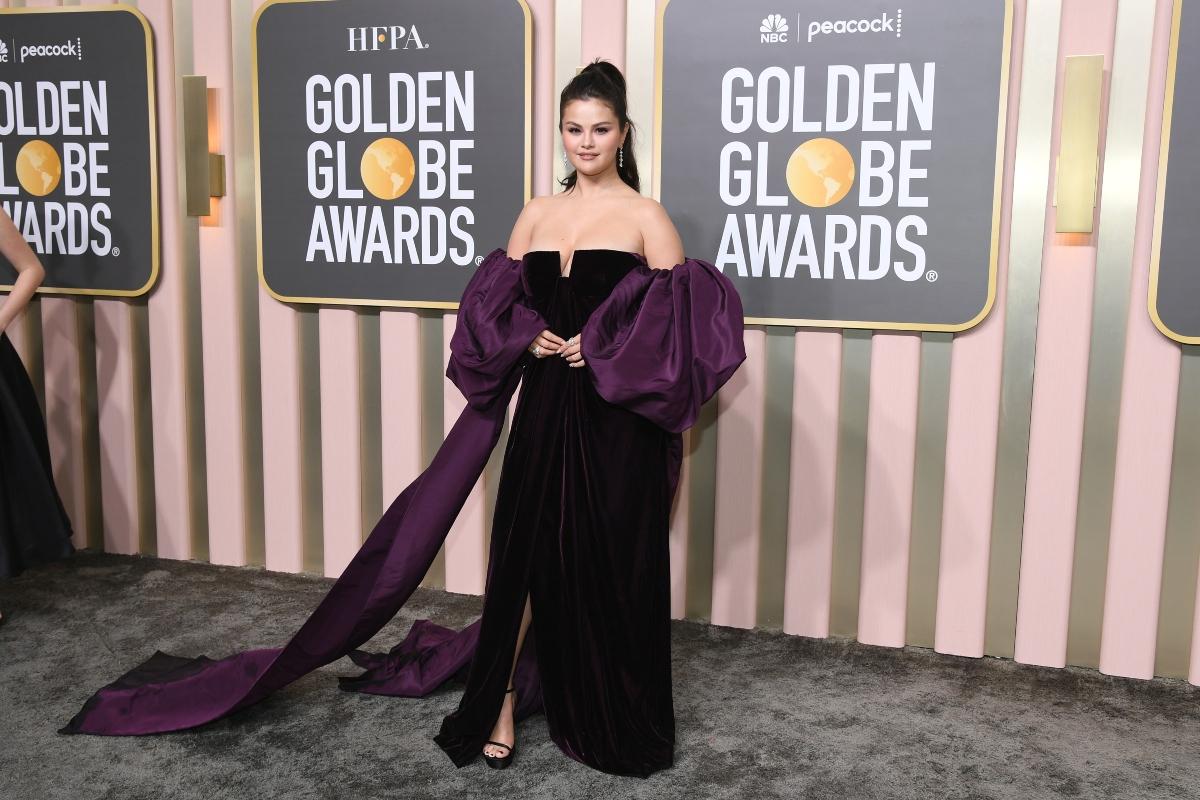 Singer and actor Selena Gomez, 30, has grown up in the public eye and over the years has been faced with her fair share of criticism, from her relationship choices to comments on her physique. Unfortunately, it appears the "My Mind and Me" songstress has once again fallen victim to body shaming.
Article continues below advertisement
Selena Gomez faced body shaming after appearing at the 2023 Golden Globe Awards.
Selena stepped onto the red carpet on January 10 for the 2023 Golden Globe Awards – alongside her date and little sister, nine-year-old Gracie Elliot Teefey – as she was nominated for best performance by an actress in a television series, comedy or musical thanks to her role as Mabel Maura in Hulu series Only Murders in the Building.
Following the event, the Disney channel alum – who stunned in her plunging black velvet Valentino Haute Couture ensemble featuring large purple off-the-shoulder sleeves – took to Instagram Live to open up about her alleged recent weight gain.
Article continues below advertisement
"I'm a little bit big right now because I enjoyed myself during the holidays," she shared, before turning to Gracie and asking, "Right?" The little one playfully responded with, "Yeah." Selena concluded with, "But we don't care," – seemingly hitting back at the body shaming comments that were issued on social media throughout the event.
Article continues below advertisement
Selena Gomez is no stranger to body shaming, unfortunately.
Back in April 2022, the Only Murders in the Building star lashed out on TikTok once again under similar circumstances. "So I be trying to stay skinny, but I went to Jack in the Box and I got four tacos, three egg rolls, onion rings and a spicy chicken sandwich," she quipped at the time. "But honestly, I don't care about my weight because people b--ch about it anyway: 'You're too small.' 'You're too big.' 'That doesn't fit.' 'Meh meh meh meh.'"
"B--ch, I am perfect the way I am," Selena continued. Moral of the story? Bye." We absolutely love her confidence!
Article continues below advertisement
Selena Gomez has taken social media hiatus in the past due to body shaming and other harsh criticism.
Selena has always been open with her fans – from her ongoing battle with auto-immune disease Lupus to living with bipolar disorder – and admitted in the past that the negative comments made about her online take a toll, which lead her to take a four-and-a-half year social media hiatus.
Article continues below advertisement
"I understand how powerful the internet is, and in so many ways it's done the best things for the world," she said last April on Good Morning America, however recalled, "I woke up one morning and looked at Instagram, like every other person, and I was done. I was tired of reading horrible things. I was tired of seeing other people's lives. After that decision, it was instant freedom.
Selena shared elsewhere in the interview that staying off those platforms led her to feel "happier, more present, and [connected to more people]."
Article continues below advertisement
The actress' 2023 Golden Globes nomination was her first ever Golden Globe nomination and was featured alongside fellow nominees Kaley Cuoco, Jenna Ortega, and Jean Smart. It was Abbott Elementary star Quinta Brown who took the trophy for this category.