Shauna Rae Talks Past Cancer Treatment and Early Prevention Tips (EXCLUSIVE)
The 'I Am Shauna Rae' star talked about her previous cancer treatment, early prevention, and partnership to help children battling the illness.
TLC's I Am Shauna Rae follows its titular star, Shauna Rae Lesick, as she navigates being, according to the show's bio, a twenty-something "stuck in a child's body."
On the show, the 23-year-old reality star detailed the perils of shopping, dining, and dating each week when most of the world initially thinks you're 8 years old.
Article continues below advertisement
Shauna Rae has also shared the reason behind her small frame. She received a cancer diagnosis at a young age that changed her life forever and still affects her today.
In September 2023, Shauna Rae spoke exclusively with Distractify in partnership with My Special Duck Aflac for Childhood Cancer Awareness Month, which began the same month.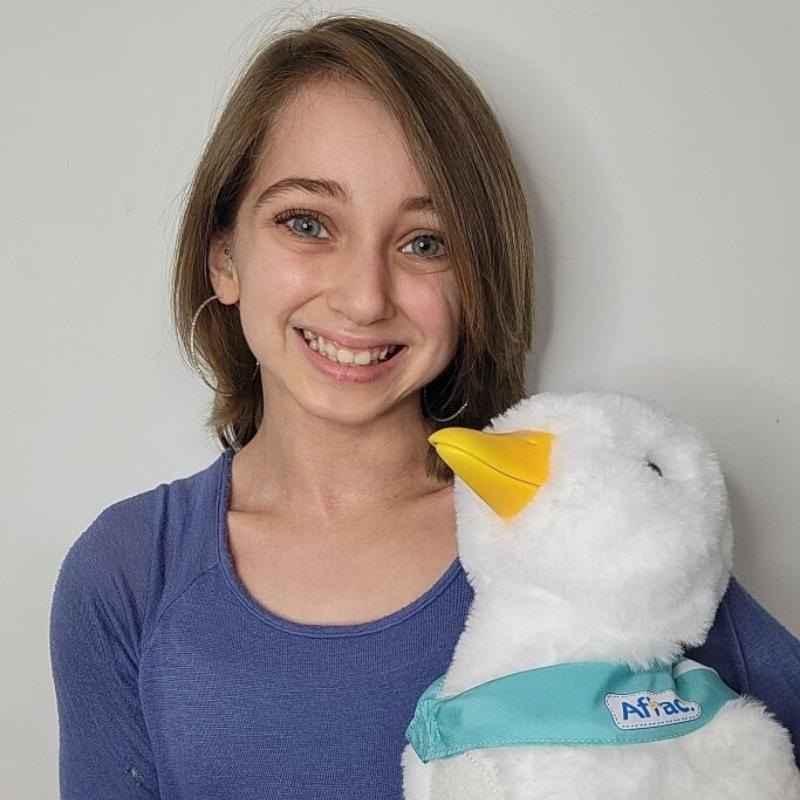 Article continues below advertisement
Shauna Rae says she "felt very opposite of optimistic" while undergoing cancer treatment as a child.
Those familiar with I Am Shauna Rae know she has no problem sharing how fortunate she is to be alive after nearly losing her life before it could begin.
Doctors diagnosed Shauna Rae with rare brain cancer at six months old. Upon her diagnosis, she received treatment that ultimately put the cancer in remission.
However, the treatment affected her height when her pituitary gland was left almost dormant and stunted her growth.
Shauna Rae's current height is 3 feet and 10 inches tall, the average size of most 8-year-old children. Shauna Rae exclusively told Distractify that while the treatment saved her life, she recalled the dwarfism that came afterward, causing a "huge emotional toll" that was difficult to overcome.
Article continues below advertisement
"Being diagnosed with cancer at six months and later diagnosed with pituitary dwarfism and having that physical impact happen, it was a huge emotional toll on myself," she told us. "I felt very alone in the battle, I felt very opposite of optimistic; I was very anti-survival."
Article continues below advertisement
The TLC star said her family, which includes her mother, Patricia Schrankel, step-father Mark Schrankel, and sisters Tara Lesick, and younger sisters Rylee and Morgan Schrankel, tried to keep Shauna Rae's treatment as "positive" as possible.
However, even with their support, Shauna Rae said they couldn't fully grasp what she was going through.
"They really tried to make sure that they were there for me emotionally," Shauna Rae said of her family. "But what they didn't understand is that I wasn't just going through physical tools, I was going through emotional, social, and mental tools that were all playing an impact on my survival and my treatments and everything that I was going through when it came to my medical life."
Article continues below advertisement
Shauna Rae explains that "there's always early prevention" available for those at risk for cancer.
After enduring her cancer battle, Shauna Rae uses her reality TV fame to spread the word about cancer prevention and make another child's cancer experience easier with My Special Aflac Duck.
According to a press release, the interactive video game was "created in partnership with Empath Labs, psychologists, and child life specialists" to "help children express their emotions, normalize medical procedures, and provide comfort and support while they experience the unthinkable."
Article continues below advertisement
"It really helps those kids not only know that their emotions are valid, they're normal to have, but also helps those parents know how that child is feeling," Shauna Rae said of the partnership.
Article continues below advertisement
Having someone there to validate the emotions children undoubtedly have is something Shauna Rae likely could've benefitted from during her childhood cancer battle. Although she's been cancer-free for over two decades, Shauna Rae tells us the experience is still prevalent today.
"When it comes to cancer screenings, as a previous cancer patient, it never stops," Shauna Rae explained. "You should always know there's always early prevention for people who haven't gone through it," "But cancer screenings, MRIs, scans, all of that I have to get done on yearly checks. When I was younger, and I was in a children's hospital every year, it was a six-month check. [...] [In adulthood] it has become yearly checks. And if I feel iffy about something, then I go to the doctor and get a full check."
Reporting by Gabrielle Bernardini.