TikToker Exposes the Restaurant Secret Behind Sizzling Fajitas and People Feel Betrayed
A viral TikTok has sizzling fajitas fans feeling like the wool's been pulled over their eyes for years.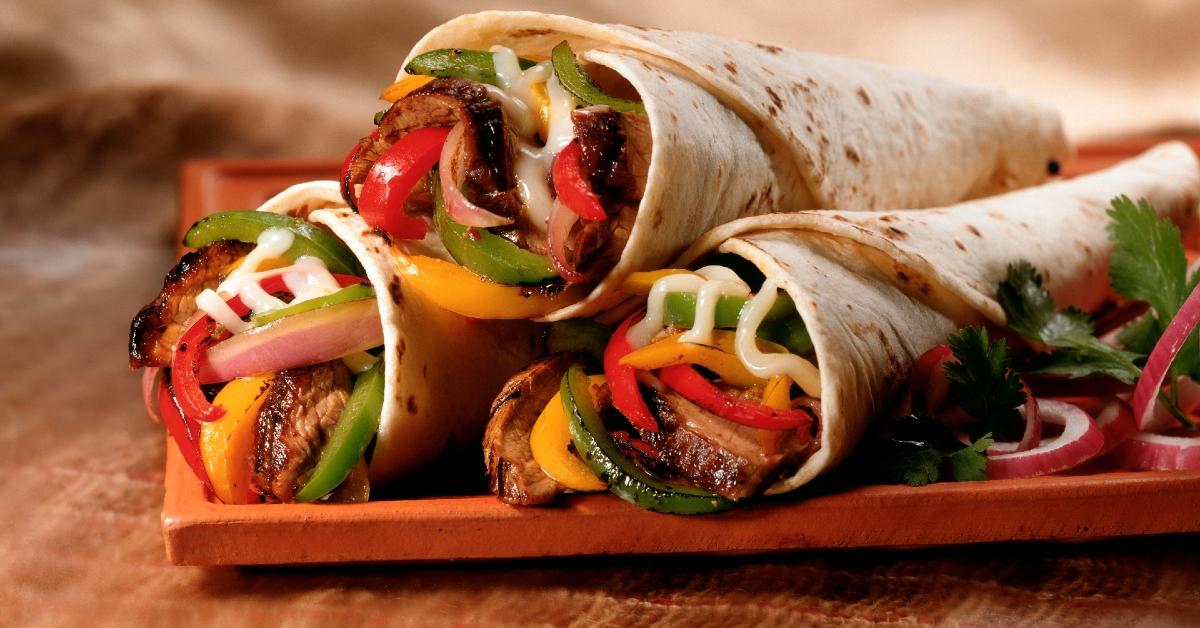 We've all felt food envy whenever we've gone out to eat. You know the feeling, you're sitting there at your table after you've placed your order and then you see a server carrying plates of delicious-looking meals to another group and you think to yourself, "Dang, I should've gotten that instead."
Article continues below advertisement
But the wheels have already been set in motion. It's too late, you've made your choice and you're just going to have to settle for whatever it is that you decided to order.
If it makes you feel any better, however, some of those amazing dishes you see getting carried out on a tray aren't actually as appetizing as restaurants may make them seem.
The biggest culprit? Sizzling fajitas. You see that crackling plate coming out just bursting with juicy goodness, all steamed up and ready to be devoured and you think to yourself, "I'm the world's biggest idiot."
You might want to hold all of that self-deprecating talk, however, until you see this viral TikTok posted by @samlamibrahim24.
Article continues below advertisement
The clip shows a first-person view from a server going into the kitchen to grab a customer's order, which is a plate of Carne Asada. Before the server leaves, the cook sprinkles some water on the hot plate in order to create a steam effect.
Article continues below advertisement

The server then walks through the restaurant past other customers until they finally arrive at the customer, with the plate still sizzling.
Article continues below advertisement

Visually, it's a pretty cool TikTok and a nice departure from the mirthless dance routines performed by kids in trendy street wear, but there were a number of folks who had plenty to say about the sizzling fajita phenomenon.
Article continues below advertisement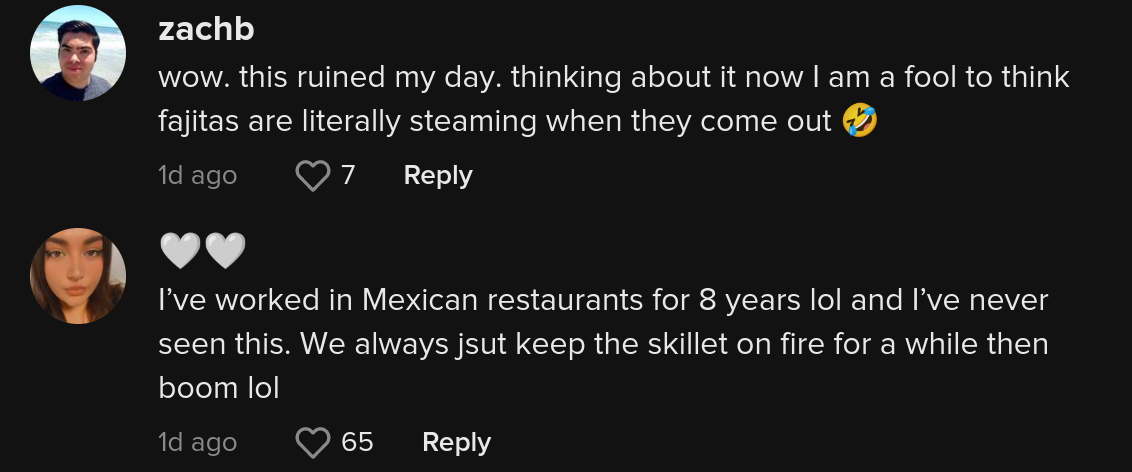 A number of folks were shocked to see that's how the sizzle effect was created, while there were some who said they were happy to learn that snap, crackle, and pop of the hot plate was actually created by the water, this way they could effectively order the meal without being "embarrassed" by all of the attention that they're getting whenever they order it.
Article continues below advertisement

But then there were others who appeared to be irate at this discovery, effectively calling the plate a dinner of "lies" and that they've been duped this entire time to learn that the steam was coming from water poured onto a hot plate and not from the food itself.
Article continues below advertisement

"You mean to my my fajitas isn't making that. I feel cheated," one TikToker wrote.
Another said, "Whole life it's been a lie"
"Fooled me for 34 years. Thank you"
Others predicted that there would be some folks who weren't exactly thrilled that the chef used a water bottle to create the artificial sizzle.
Article continues below advertisement

"Ppl gonna be pressed on the way the sizzle gets started," they wrote in the comments section.
And if you were one such individual who was shocked to learn that the fajitas themselves aren't what's sizzling on the plate, this has been common knowledge for quite some time.
Article continues below advertisement

Mexicali-Blue wrote, "The answer may surprise you, but chilis actually don't make their fajitas sizzle. It's the oil that they're cooked in that causes the sizzling sound."