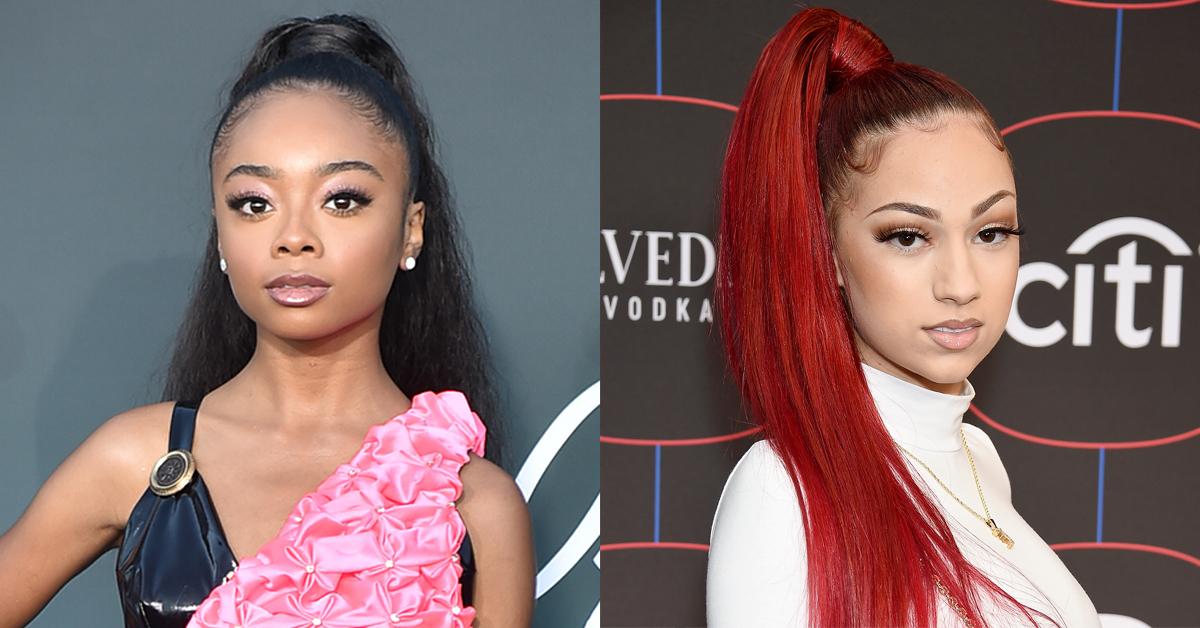 Skai Jackson Is Granted a Restraining Order Against Bhad Bhabie
Disney Channel star Skai Jackson is in the middle of a brand new feud, and this time, it's not with Azealia Banks. Internet personality Bhad Bhabie (Danielle Bregoli) has got a serious bone to pick with the actress, and apparently, it all started with one shady comment on social media. It has escalated to the point where even their mothers have gotten involved. And now Skai has been granted a restraining order against the rapper. But how did it get to this point? Let's start from the beginning.
Article continues below advertisement
Skai and Danielle were allegedly feuding in 2018, but Skai debunked those rumors.
On her Instagram stories, Danielle shared a post that read: "Lil miss Disney better stop the sneak dissing." She didn't call anyone by name, but most of her followers suspected that she was talking about Skai, even though the actress is actually a year older than the rapper.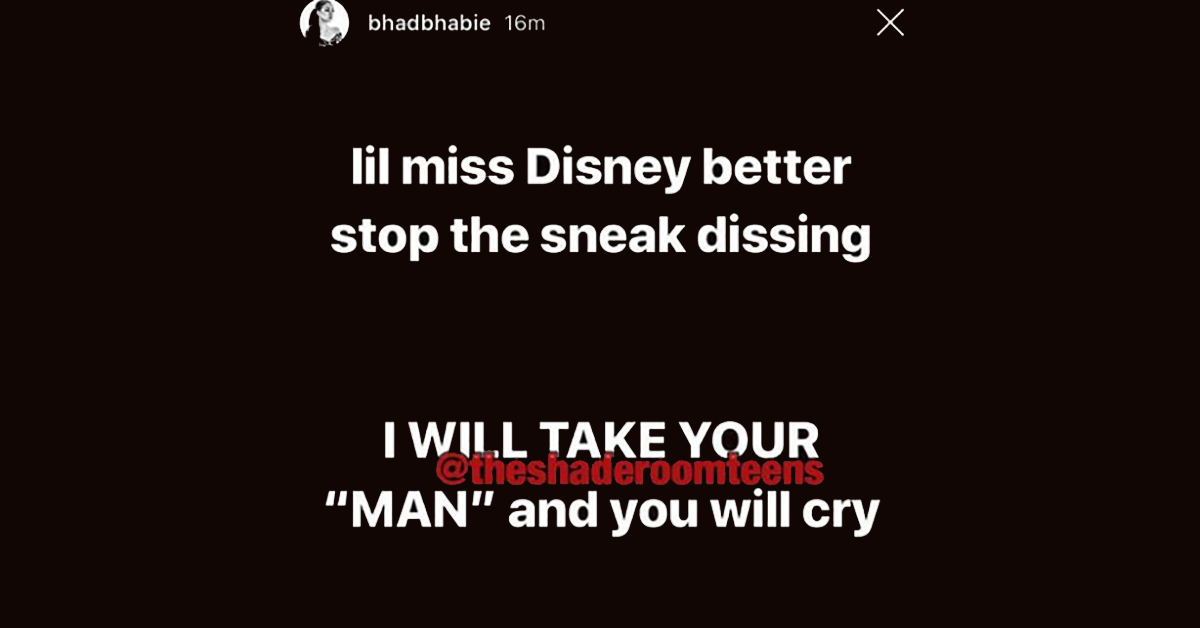 Article continues below advertisement
It's possible that Skai shared a cryptic message to social media around that time, which prompted Danielle to share that post and caused fans to put two and two together. However, it's unclear what the actress might've said to offend her... assuming she was even addressing the rapper.
When Skai caught wind of the rumors, she quickly shut them down and said that she and Danielle were actually "cool." So it seems like their apparent "feud" ended as quickly as it began.
Article continues below advertisement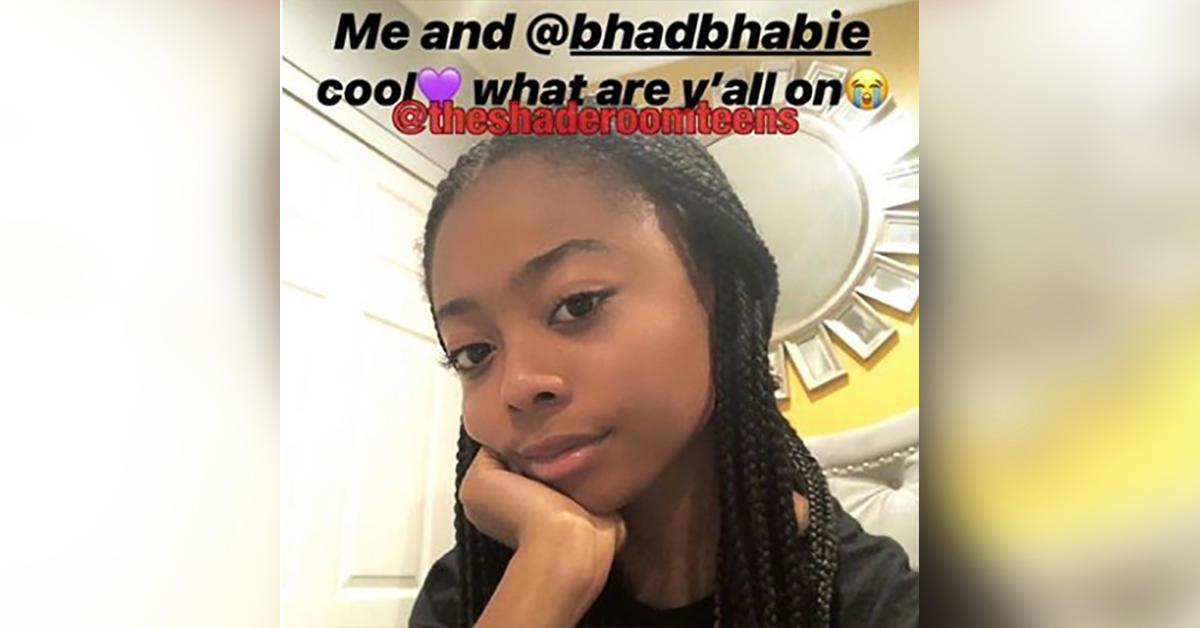 Over a year later, Danielle went on a rant about wanting to fight Skai and threatened her.
Fans assumed that all was good between the two until Danielle took to social media to vent about Skai "talking s--t on her little page again." On her Instagram Story, she posted: "Still can't keep my name out of her mouth, SMH. This Disney thot wanna play… OK baby, let's play then."
Article continues below advertisement
The 16-year-old also livestreamed her entire rant, where she claimed that Skai was obsessed with her, then went on to threaten the actress.
She said: "Why are you so obsessed with me, b---h? I will literally kill you. I don't know why you're not understanding that. You're so small, if I get my hands on you… it's over, you're going to the hospital."
The rapper also claimed that she and Skai had feuded over her ex-boyfriend, NBA YoungBoy, in the past. In another rant, she said: "I'm finna go to jail behind a Disney thot… What is you even doing in these men's DMs? You ain't even like that."
Article continues below advertisement
Things escalated after Skai blocked the rapper on social media.
A few moments after launching her attacks against the 17-year-old, she added to her Instagram Story: "Unblock me you trifling h-- a-- and send me ya addy [address] while you at it."
And in yet another post, she said: "Call me a trouble maker or whatever you wanna call me, but unlike you scary h---, I'm all about my respect and if I feel disrespected imma make it f---ing known."
Article continues below advertisement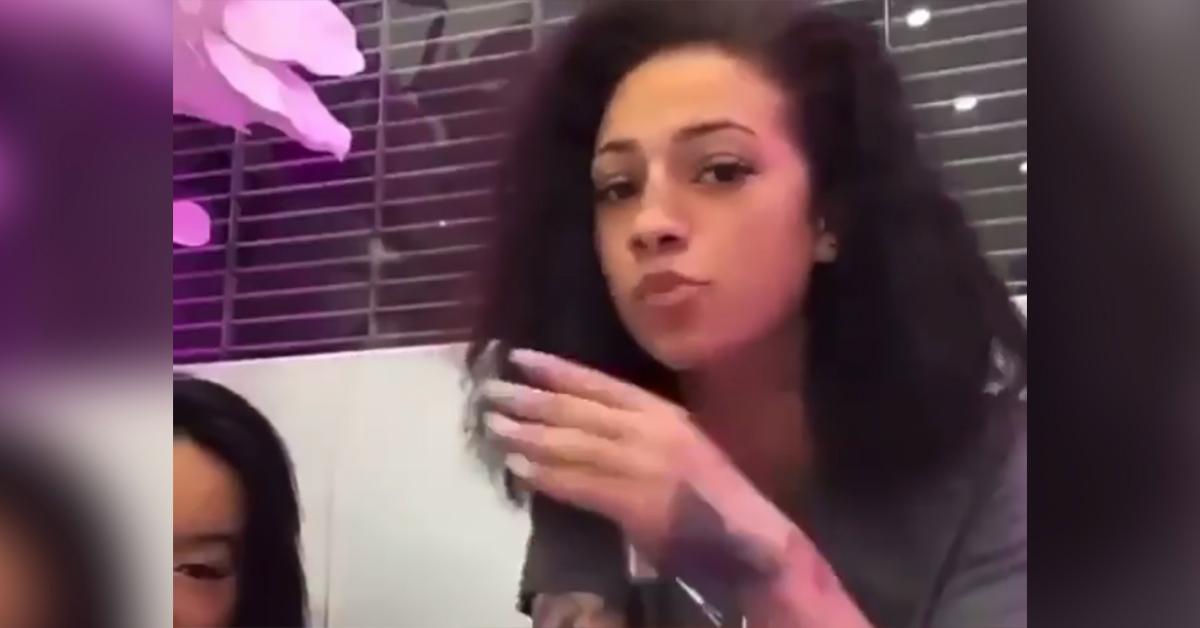 It's safe to say that this feud was mostly one-sided, because after Danielle went off on Instagram, Skai casually shared a tweet about her most recent accomplishments, suggesting that she was completely unbothered. As an added bonus, she also added that she has no time for negativity.
Article continues below advertisement
Skai's mom and Danielle's mom got involved in the feud.
Danielle thought that it would be a smart idea to come at Skai's mom and throw shade, but Kiya Cole wasn't having it. In response to Danielle's comment, she not only demanded that she leave Skai alone, but also suggested talking to Danielle's mother about it.
Article continues below advertisement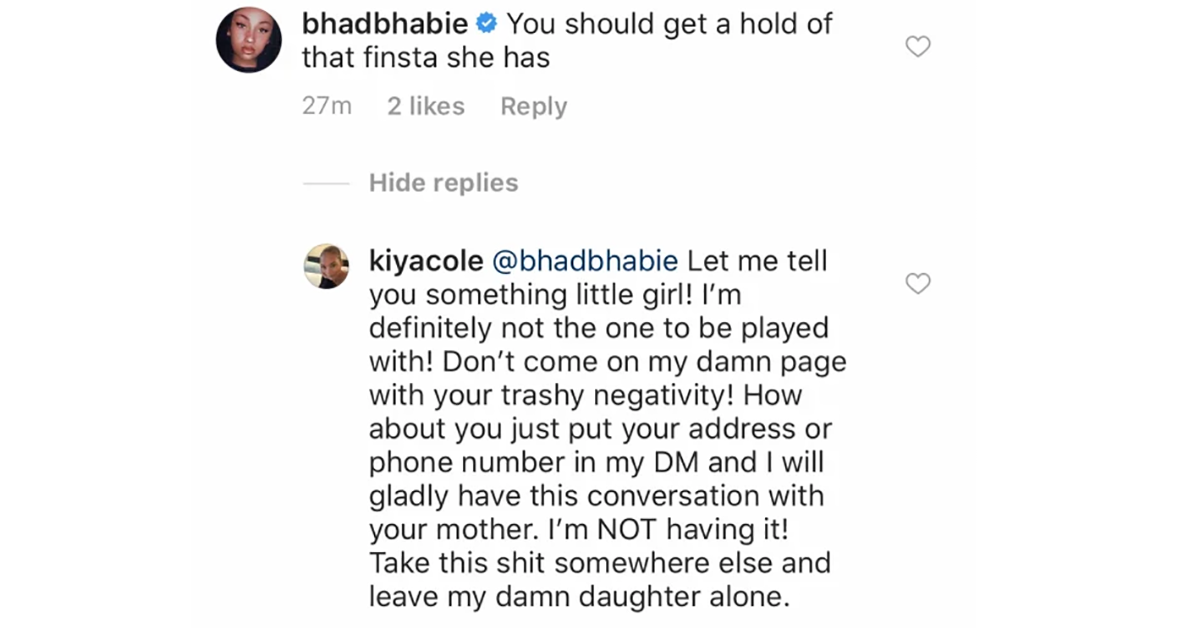 Danielle's mom, Barbara Ann Bregoli, wasted no time in taking up the challenge, because she hopped right into the comments to fire back at Kiya, saying that she should tell her daughter to "stop speaking on mine."
Article continues below advertisement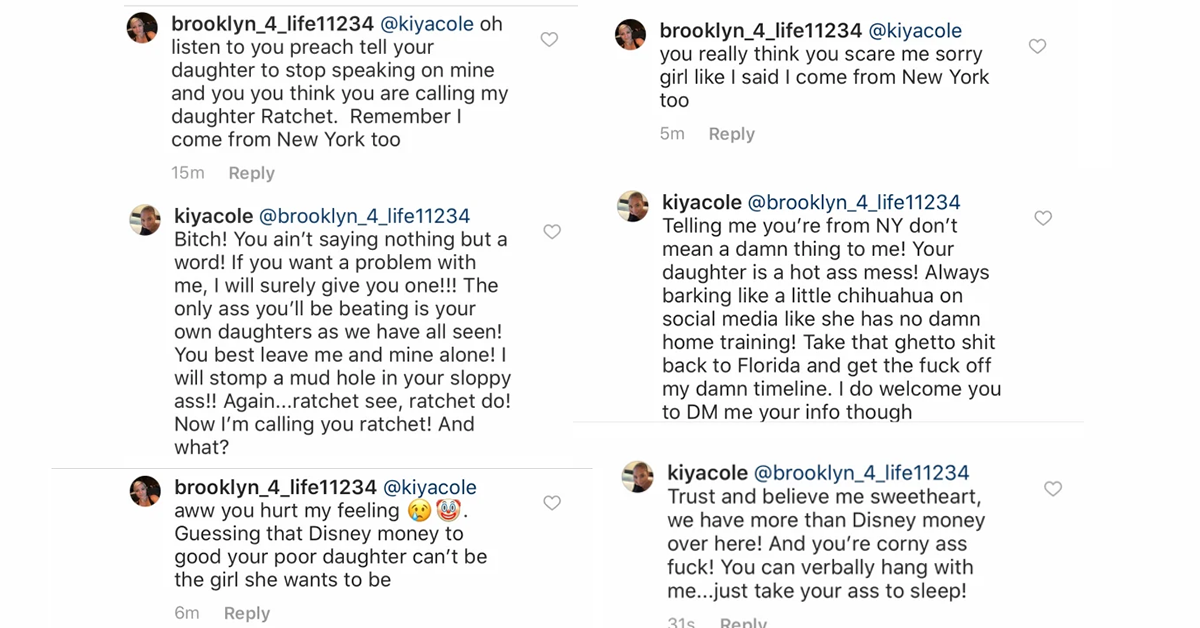 After the heated exchange took place, Danielle said on her Instagram Story: "Bro, this lil girl got her momma coming at me. Wow, she dead a-- that scared."
Meanwhile, her mom actually shared the entire conversation to her page, then proceeded to post a tabloid snapshot of Skai apparently being "exposed." She said: Just found this very interesting @kiyacole.
Article continues below advertisement
Skai filed and receiving a restraining order against Danielle.
Considering that Danielle said she would "literally kill" Skai, the young actress took the threat to heart and filed a restraining order against the rapper. In the filing, she said that she's afraid to leave her house alone and hasn't slept well since the threats started. She's also concerned that Danielle is mentally unstable.
She was granted the restraining order which forces Danielle to stay 100 yards away from her, her home, and her workplace. It also prevents her from contacting her in any way. Danielle responded on Instagram saying, "Go get your restraining order, Imma go get checks," in a post that she somehow turned into a Fashion Nova ad.