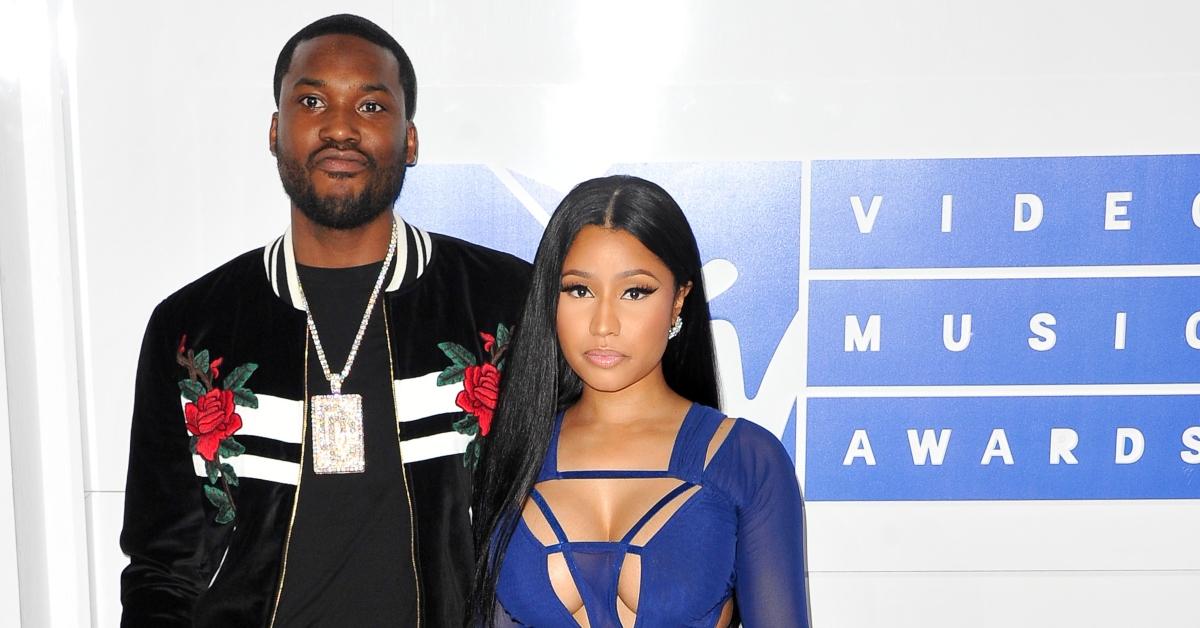 Meek Mill and Ex Nicki Minaj Pop Off on Twitter — Their Beef Explained
Shots fired!
Nicki Minaj and her ex-boyfriend Meek Mill's beef escalated on Wednesday, Feb. 5, when the two engaged in an all-out Twitter war. Taking no prisoners, the self-proclaimed Barbie rapper threw out a lot of accusations against her former lover on social media, tweeting: "You beat your own sister and taped it."
Article continues below advertisement
The 37-year-old continued: "Spit on her & taped it. Kicked me in front your mother and sent her to the hospital. Sucking Drake d--k made u feel tough again. Move on."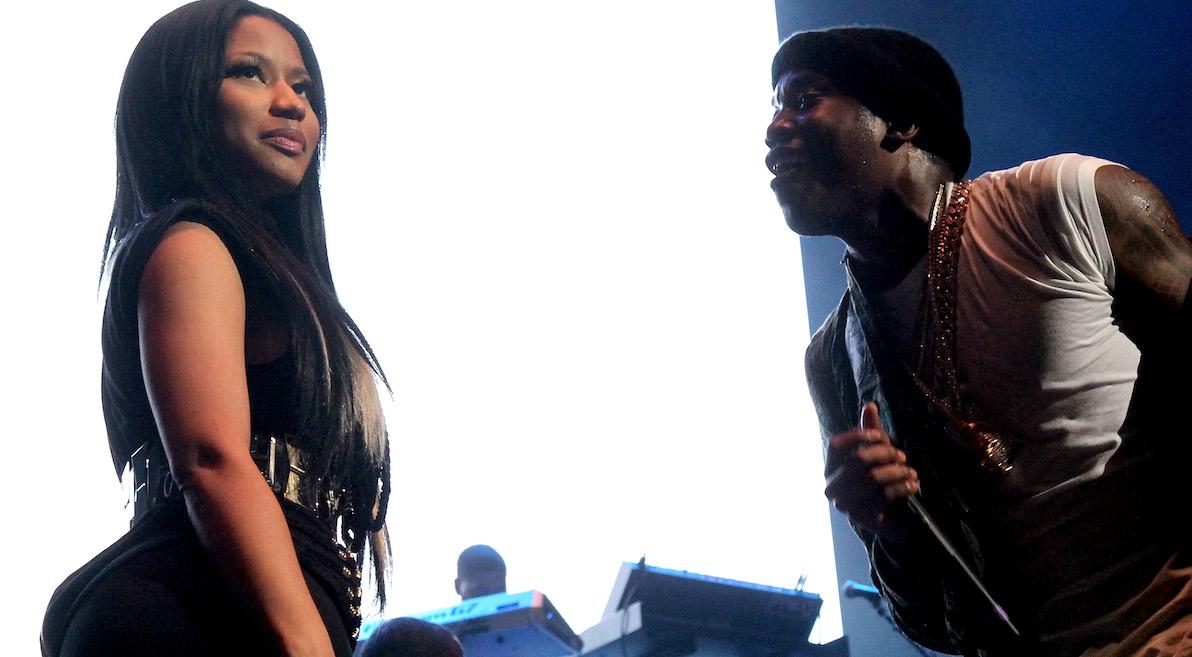 Article continues below advertisement
In another NSFW tweet, Nicki added, "N---a been tweeting bout my man for a year now. Talking bout he went to my page to see him but he was blocked. My n---a, move on. I know ya b---h embarrassed. S---ted ya self in that store when u got pressed tho."
With the two exchanging blows on social media, their ongoing feud got extremely ugly. So, how did it all start?
Nicki Minaj and Meek Mill's Twitter beef explained.
Following Nicki's comments, the Philadelphia born rapper accused his ex of defending her convicted brother, who was recently sentenced to 25 years in jail for raping an 11-year-old girl.
"The only way you can try to kill my career is to say I beat women," Meek hit back on the social media platform. "Talk about ya brother convicted of rape and you been knew and paid for his lawyer ... ya little brother touched that lil girl too! You know I know ... you want me to crash with ya boyfriend and I won't."
Article continues below advertisement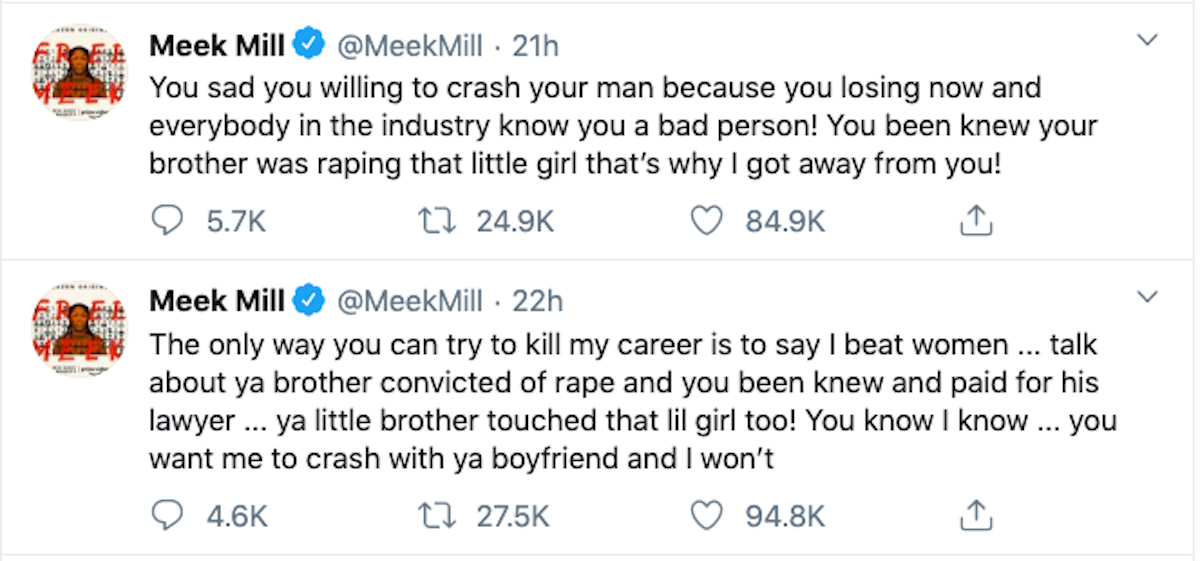 The "Dreams and Nightmares" artist continued responding to Nicki's comments, telling her to "go to church" and that replying to her tweets was "clownish."
He concluded: "For clarification, I don't hit women and I won't let my interviews be filled with question about her or any situation to do with her when I come out to do press for my new album! No devils tricks."
Article continues below advertisement
Nicki and Meek dated for two years before breaking up in 2016.
Following their split, the two would exchange quick jabs at one another via music or social media. In 2017, Meek called out his ex in his 2017 song "1942 Flows."
Nicki returned the favor in her 2018 song "Barbie Dreams," rapping, "Meek still be in my DMs, I be havin to duck em/ I used to pray for times like this..face a-- when I f--k em."
Article continues below advertisement
Though, in a Vulture interview at the time, Meek claimed he was not hitting his ex up.
While the successful rappers have continued to make sly comments about the other in their music, their simmering beef started to bubble over. Last month, TMZ posted a video of the former couple and Nicki's husband Kenneth Petty engaging in a screaming match at a West Hollywood store.
Nicki's husband Kenneth Petty also has a criminal record.
Nicki and her childhood friend Kenneth officially tied the knot in October 2019 after about a year of dating. However, Nicki has had to defend her relationship after it was revealed that Kenneth is a registered sex offender and was sentenced to 10 years in prison for a manslaughter charge. He served only four after pleading guilty.
Article continues below advertisement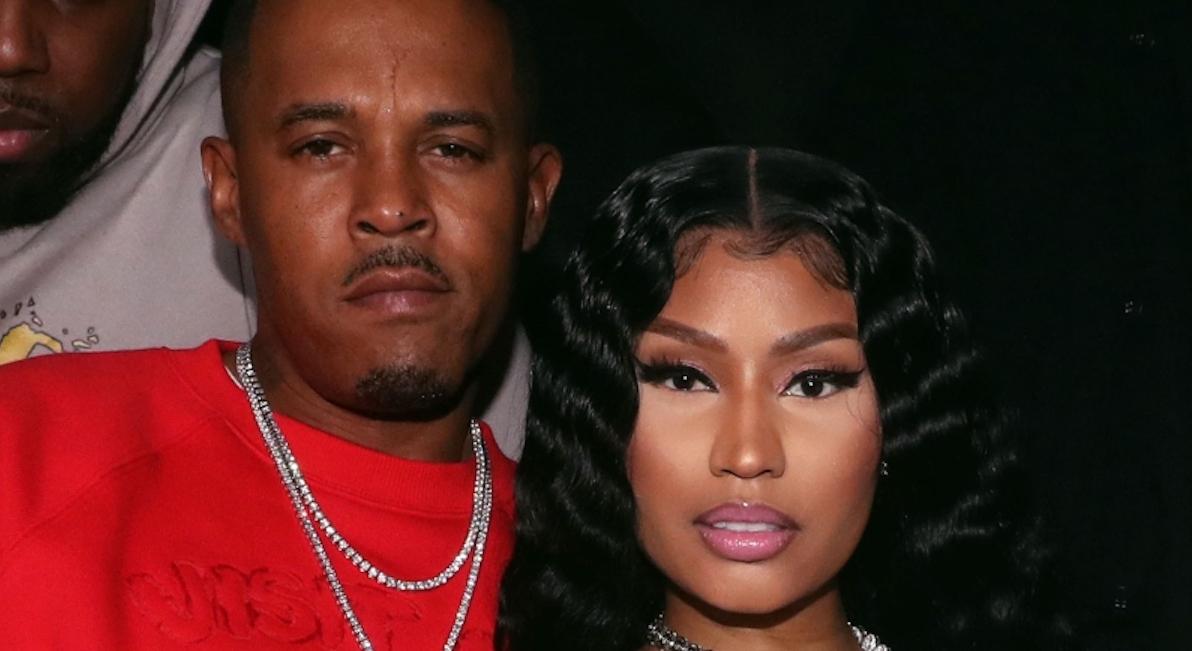 Meanwhile, Meek is expecting his first child with his girlfriend, Milan "Milano" Harris.
Though both Nicki and Meek have since moved on, it doesn't seem like they will ever make amends...