Billie Eilish and That "Cash Me Outside" Girl Clearly Have a Complicated Relationship
What is Billie Eilish and Bhad Bhabie's relationship? After sparking dating rumors and confirming they're friends, Bhad Bhabie called out Billie.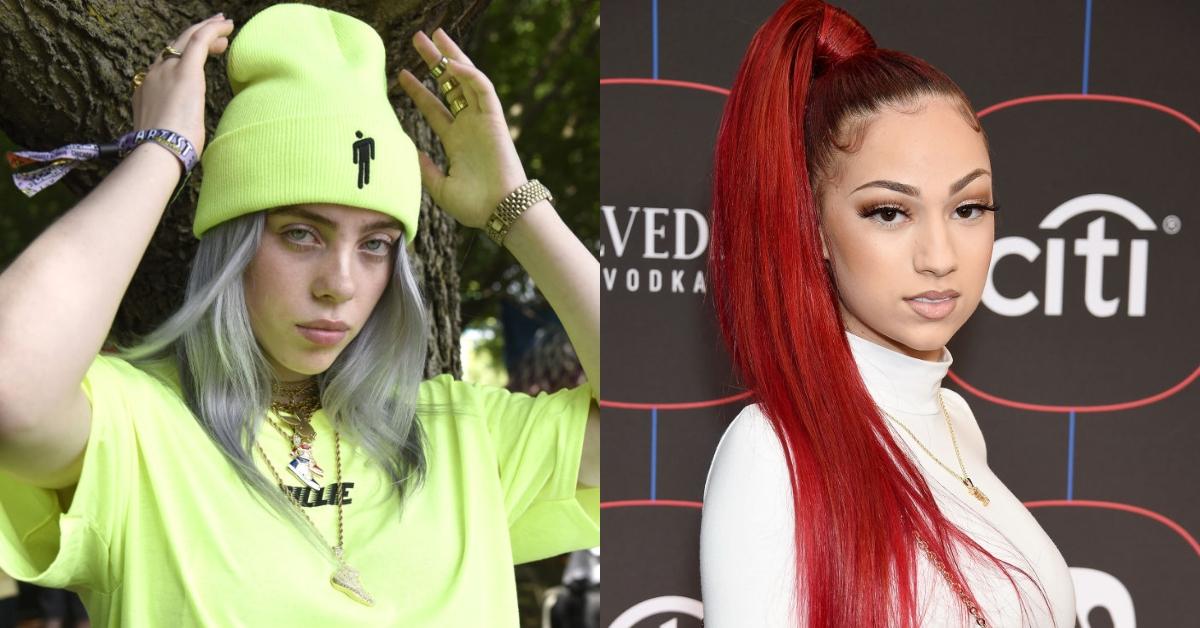 Relationships are ever-changing, especially in the world of teenage girls... and one that we seriously cannot keep track of is Billie Eilish and Bhad Bhabie (aka Danielle Bregoli, aka the infamous "cash me outside" girl who gained fame on Dr. Phil). A while back, rumors sparked that the two teens were reportedly dating, however, both parties confirmed that they were simply BFFs.
Article continues below advertisement
Article continues below advertisement
Billie Eilish and Bhad Bhabie's friendship started on Instagram.
Like many friendships these days, Billie's and Bhabie's started a few years ago on the World Wide Web. The two teenagers had apparently met through Instagram, and had continuously direct messaged each other before officially meeting face-to-face on FaceTime, Bhabie explained in an interview with Billboard. Sadly, the first time they met in person was on the day that XXXTentacion was shot in June 2018.
On the day of the late rapper's death, Bhabie and Billie got together to listen to XXXTentacion's music all day, before taking a much-needed trip to Wingstop together. From that day forward, the two artists apparently hung out pretty regularly, and posted on each other's social media pages publicly.
Article continues below advertisement
Rumors they were dating sparked later that year.
In July 2018, rumors began flying that Bhabie and Billie were dating, according to Nylon. Maybe it was the way they appeared to facetiously flirt on Instagram, or maybe, people were just being judgmental. Either way, fans were convinced the two ladies were more than friends, but they shot that rumor down pretty quickly.
Article continues below advertisement
A representative from Billie's team clarified that the girls were not in any sort of relationship, and Billie proceeded to address the rumors by posting a photo of herself to social media, with the caption: "i'm not dating danielle y'all stupid that's my baby sister." So clearly, y'all had the wrong idea.
Article continues below advertisement
Now, it seems like they might not be friends anymore.
Friendships come and go, and it appears that Bhabie and Billie's friendship has set sail. According to BuzzFeed, Bhabie was apparently answering fans' questions on Instagram Live, and in response to a question about Billie, Bhabie had some seriously dirty laundry to air out about her seemingly former friend.
"I think I'm friends with Billie. I don't know if Billie is my friend..." she started. "Every time I DM her and give her my number, she just doesn't texts me [sic]."
"I guess that's what happens when b---hes get famous. It can be like that, I'm not trippin,'" she continued. "I know who my real friends are."
Whoah. Shade!
Article continues below advertisement
It doesn't seem as though any sort of blowout took place between Billie and Bhabie (which is a total shocker with the testy Dr. Phil star), but it seems like things are fizzling out between them. Billie probably is busy, but if she hasn't responded yet — we'll be waiting if she does.