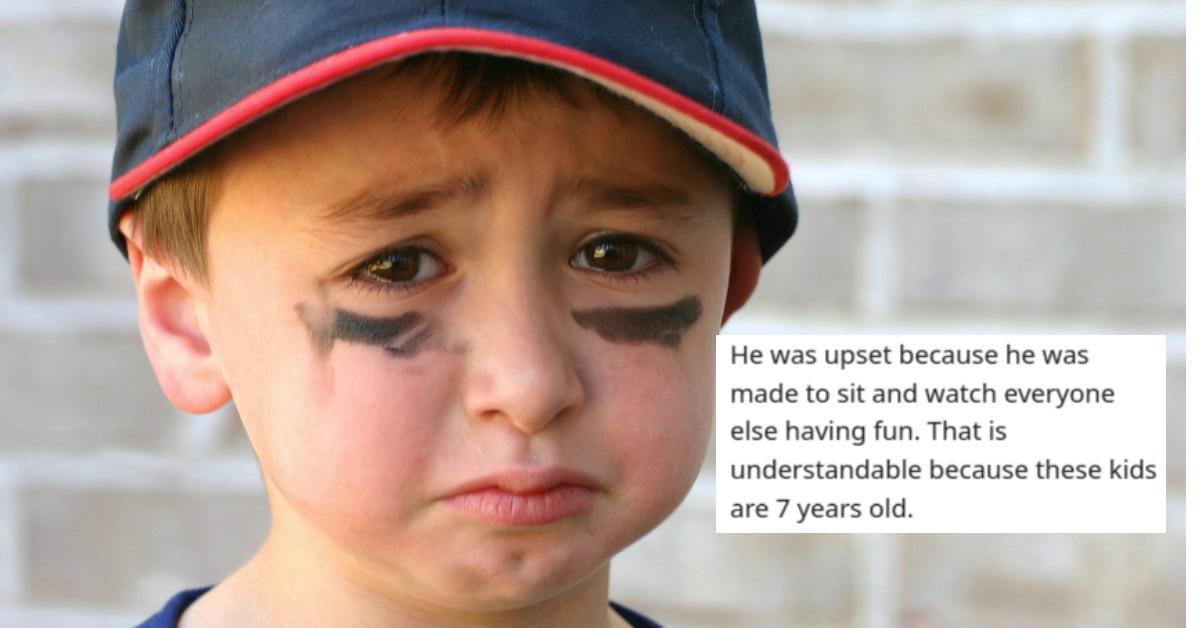 Parent in Shock Over School's 'Cruel' Field Trip Punishment of First Grade Student
A parent wrote about a troubling story on Reddit: their first-grade son's teacher taught them a "lesson" by forcing them to go on a class trip and watch other kids play while they completed a workbook packet.
People are outraged at the way this teacher handled a "punishment" of a first grade student with ADHD, and it could lead to some potential legal issues with the local school board.
Being a teacher isn't an easy job by any stretch of the imagination. Overworked and underpaid, they're entrusted with a wide variety of children that each have distinct learning styles and personalities. It isn't easy work.
Article continues below advertisement
Sometimes a teacher won't handle something the correct way with your child. They might snap or be a bit too harsh in their criticism. That's understandable, I can give mulligans for that and I think that everyone deserves a second chance. However, when a teacher does something that could potentially endanger the life or mental well-being of my kid, all bets are off. Especially when there are legal implications.
That's what a bunch of people are telling this Redditor who posted their story about the way their first-grade son's teacher handled a "punishment" for the 7-year-old student.
Article continues below advertisement
While I can't speak for the parent who wrote this post, it seems as if they're portraying their kid in the best possible light and maybe mitigating the extent of their behavioral issues. That said, their son has a valid excuse: he's diagnosed with ADHD. Kids are also naturally rambunctious and don't like to sit still and be told to be quiet while lessons are going on, so school might as well be a straitjacket for some.
Article continues below advertisement
I know that's the case with me when I was younger, so I totally get where this parent's coming from.
To their credit, they didn't protest or wax on about the injustice of their child being barred from attending the school trip because they were only a few points shy of the reward. The parents accepted the fact that their kid didn't earn enough points to go on the trip to the skating rink so they didn't pack a signed permission slip or send in any money.
Article continues below advertisement
The teacher still brought the "misbehaving" student on the school trip but was not allowed to play and interact with his classmates,. Instead he was seated with the other kids in plain sight and given a work packet to complete.
It understandably upset the parent, because they weren't aware their child was taken out of school in the first place and they never signed a permission slip authorizing his removal from school grounds.
Article continues below advertisement
To make matters worse, forcing a 7-year-old child with a condition like ADHD to be bored out of their mind and to watch other kids having a blast is a bit sadistic, no?
The child's parent reached out to the teacher and the school's principal but has yet to hear back from them. They wanted to know if they should go to school board, so they asked Reddit if they'd be in the wrong for making a big stink about it.
Article continues below advertisement
And the majority of people who read their story didn't think this parent would be out of line at all in taking this higher up the educational bureaucratic food chain.
Article continues below advertisement
Many pointed out the fact that the permission slip was missing in the first place is cause enough to bring it to the board of education's attention.
What do you think? Does everyone need to just chill out and accept the fact that some kids only learn the "hard way" and that this teacher, due to their experience with the child day in, day out, made the right call?
Or was it really, really messed up for them to do that?