Slick Woods' Baby Daddy Adonis Bosso Is About to Break Into Music
Model and muse to Rihanna, Slick Woods is the definition of iconic. Not to mention she has the most adorable son we've seen. But who's her baby's dad?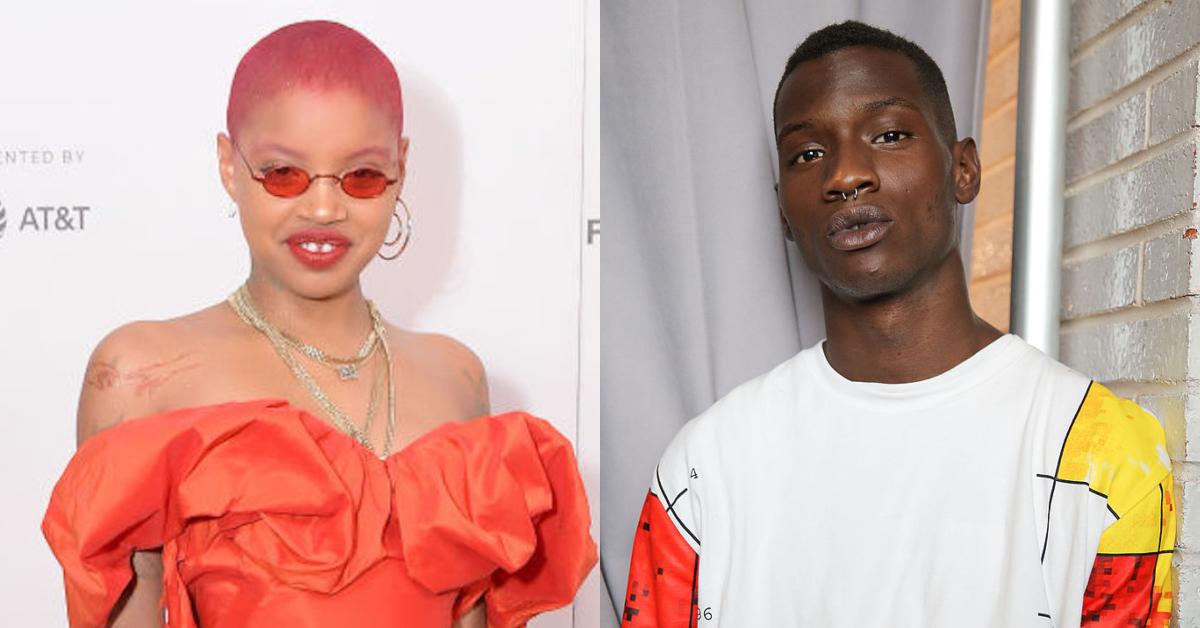 If you don't follow fashion model and actress Slick Woods (real name: Simone Thompson) on Instagram, you should probably do that immediately.
Article continues below advertisement
In addition to posting aspirational and inspirational content, the 23-year-old has been using her platform to raise awareness and educate followers about anti-Black racism, all the while being earnest about undergoing chemotherapy, and raising her adorable son Saphir.
Saphir was born in a way no other child was. On the day of his birth, mom Slick walked the Savage x Fenty Show during 2018's New York Fashion Week, flaunting her pregnancy in bondage-inspired lingerie. Moments after leaving the runway, she went into labor.
But just who is Slick Woods' baby's dad, and what does he do? Keep reading for what you need to know.
Article continues below advertisement
Slick Woods' baby has been staying with his dad during the COVID-19 quarantine.
Three weeks ago, on May 27, Slick shared an adorable video of Saphir playing with a doll and saying "Mama!" "I miss you too bby bluejay as soon as this lockdown is over you coming straight home," wrote Slick in the caption.
Article continues below advertisement
In the comments, the model and muse to Rihanna told her followers that Saphir was staying with his father, as "he's a daddy's boy," which naturally made us wonder who Saphir's dad was!
Article continues below advertisement
There wasn't too much detective work involved as Slick has tagged @septumpapi — the model Adonis Bosso, better known as just Adonis — in all of the photos of baby Saphir.
While the two models split up back in 2019, after which Slick briefly dated aspiring rapper and actor Micky Munday, the co-parents maintain an amicable relationship, and are even collaborating on a cartoon music video. "A tribute to our son, even though we're no longer together," Adonis told L'Officiel.
As recently as Mother's Day, Adonis took to Instagram to celebrate Slick on Mother's Day, thanking her "for the greatest gift."
Article continues below advertisement
Adonis is making sure Saphir's first language is French.
Born in the Ivory Coast and raised in Montreal, Quebec, 29-year-old Adonis is a native speaker of French, and is making sure his son follows suit. Slick posted a photo of her adorable son with the caption, "French is my first language mom.... thanks dad @septumpapi."
Article continues below advertisement
The Telfar and Yeezy model had actually intended on becoming a childcare worker for children with special needs, but "was dating a girl who was a model and one time I went to her agency to drop off her book, and they signed me on the spot," he recalls to Complex. Now, Adonis, who's walked for Dolce & Gabbana, Tom Ford, and Vivienne Westwood is getting serious about making music, and is "just getting ready to share" over 40 songs he's made with the world.
"I haven't put out music in about four years," he tells L'Officiel. "I kind of took a break," he explains, which makes sense since he just became a father last summer!
We're obsessed with what perfect (not to mention gorgeous) co-parents Slick and Adonis make, and wish them all the best.