Woman Calls Out Servers for Adding Tips Without Permission, Tipping Culture "Out of Control"
A TikTok user said she was shocked to see that she was charged for a tip she didn't authorize after purchasing a smoothie from a local shop.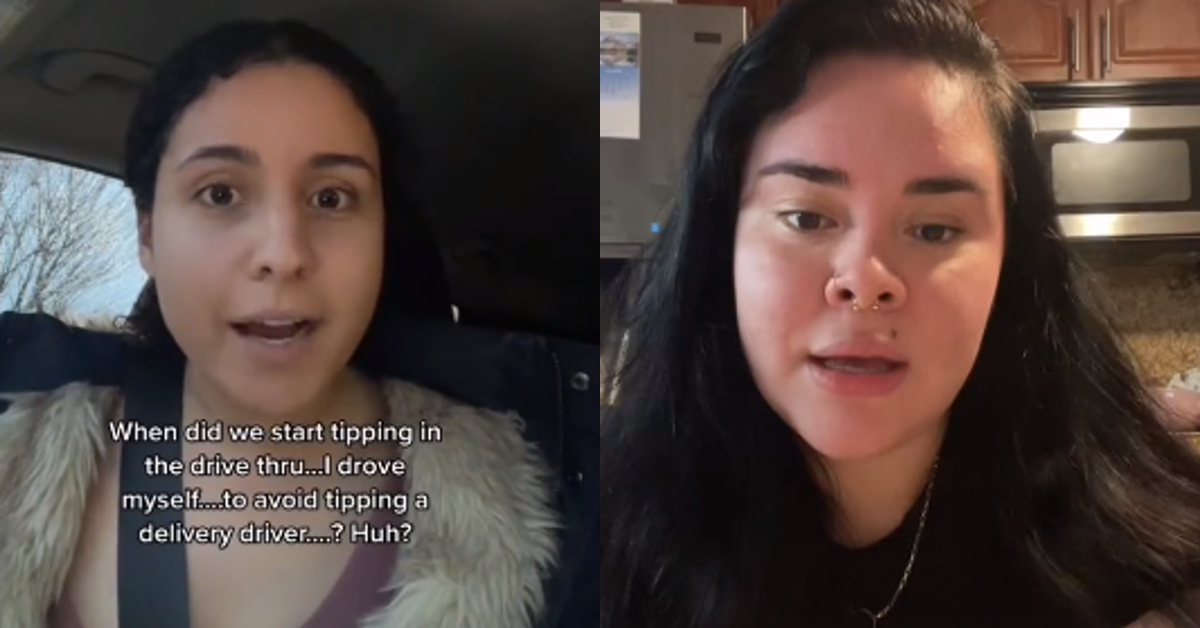 An unfortunate fact of the foodservice industry is that many of its employees rely on tips in order to make ends meet. Whether you're a bartender, a barista, a server, or a busser, tips can make a huge difference in your paycheck at the end of the day. While massive coffee and beverage chains like Starbucks are increasing their minimum wage for employees to $15 an hour, sit-down restaurants seem to follow the same you-ain't-making-nothing-without-tips model (scientific name.)
Article continues below advertisement
Interestingly enough, the technology that runs these businesses are advancing at a much faster rate than the operations and pay structures of said businesses. P.O.S. systems with fancy touchscreens that rapidly process transactions which allow customers to input their tips and sign for their cards in no time at all are commonplace now.
However, one TikToker says that these systems are being exploited by employees who are authorizing additional gratuity charges on folks' cards to net themselves a few extra bucks per transaction while hoping that whoever they're scheming won't check the receipt for their purchase.
Article continues below advertisement
@flowersoverlove says that her card was charged around $3 or $4 more for a smoothie that she purchased at a shop she visited, which she only found out after the fact and checking her bank statement. She was flabbergasted fact that she was hit with a "service" charge on top of gratuity.
Article continues below advertisement

"Here's a friendly reminder to ask for a receipt in every single transaction you make. So many businesses are adding their own 'service charge' as well as adding that tip option whenever you're not looking," she said in the viral clip.
Article continues below advertisement

"So, always make sure you get that screen, sign, and select what you meant to click." According to the TikToker, this isn't the first time it's happened, either. What she seemed to be most perplexed about was the fact that folks were being asked/charged for tips while picking up their own food in the drive-thru.
Article continues below advertisement

She stated that while visiting a restaurant with her family that her table's server claimed gratuity wasn't included in the bill. So they tacked on some 20-30% of their bill in a tip, but that a built-in 18% charge was already factored into whatever they purchased.
Article continues below advertisement

All in all, her post serves as a reminder for folks to double-check their charges. "There's no reason to scam your patrons like that. It's getting pretty ridiculous out there, so please ask for your proof of purchase and just be careful out there. So many places take advantage of ignorance, watch out for hidden service charges, and ALWAYS ask for a receipt," she added.
Article continues below advertisement

Tons of TikTokers piped up in the comments section, sharing their own stories of being "scammed" by servers at restaurants. Others were just outraged over the fact that servers would take it upon themselves to charge customers' cards without their knowledge or approval.
Article continues below advertisement

But there were others who feared that TikToks like this would dissuade folks from tipping their servers, and more than a folks who said they worked in the restaurant business also stated that there was a difference between tips and service charges.
What do you think? Have you ever checked your charge history and saw that someone was making charges at restaurants without your authorization?