Sophie Fergi May Only Be 13 Years Old, but She's in a Serious Relationship
Sophie Fergi is a 13-year-old social media sensation who has millions of followers on TikTok, Instagram, and YouTube. Her boyfriend is often featured in her videos.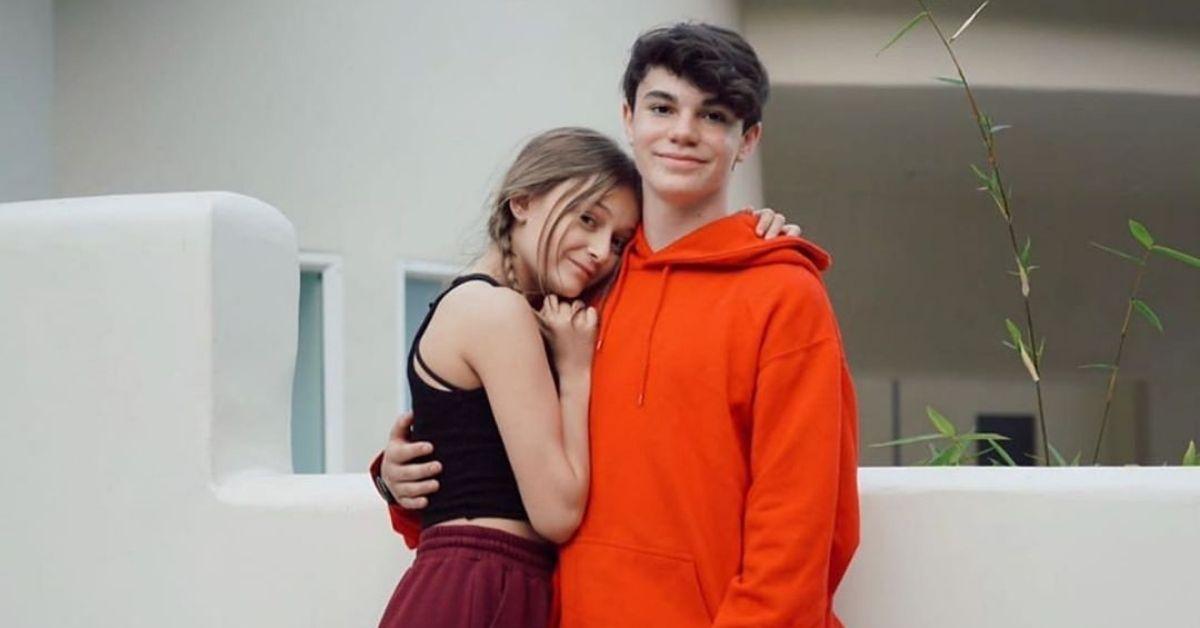 There are some people who are just born talented and get on to trends before the curve. In doing so, they rise to fame pretty quickly on social media or whatever platform they've decided to take up. At just 13, Sophie Fergi managed to prove that she is way ahead of the curve. The young teenager has become a social media sensation, and she's taken her boyfriend along for her journey to stardom.
Article continues below advertisement
Who is Sophie Fergi?
Sophie Fergi is only 13 years old and lives in Los Angeles with her mother. However, she's not like a typical young teenager because she comes with a massive following on social media. The young teen got her start in the spotlight when she joined the second season of Brat TV's web series Mani. The web series ran for five seasons, and she was featured on four of them, playing the character of Goth Girl.
Sophie also appeared in the series Piperazzi, another digital show, this time a reality TV series, produced by Flighthouse. She's currently active on Instagram, Twitter, TikTok, and YouTube. Each of her platforms has millions of fans who follow along as she shares looks into her life, fun viral-style videos, and behind-the-scene photos.
Article continues below advertisement
She's amassed a large following in her short time on social media, including 1.5 million followers on TikTok, close to 2 million on Instagram, and over 1.3 million subscribers on YouTube.
Article continues below advertisement
Often, Sophie features several of her close friends on her YouTube videos and others across her channels. This includes one of her close friends, Piper Rockelle, another young teen actress who was one of her co-stars on the show Mani.
Although she is only 13 years old, Sophie often features her boyfriend on her social media channels as well.
Who is Sophie Fergi's boyfriend?
According to Sophie Fergi's social media, she's been in a relationship for some time with 14-year-old actor Jentzen Ramirez. Jentzen has made several on-screen appearances including the 2016 Star Wars: Generations short films and the 2017 feature film The Lurking Man.
Article continues below advertisement
He is also on social media, though his following isn't quite as large as Sophie's, with over 700,000 followers on Instagram and over a million subscribers on YouTube, where he primarily shares challenge videos.
Article continues below advertisement
He is often featured in Sophie's social media both in video and photographs. The two haven't been shy about sharing their relationship, and, well, they're young teenagers so it's adorable.
Article continues below advertisement
One of the videos featuring Sophie and Jentzen was titled "SAYING GOODBYE TO MY BOYFRIEND" and it reached over 2 million views with people concerned that she was breaking up with him.
That didn't end up being the case. She instead said goodbye for a bit as she was heading out to take a trip to see her dad, who lives in Texas. "During this time ill be taking time to myself. So in this video you'll see emotional goodbyes," the caption read. "To my best friends and my boyfriend."