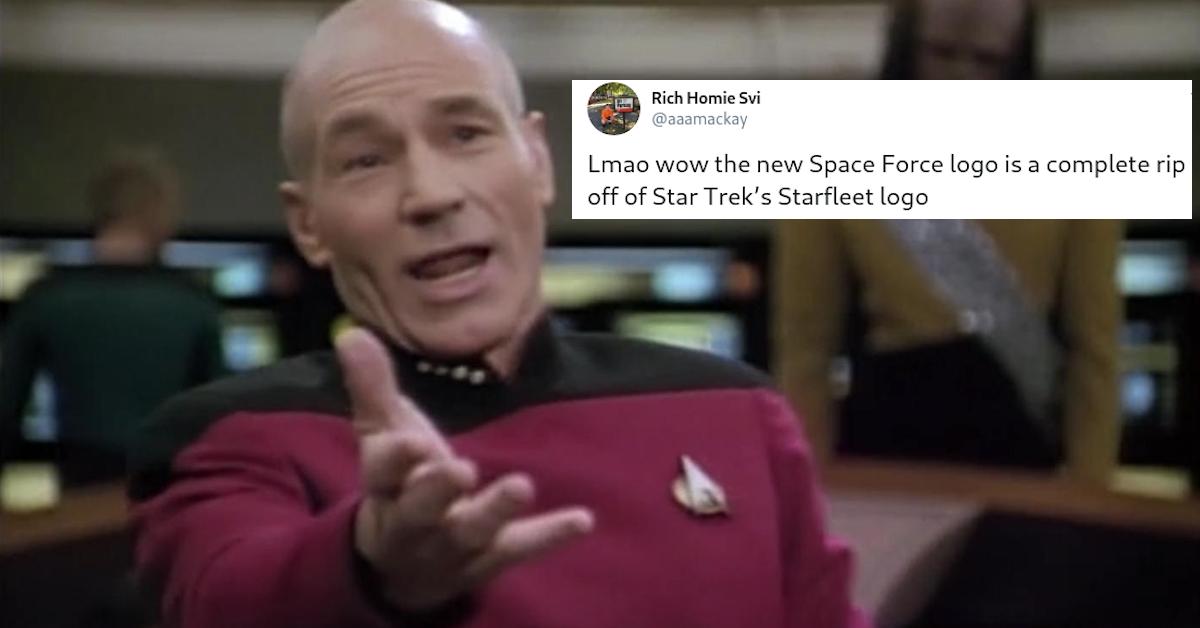 The Space Force Logo Is Basically a 'Star Trek' Reference and Twitter's Loving It
President Donald Trump's Space Force has been a long-running joke — and people had tons to say about the aesthetic of the original uniform and the fact that it's camouflage. Because if we are sending soldiers into outer space and want them to blend in with their surroundings, maybe making them look like a woodland painting is a bad idea.
Now Twitter's having a field day with yet another Space Force announcement: the reveal of the branch's official logo.
Article continues below advertisement
The Space Force logo is hilariously similar to the Star Fleet Command's logo.
Many folks have noticed a striking similarity between the design of the Space Force's crest and the one for Star Trek's fictional Star Fleet Command. And by striking similarity, I mean that it literally looks like they straight up copied it.
I'm going to play devil's advocate and say that life often imitates art, nor can you blame anyone for copying the Star Fleet Command sigil either, because it's awesome.
That doesn't mean people aren't already meme-ing the heck out of it, however, after Donald Trump had presented the logo on his Twitter feed, extolling the "Sixth Branch of our Magnificent Military!"
There's no word as to whether or not CBS already has a serious Space Force TV show starring David Boreanaz, but expect it to go into production soon.
Here's Trump's announcement of the logo below.
Article continues below advertisement
And here's the Space Force logo put side by side with the Star Fleet Command.
While there are tons of jokes circulating the internet comparing soldiers who sign up for the Space Force as basically the cast of Starship Troopers fighting big gross bugs on some distant planet, the Air Force has actually had to do a lot of work to explain exactly what the branch's job is.
Article continues below advertisement
Article continues below advertisement
Namely, U.S. Air Force officials are dispelling the widespread notion that SF personnel will be dictating space policies — because they won't. Paving the way for cosmic business ventures and exploring the vast worlds beyond our own isn't what the Space Force is about, either. So even though the logo may look a lot like Star Fleet Command's, Space Force's function couldn't be more different.
Article continues below advertisement
Lieutenant General David "DT" Thompson, who is the vice commander of Air Force Space Command, says that the primary function of the new unit is strictly about defense. "There's a discussion about this grand vision that the Space Force is going to orchestrate economics, and civil and all kinds of other sectors of the economy to take us to the moon and Mars," he told SpaceNews in September. "That's not the way the American system works."
Article continues below advertisement
Article continues below advertisement
He continued by saying one of the primary goals of Space Force is to defend U.S. satellites against hostile missile or laser attacks. Which is nowhere near as cool as a bunch of astronauts with guns duking it out on the moon, but still kinda cool.
Article continues below advertisement
"We have a lot of policy and guidance and direction about what the Space Force should be. It's going to be a sixth branch of the armed services. The job of a service is to organize, train and equip forces for combatant commanders," Thompson said.
Although the lieutenant general has said that defense is the only thing that Space Force is about, some literature that his own command released seems to contradict that statement.
Article continues below advertisement
Article continues below advertisement
"The Future of Space 2060 and Implications for U.S. Strategy" clearly delineates initiatives that have to do with colonizing and potentially monetizing space exploration.
But maybe he just means the Space Force battalions will work hard to ensure that astro-nerds are protected while pursuing those interests.
What I'm wondering is, what happened to this Space Force logo?
Seriously, they should've just went with that.