Woman Had a Spear Thrown at Her Car and She Narrowly Escaped Injury
A woman had a full-sized spear thrown at her while she was in her car. The comments sections on her video are riddled with receipts and theories.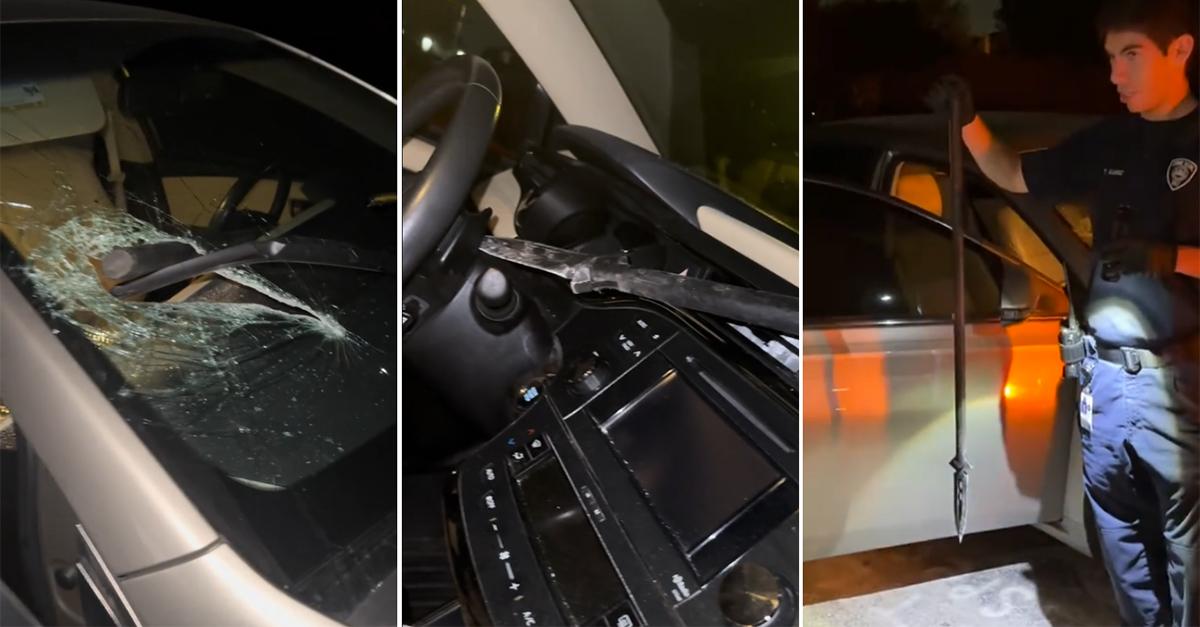 If you're a regular driver, then you might have had your fair share of close calls on the road. Perhaps you narrowly missed bumping into another car, swerved to avoid hitting a stray animal that ended up in the middle of the road, or maybe some jerk decided to cut you off on the road and caught you off guard. There are all kinds of dangers and cautionary tales for drivers to be aware of every time they get behind the wheel. But it's probably safe to say that you've never had to worry about a spear before.
Article continues below advertisement
In fact, that's likely only a problem that this woman on TikTok (@420juicy) can say she has had. While her TikTok overall is sparse for content, users on the platform are going nuts over her two-part story. According to this woman, a spear was thrown at her while she was in her car. She captures footage of the aftermath, and folks even have theories as to how she could possibly track down the culprit. Here's everything we know and what some commenters are saying.
Article continues below advertisement
This woman had a spear thrown at her while she was in her car.
OP posted video footage of the incident on TikTok in late August 2023. According to her hashtags, the whole thing went down in San Antonio, Texas. Here's what happened.
Naturally, she didn't capture any footage of the spear being thrown, let alone get a video of the person who did it. But from what she was able to film, it looks like it was an incredibly close call.
"So yeah guys, I almost died," she claims in her first video. "Somebody threw a spear through my car tonight."
Article continues below advertisement
Sure enough, she got plenty of angles of the harrowing event in her first TikTok. The spear went right through her windshield. It had even entered at such an angle that it flew through the passenger side over toward the driver's seat and into the steering wheel.
Article continues below advertisement
Whoever threw the spear came unsettlingly close to hurting OP or worse.
"Yay, me," she joked sarcastically, trying to make light of her near-death experience."
Article continues below advertisement
In a second TikTok, a cop who arrived on the scene removed the spear. The spear itself is reasonably large and according to the cop, it wasn't even that heavy. However, it was heavy enough that if thrown with an ample amount of force, it could have seriously hurt someone.
The cop even agreed with OP's sentiment. "You could've died," he told her ominously.
Needless to say, folks in the comments section were plenty shocked to see this happen.
"She said spear, I heard spear. She showed us the spear, I saw the spear. My brain still asked, 'is that a f------ spear!?'" one person commented in disbelief.
Article continues below advertisement
Another person even claimed that this was the second video they'd seen of a spear that had gone through someone's car in the last 48 hours at the time of commenting. Other users even echoed the sentiment upon realizing it took place in San Antonio, which may just suggest a pattern in these incidents.
Article continues below advertisement
In the second video, another TikTok user even claimed to recognize the make and model of the spear.
According to them, the spear is "made by a company called M48." They even suggested that they look for a serial number on the weapon to track down whoever might have purchased it.
Whether or not you're currently in San Antonio, it's safe to say that some people have now developed a new irrational fear of someone throwing a spear through their cars after watching these videos.