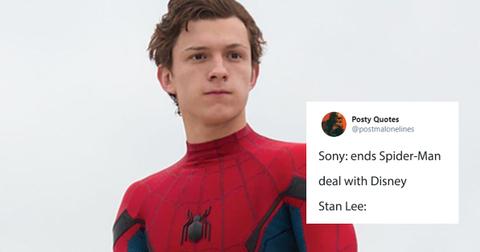 Spider-Man Won't Be In Marvel Films Anymore and Fans Aren't Happy
By Mark Pygas
Spider-Man, and actor Tom Holland, won't be making an appearance in any new Marvel movies after Sony and Disney were unable to reach a deal over the character. While Spider-Man was created by Marvel, now owned by Disney, the film rights to the character are owned by Sony.
In 2015, the two companies struck a deal to bring Peter Parker into the Marvel Cinematic Universe and star in five Marvel movies, from Captain America: Civil War to Spider-Man: Far From Home. Deadline reports that Disney and Sony have been unable to agree how future movies will be funded.
In a statement on Twitter, Sony dismissed claims that the breakup was centred around producer Kevin Feige, who directed
Tom Holland is still contracted to Sony for two more films, so there will probably be more Spider-Man hitting the silver screen, but the movies will look different. Without a deal with Disney and Marvel, Sony won't be able to reference any characters from the Marvel Cinematic Universe. Essentially, Spider-Man just got kicked out of the Avengers.
Unsurprisingly, Marvel fans aren't all too happy about the break-up. Actor Jeremy Renner, who plays Hawkeye, wrote on Instagram: "Hey [Sony Pictures] we want Spider-Man back to [Stan Lee] and [Marvel] please, thank you."
While Ryan Reynolds, who plays superhero Deadpool, seemed equally disappointed that he won't be able to team up with Spider-Man any time soon.
Fans were equally disappointed by the news, taking to Twitter to air their grievances. At one point on Tuesday evening, the hashtags #BoycottSony and #SaveSpidey were trending.
Fans have also been sharing a tweet from the late Stan Lee, co-creator of Spider-Man, who called Tom Holland "a great Spider-Man" before his death. "He is the exact height and age I envisioned when I first wrote Spider-Man. Spidey was never supposed to be too large," he added. "How is my friend Tom doing?"
Others have been referencing the Marvel movies that Spider-Man took part in.
Some fans aren't too hopeful that Sony will go on to produce good Spider-Man movies by themselves. Spider-Man 3 is still fresh in the minds of many.
Hopefully Disney and Sony can make amends in the future, for all of our sakes.