If You Start Celebrating Halloween in September, These Spooky Season Tweets Are For You
Do you put up your Halloween decorations on September 1? Are you watching spooky movies even though Halloween is still two months away? Then these tweets are for you.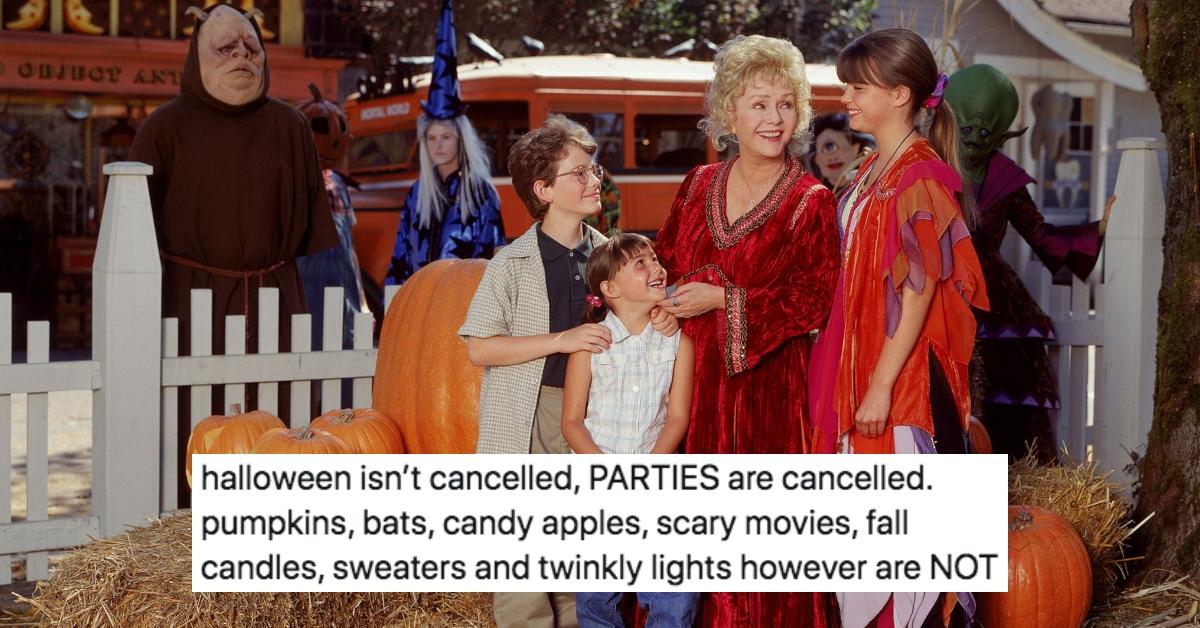 Do you wait impatiently all year for the Halloween season? Do you only feel truly happy in 50 degree weather, wearing sweaters and sipping hot apple cider and watching horror movies? Do you know exactly when the giant bags of fun size candy go on sale at CVS? Then you, my friend, are a certified Halloween lover. Even though there are still basically two months to go before we hit the actual holiday, here are some tweets for those of us who already have our heads in the jack-o'-lanterns.
Article continues below advertisement

Did they ban trick-or-treating in Los Angeles this year? Sure. Is there still a pandemic raging outside? Yes. But that's no matter. The best part of the spooky season is cuddling up by yourself with hot chocolate and a bowl of candy corn and watching scary movies. None of that is canceled this year!
Same. Sure, it might have been 110 degrees in Los Angeles two days ago. But mentally, I'm already experiencing the spooky season. I'm dancing in a graveyard at night with my head in a pumpkin. That spookiness is upon us.
Article continues below advertisement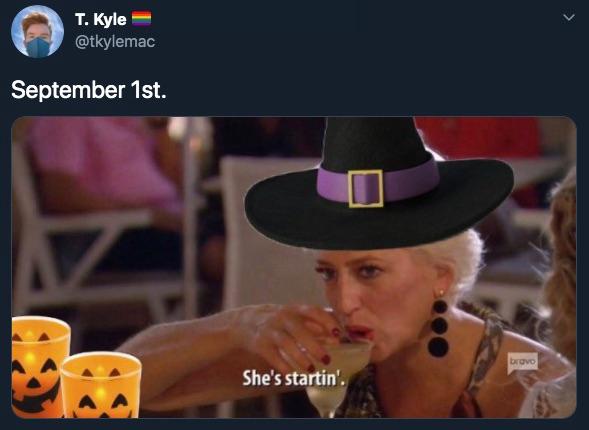 True fall and Halloween lovers want to celebrate all year long, but it really only becomes socially acceptable once September 1 rolls around. On that day, though, all Halloween hell breaks loose.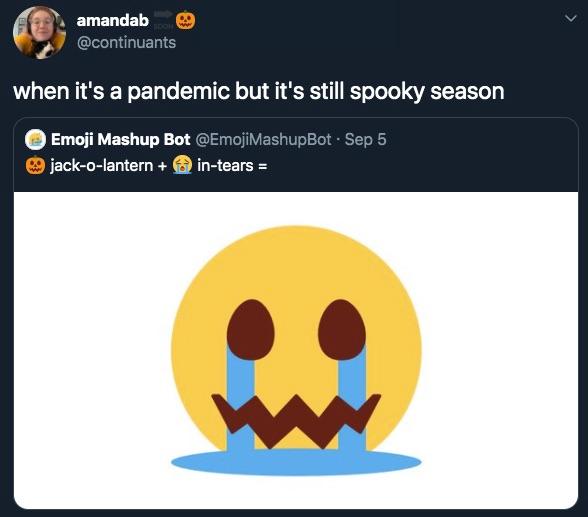 This is too real, too relatable, too sad. While the spooky season definitely isn't canceled, Halloween won't be the same without seeing trick-or-treaters out in the streets and gathering around campfires and telling ghost stories. I suppose you could do a socially distanced version, but it just wouldn't be the same.
Article continues below advertisement

I think this is fair. But then I also believe that once November 1 rolls around, it's officially Thanksgiving season. This is where I want to see the overlap. Turkeys wearing spooky pumpkins on their head. Pumpkins in pilgrim hats. Let's really go to town with the decor this Hallowgiving season.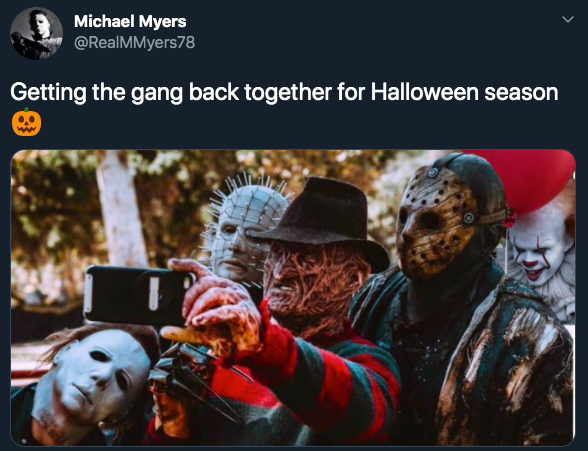 This picture makes me laugh! Obviously, the best part about Halloween is the scary movies. I obviously have to watch Halloween every Halloween, but this year, because I'll be inside the entire time, I might watch all of the scary movies. All of them.
Article continues below advertisement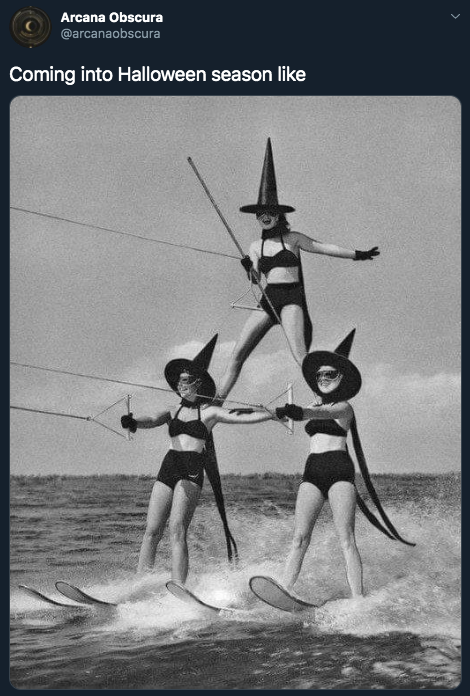 I want a poster-sized version of this picture to hang on my wall. It's incredible. Witches on water skis! What else could you possibly want?
Well this is adorable. I wish I had a rat that I could dress up in tiny Halloween-themed costumes. I have a dog, sure, but he's bigger than a rat and therefore, the costumes aren't as cute. They're cute, don't get me wrong. But the smaller the costume, the cuter it is. That's just science.
Article continues below advertisement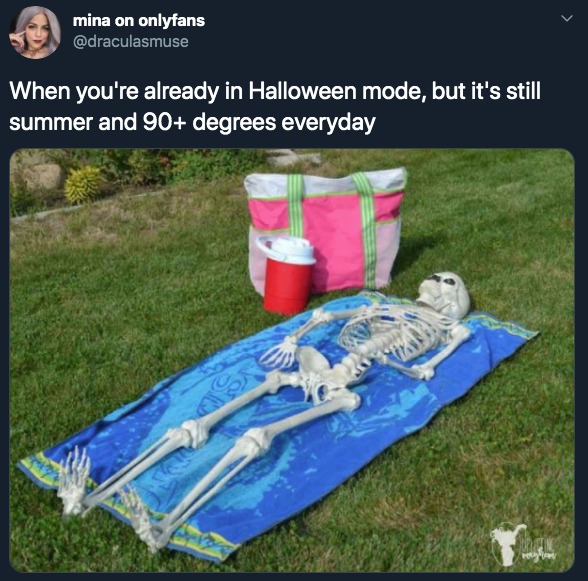 This is me all the time. Especially because I live in California where it's 100 degrees in September and I am sweating while all my east coast friends are going apple picking in chunky sweaters. It's not fair.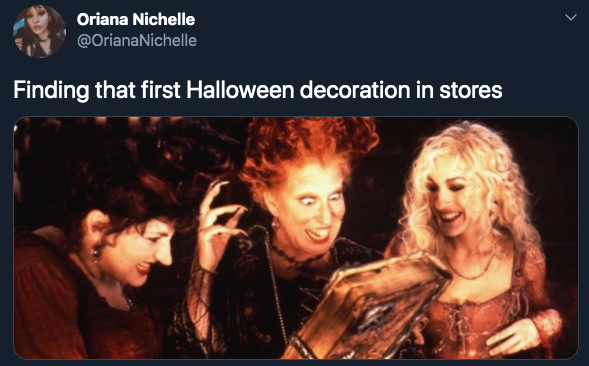 I don't even really buy Halloween decorations, and still, it's so exciting when I'm in CVS or something and I spot a dancing skeleton or something. My heart leaps! I cannot help it. I truly think I was wired this way.
Article continues below advertisement

Agreed. Especially during the pandemic. Anyone who makes fun of people for starting to talk about Halloween in September needs to promptly remove the broomstick from you-know-where. Let people be excited about what they want to be excited about!
A truly Halloween lover will infuse Halloween into their everyday life. For example, spooky cheese plates. You can't tell me these cheese plates don't look delicious.
Article continues below advertisement
This is hilarious. My favorite moments is when Jason gets spooked when he realizes Michael is standing right behind him. Man, now I want to watch the Halloween movies. All of them. Yes, even Season of the Witch. It's good. Fight me.

The hate candy corn gets is unwarranted. It's a good candy. I bet people who claim they don't like candy corn don't even line the kernels up between their fingers like corn on the cob and then pick them off one by one (the best way to eat it).