Get Excited... Starbucks' Holiday Cups Are Almost Here!
Starbucks is releasing their holiday holiday cups for 2019, they're festive AF, and most importantly, they come in four gorgeous varieties.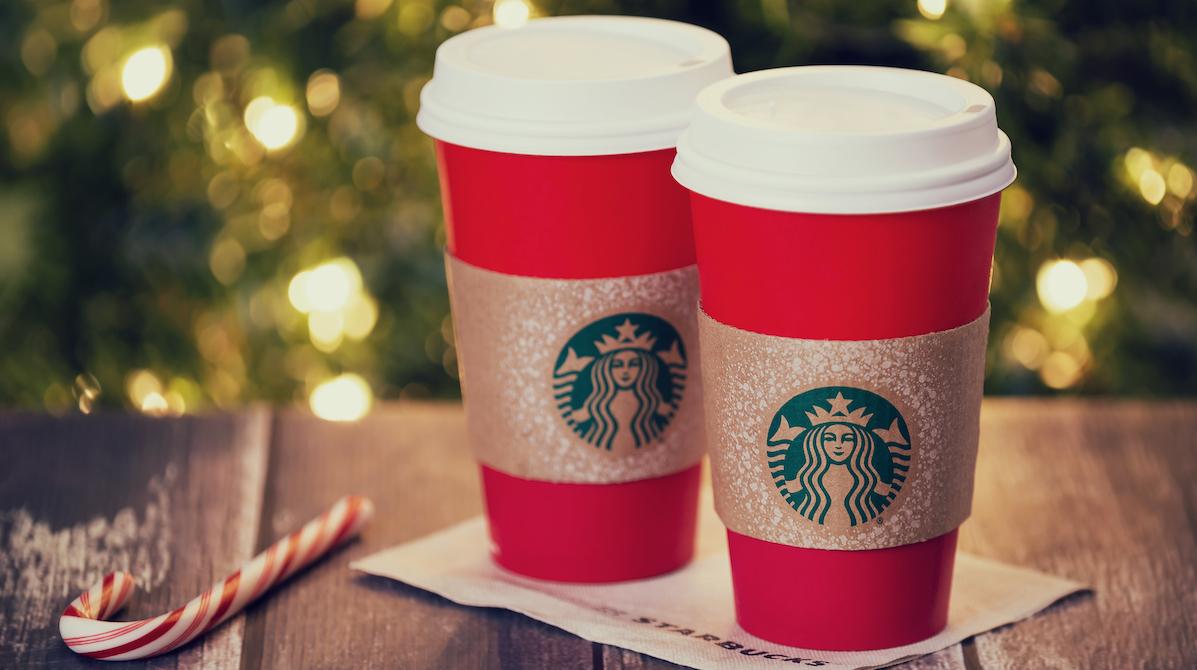 It feels as though October came and went in a matter of minutes, and as November begins, the weather is seriously starting to cool down. That means beanies and wool socks are on at all times, and — most importantly — a hot beverage is in hand 24/7. And thanks to Starbucks, we can finally count on toting our festive sips in style.
That's right — Starbucks is releasing their holiday cups for 2019, so get pumped for four brand new designs.
Article continues below advertisement
What will Starbucks holiday cups look like this year?
Starbucks has designed new paper cups for each holiday season since 1997, and per a press release, and all U.S. locations will unleash their 2019 cups on Thursday, Nov. 7.
This year, there are four new cup designs: Polka Dots, donning green dots and the classic Siren logo, Merry Dance, combining red and green lettering, Merry Stripes, featuring a green vintage design, and Candy Cane Stripe, emulating a candy cane ~lewk.~ Sneak peaks below.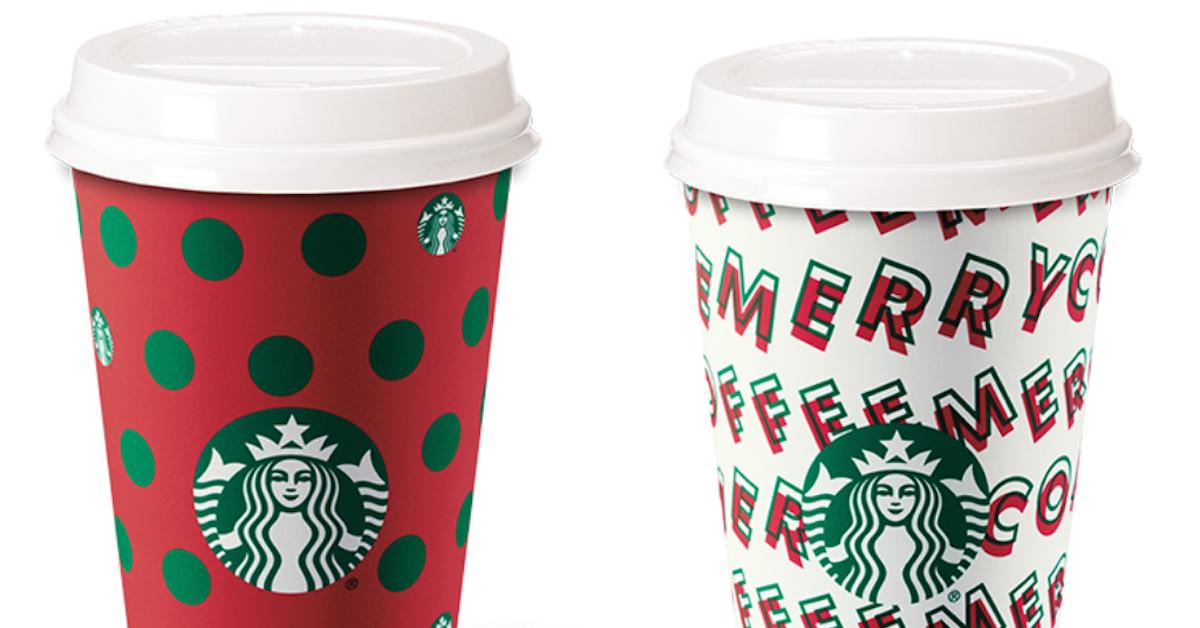 Article continues below advertisement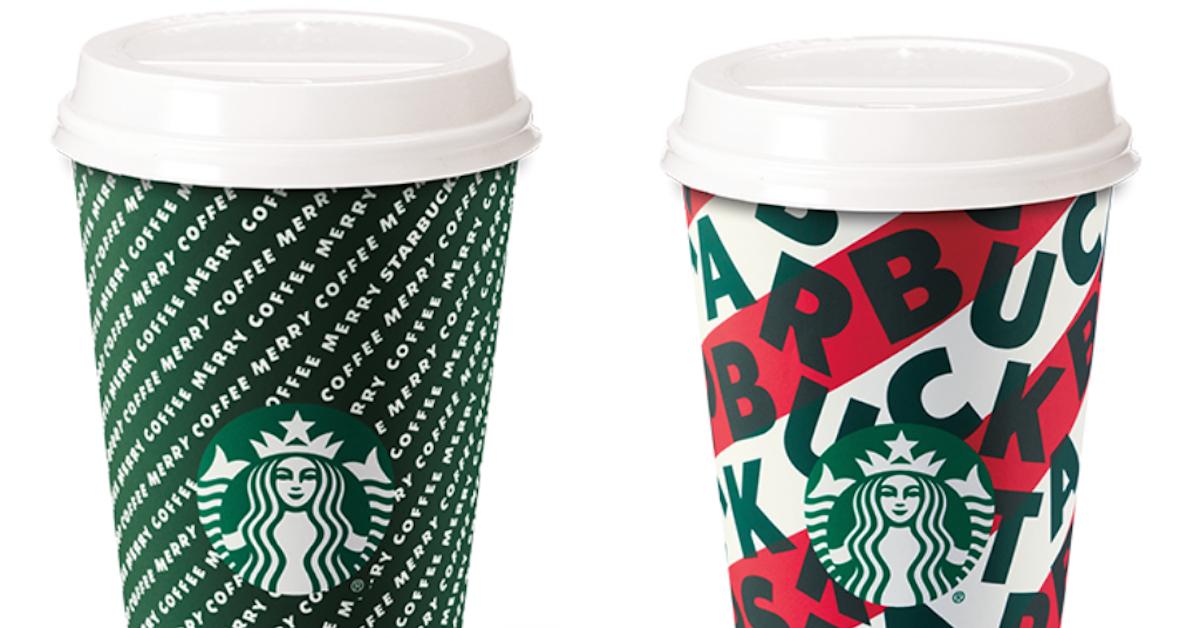 Will there be new designs in their reusable cups?
The new reusable cup designs for hot and cold beverages this year are glorious — in addition to the return of the free limited-edition reusable red cup, which will be available to a limited number of customers who order drinks on Nov. 7 — the chain is offering glam new designs for 2019.
Article continues below advertisement
From glittering cold cups, to bright tumblers, and shimmering water bottles (all for $25 and under, BTW), you'll be able to find these bad boys at participating Starbucks company-operated and licensed stores in the U.S. and Canada.
The Iridescent Cold Cup (24 oz) is new in Neon Pink this year as well as last year's Bling Platinum color. It's a tactile lover's dream with a textured surface and subtle Starbucks logo. Go ahead, feel up your cup.
The Green Confetti Tumbler is a modern artsy take on Christmas colors. This 12-ounce hot cup will earn its keep holding all your hot drinks whether they're spiked with peppermint, gingerbread, or cinnamon.
For those who want to feel ~fabulous~ all the time, check out the Glitter Gradient Pink Cold Cup. Your iced coffee will thank you.
Article continues below advertisement
OG Starbucks fanatics remember the RED CUP debacle of 2015...
Fans freaked back in 2015, when the season's paper cup design was simply a red cup — no reindeer, no wreath, no snowman, no Santa. Nada. Just a subtle ombre of red, burgundy, and cranberry.
Maybe Starbucks had no idea how many people rely on them for that holiday season feeling. But it was widely covered in the media as "an attack on Christmas."
Did Starbucks really attack Christmas in 2015?
No, of course they didn't. Lighten up, people. In a statement from Starbucks, they said the cup design was a way to get people to create their own stories — a core value of the company is inclusion. All religions and backgrounds are welcome.
And obviously people really like their Christmas designs. So be on the lookout for the Starbucks holiday cups — they're coming soon.