Philly Starbucks Releases WAP Latte in Honor of Cardi B and Megan Thee Stallion
White Mocha, Almond Milk, and Pumpkin Spice are the flavors that make up the WAP latte from Starbucks. Here's how to order it.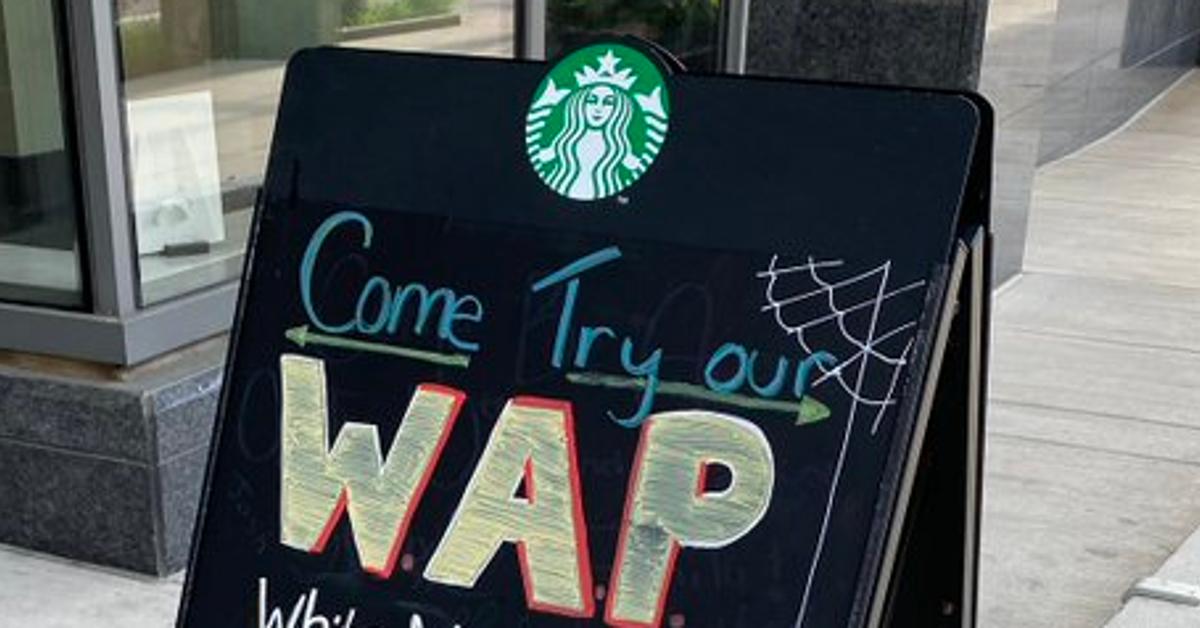 Cross promotional endeavors are par for the course in the corporate world, and food products are no different. I never really ate Cookie Crisps as a kid (mostly because they were expensive), but you best believe I was all about that fake cookie cereal life when I discovered that General Mills was packing Teenage Mutant Ninja Turtle bowls with every box.
I'm assuming that Cardi B and Megan Thee Stallion fans will be flocking to this Philadelphia Starbucks for the WAP latte, just like I did for C.C.
Article continues below advertisement
What is the WAP latte at Starbucks?
Not unlike that breakfast treat that made so many children across America so very happy, the WAP latte isn't an official endorsement from the creators of a song centered on sodden women's genitalia. It's a custom flavored latte that a Center City location was offering its patrons. But if you're not a resident of the city of brotherly love and way-too-many-one-way-streets, you could still make this treat yourself.
Order yourself a pumpkin spice latte, but specify that you want almond milk, not the standard 2 percent milk. Your PSL comes with four pumps of pumpkin spice sauce. You're going to want to add in an additional four pumps of white chocolate mocha sauce.
Article continues below advertisement
The beverage went viral after someone snapped a photo of the chalkboard advertising the custom beverage outside of the Starbucks location. The sign reads, "Come try our WAP," and then depicts a spider dangling down from a web, a pumpkin, and a witch's hat.
Article continues below advertisement
"WAP" has become a chart-topping hit, and the phrase itself has become the source of endless memes and jokes. Cardi B even retweeted a photo taken by actress Kerry Washington. The picture depicts Cardi B and Megan Thee Stallion wearing face masks, with the message "Wear A Mask Please" emblazoned on a billboard. WAP is also used for other wholesome acronyms, like "Welcome Amid a Pandemic."
A local Philadelphia news crew actually gave a taste test of the WAP latte live on air and based on their reactions, I'd say they really liked it. One of the reporters said it tastes like a pumpkin spice donut. But the entire segment is kind of awkward, and vague sexual references are made throughout the bit, much to the discomfort of everyone involved. It's pretty fantastic.
Article continues below advertisement
If you were interested in trying the bad boy out, you'll have to know that the WAP from Starbucks probably tastes good because the thing's loaded with sugar. A 16 oz. WAP from the Seattle-based coffee chain clocks in at 380 calories.
Some people weren't too excited at the prospect of drinking a latte named after the track.
Article continues below advertisement
Others didn't seem to get the memo that the WAP latte isn't an official beverage from the company and is something that a yet-to-be-identified employee of a specific location decided to write on a board.
Article continues below advertisement
Other people, however, were more than willing to try the WAP latte, even those who weren't big fans of Starbucks. What about you? Would you be down to give the WAP a whirl? Or do you like your coffee like you like your martinis: dry?