Local Coffee Shop Barista Calls Out Woman Who Demanded Starbucks Items in Viral TikTok
A TikToker went off on a Starbucks-obsessed customer who demanded he make drinks off the coffee chain's menu at the local shop he works at.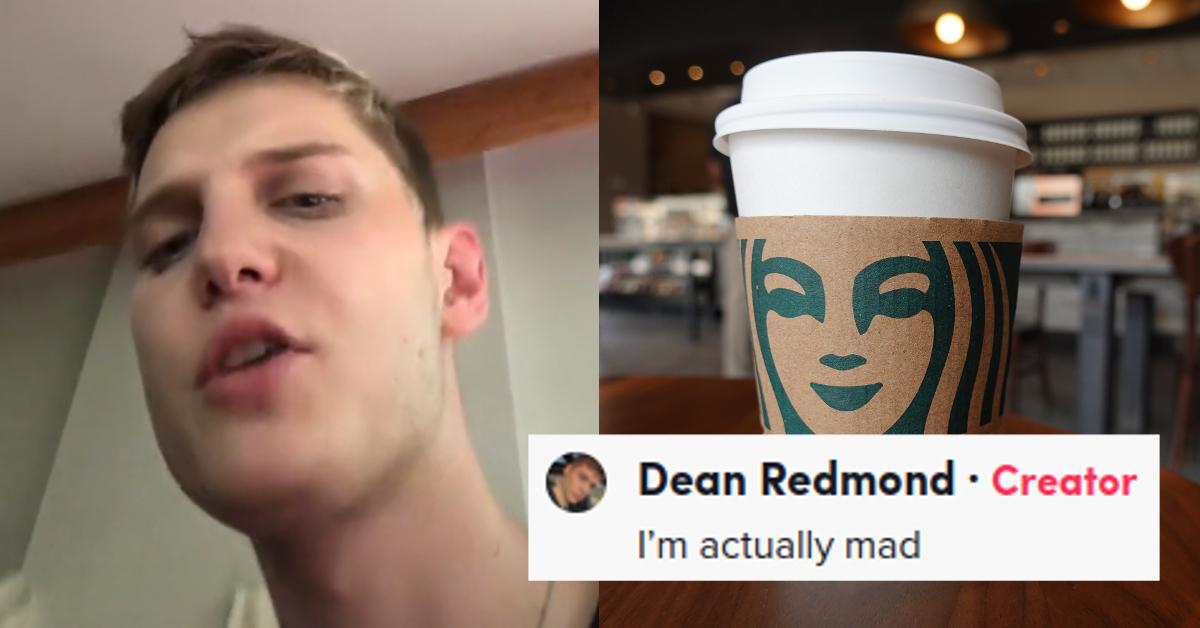 Dean Redmond works at a local coffee shop. Sometimes he deals with customers who place orders in line with other coffee chains' beverages and sometimes he's unable to fulfill these requests because this particular cafe doesn't offer the items that these customers are asking for.
Article continues below advertisement
Presumably, when this happens, some customers say, "Oh, ok," and then proceed to order something else off of the menu or go on their merry way. And then sometimes these customers flip out because they cannot believe that a business not affiliated with another business doesn't offer what their preferred business offers.
Imagine going into a Burger King and flipping out that they aren't going to make you a Big Mac, heading into McDonald's and asking for Long John Silver's infamous "crispy bits," or watching Grey's Anatomy and expecting the show to make any sense. You shouldn't be surprised when you're disappointed, right?
Well, according to TikToker Dean Redmond, the opposite of that happened when a Starbucks-obsessed customer walked into the store he works at.
Article continues below advertisement
In a now-viral TikTok he said that the customer requested an "iced caramel nitro cold brew with coconut milk." Dean went on to explain to the woman that their shop doesn't have Nitro coffee or coconut milk, but he did extend an offer to try and make a similar beverage with an oat substitute.
Article continues below advertisement
"I bring her this iced caramel coffee because we don't have nitro cold brew, and she's like 'Ew. This coffee tastes watered down,'" Dean says. She then asks if he can give the drink another shot, but this time with espresso in the hopes that she would find it to have a bolder, non-watered-down coffee flavor.

Article continues below advertisement
Dean obliges but the woman went on to say that the drink tasted even more watered down. The woman then goes on to place an order for a "hot caramel macchiato with whipped cream" however she still wasn't about Dean's barista skills. "They do this so much better at Stabucks," the woman tells Dean.
The TikToker said that the drama didn't stop there and the woman continued to cause a stink after he told her how much she owed. She didn't like that she was being charged extra for oat milk.
"So I give her her bill because the hot caramel macchiato had oat milk in it, and at my store, we charge a dollar extra for non-dairy milk. I give her the bill and she's like, 'You did not just charge me for oat milk. They don't do that at Starbucks.'"
Article continues below advertisement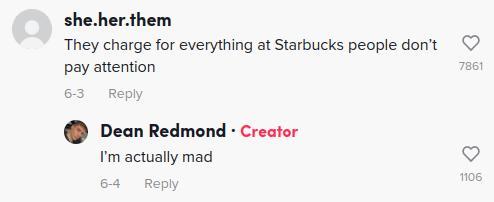 Dean says in the video that he replied to her by saying, "I give it [the bill] to her again and I'm like, 'I'm sorry, I have to charge you for this.'"
Apparently, she didn't like that response because they asked for someone to call and complain to because she was being charged for oat milk.
Article continues below advertisement
"So I give her a name to call, I give her a number, and she calls the woman and she's like, 'excuse me, your worker is charging me for non-dairy milk.' She's like, 'yeah, that's literally what we taught him to do.'"
Dean then goes on to say that the customer lies, saying that the woman on the phone said he didn't need to charge her for the oat milk.

Article continues below advertisement
He said that he informed the woman this isn't the case as he heard the person they called on the phone and everything that they said. Finally, the woman capitulated, and said, "Whatever. I'm only going to Starbucks from now on."
Dean said the woman wrote an angry review about the coffee shop that urged other folks to only ever go to Starbucks.
Several TikTokers pointed out that the woman's meltdown over the extra oat milk charge was a moot point as even Starbucks charges extra for these add-ons. One user on the platform who said that they were a Starbucks employee apologized on behalf of the woman saying that she definitely sounds like one of their regulars.
Article continues below advertisement

Another Barista in the comments section said that when it comes to who is more annoying: Starbucks vs local coffee shop customers, there's a clear front-runner: "As someone who has worked at both local coffee shops and Starbucks. The Starbucks customers are sooo much worse."