What You Should Know About 'Top Chef' Contestant Stephanie Cmar's Brother
Stephanie Cmar is a front-runner in 'Top Chef All-Stars LA' and during the season, we learned of the death of her brother, Colton. Details.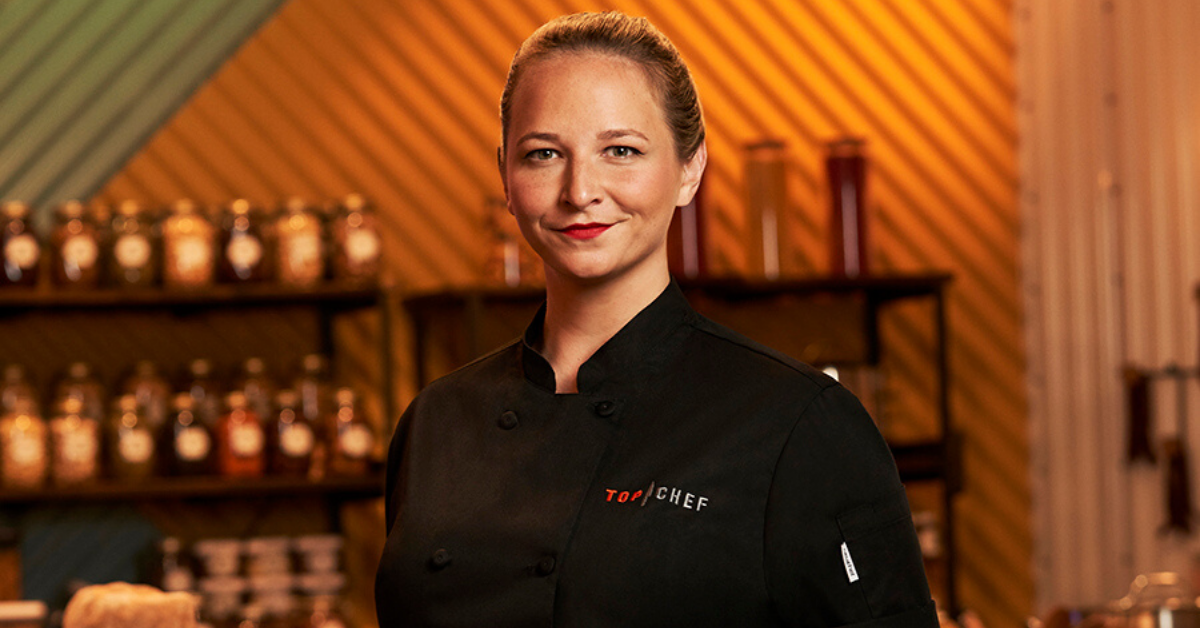 For fans of Top Chef, watching the All-Stars seasons comes with an extra dash of excitement. The contestants are ones we've seen and rooted for in previous seasons and getting to watch them compete again for a chance at their dream is one of the biggest draws to the show. Well, that and all the amazing food.
Article continues below advertisement
One contestant, Stephanie Cmar, has been a front-runner on several seasons of the show. People fell in love with her passion for cooking, felt heartbreak when Stephanie Cmar spoke of her brother, and rooted for her when she spoke about how she used her pain to funnel that into her desire to be the Top Chef.
Article continues below advertisement
Stephanie Cmar has been a front-runner on 'Top Chef' this season.
Stephanie, who originally competed on Season 11 of Top Chef, was back again on Top Chef All-Stars LA trying to take home the prize of $250,000. In her first season on the show, Stephanie was booted with six people ahead of her still in the running. Her dream was dashed, but she didn't let that stop her.
Technically, her appearance on Season 11 was her second time on the show, briefly appearing on Top Chef: Seattle during the qualifying rounds of Season 10.
During her Season 11 appearance, Stephanie struggled with consistency, both landing in the bottom spot and top place during the Elimination challenges. She's seen a lot more success during Season 17 in All-Stars and took home the first win of the season.
Article continues below advertisement
As Stephanie gets more airtime than she did in previous seasons, fans are learning more about her as a person outside the kitchen. The interest of one tragic event in Stephanie's life has brought more fans to root for her.
Article continues below advertisement
Stephanie Cmar brother, Colton, passed away a few years ago.
On Jan. 10, 2018, Stephanie took to her Instagram page to share the heartbreaking news that her brother, Colton, had suddenly passed away.
"Our brother, Colton passed away Monday night," she wrote at the time. "His sweet soul went to heaven. His life wasn't simple, the path he chose wasn't easy, but at heart, he loved his friends and family to the core."
Article continues below advertisement
She continued, "My heart is so broken I don't know if it will ever come back together but we will stay strong. If you ever need a friend, a hug, a kiss, anything, always know you can call me. Life isn't simple, but Its always made easier by having someone to confide in [sic]."
Article continues below advertisement
She ended her post writing, "I hope we can all honor Colton's life just by looking to the sky and smiling. He's watching down on us, he will smile back."
At the time, no other details were given on her post, including how he died. Just a few days before Stephanie posted that her brother had died, Colton had tweeted about listening to the album "Until the Hunter" by the group Hope Sandoval & the Warm Inventions. According to his Facebook page, Colton worked as a Full Stack Web Developer and Designer and was from Nahant, Massachusetts.
Article continues below advertisement
During the 10th episode of Top Chef All Stars LA, we learned that Stephanie's brother died from a drug addiction. On the episode, she tells her fellow contestants that her brother had died a year and a half ago and called it "absolute hell" for herself and her family. She says his death is a big reason why she is in the competition and says the loss has made her stronger.