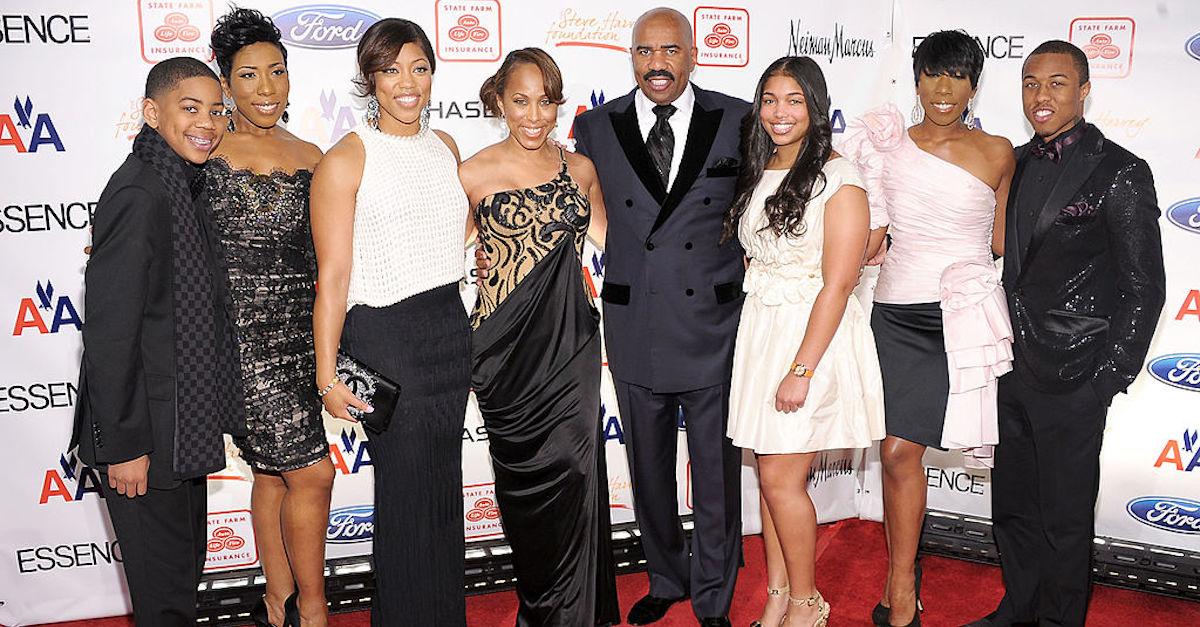 Comedian, Author, and TV Host Steve Harvey Is Also a Father, Stepfather, and Grandfather
Comedian, TV and radio host, actor, author, and businessman Steve Harvey can now add judge to his very lengthy resume. The former standup comic will be heading his own courtroom-based reality show, Judge Steve Harvey, in which Steve uses his life experiences to arbitrate a variety of conflicts.
Article continues below advertisement
But while Steve is a household name today, he has had a long road to success. Along the way, he's been married three times and to date, the funnyman has a total of seven children. So, just who are Steve Harvey's kids?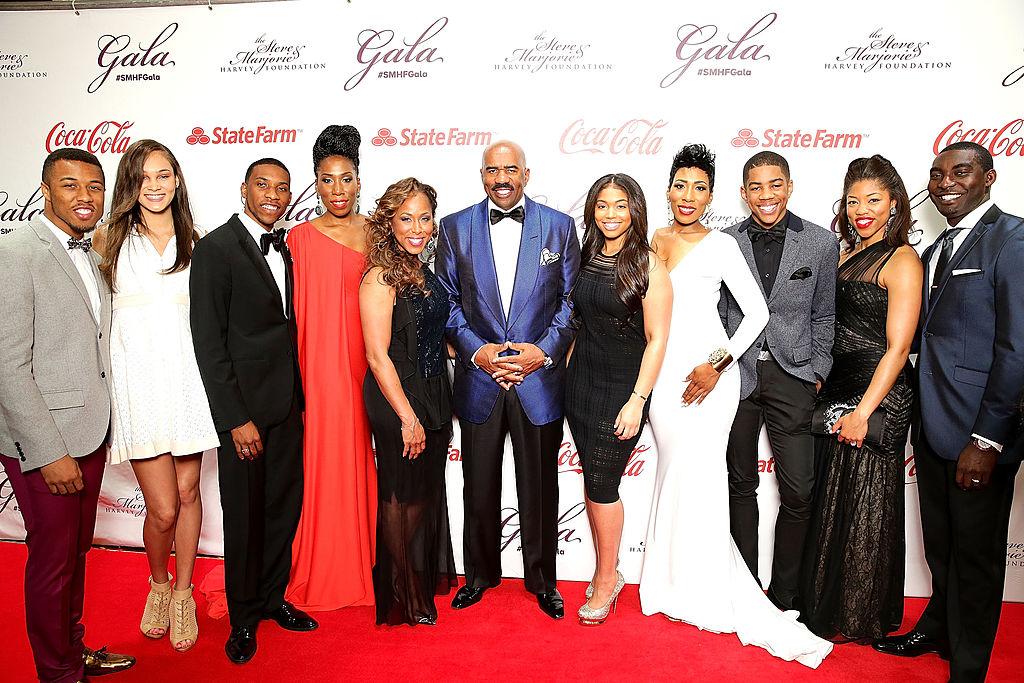 Article continues below advertisement
Who are Steve Harvey's kids?
Steve Harvey's first wife was Marcia Harvey. Together, they had two daughters and a son. The children were very young when their father left their mother to pursue his comedy career and admittedly didn't have a relationship with him until later in their lives.
Article continues below advertisement
Brandi's twin sister, Karli, got married in 2015 and thankfully by then, her relationship with Steve had healed sufficiently that he walked her down the aisle. Karli and her husband, Benjamin Raymond, welcomed their son BJ in 2016.
Article continues below advertisement
Broderick Harvey Jr. was 3 years old when his parents officially split, although unlike his sisters, he hasn't been as public about his relationship with his dad. However, it seems like father and son are on good terms as according to WeAfrique, Broderick manages social media for The Steve Harvey Radio Show and is also part of the Product Development and Brand Integration team at Steve Harvey World Group.
Steve's second marriage was to Mary Lee Harvey and lasted 10 years. The couple had one son in 1997 named Wynton. Having graduated from Savannah College of Art and Design, Wynton is a professional photographer and occasional model. You can purchase prints by Wynton on his website.
Article continues below advertisement
Steve's third and (so far) last marriage was to his longtime friend, Marjorie Elaine Harvey. Marjorie had three children from a previous marriage but when she married Steve in 2007, Steve adopted all three of them.
Article continues below advertisement
Morgan is the oldest of the three and along with being a happy wife and mother, she's also a professional baker. After graduating from the prestigious Culinary Institute of America with a degree in Baking and Pastry, Morgan has gone on to work for a number of well-known bakeries. She also runs I Need Some Mo, a website where she shares her favorite recipes.
Jason Harvey is a successful luxury footwear designer, who founded his company Yevrah in 2015. Jason is also happily married to model Amanda Harvey and the couple have four children: Noah, Rose, Ezra, and Joey.
Lori Harvey is arguably the most famous of all the Harvey children. The youngest Harvey daughter has been in a number of high-profile relationships with people like Sean "Diddy" Combs's son, Justin, and rapper Trey Songz. The successful model's current relationship is with Black Panther's Michael B. Jordan and seems to be quite serious.