What Will You Buy With Your Stimulus Check? People Are Joking About Their Most Irresponsible Purchases
From Louis Vuitton goldfish to a lifetime supply of astronaut ice cream sandwiches, these are the things people are joking about spending their stimulus checks on.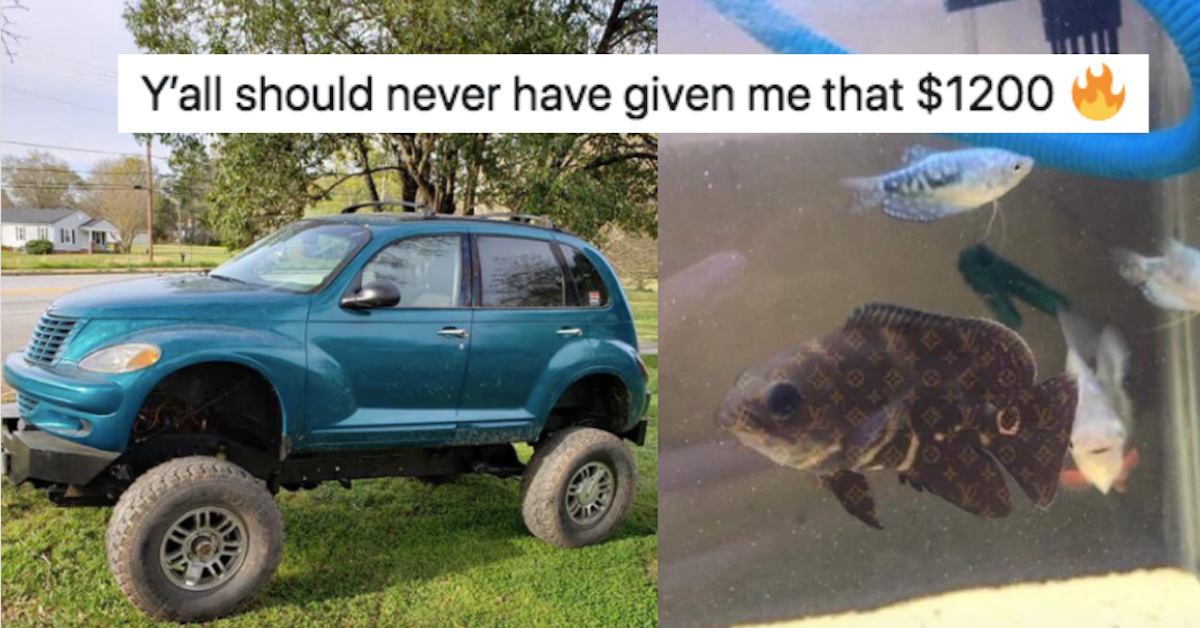 With those $1,200 stimulus checks starting to hit bank accounts, people everywhere are imagining what they would use it to buy if they didn't have to like, feed their families and pay bills and stuff. People on Twitter are posting jokes about what they're using that $1,200 to purchase, and it seems to have turned into a competition about who can serve up the silliest, most wackadoo example. These are some of our favorites.
Article continues below advertisement
Pickup truck bed
This is sort of like a grown-up version of that race car bed every kid wanted growing up. I said sort of. If you are an adult who actually sleeps in this thing, I have a ton of questions, the first of which is really more of a statement: "Maybe don't?"
Raised PT Cruiser
This might be the most impractical and douchiest vehicle one can possibly imagine (Teal! PT Cruiser! On big ol' tires!), but you can't deny that if it runs, $1,200 is kind of a steal.
Article continues below advertisement
2,400 entries to Guy Fieri's Flavortown Experience
I tried to Google it because if you know me, you know I love Guy Fieri, but I couldn't find an explanation of what "Guy Fieri's Flavortown Experience" actually is. No matter. I would have no trouble spending my stimulus check for a chance to go to this, whatever it is.
Article continues below advertisement
Han Solo in carbonite refrigerator
Normally, I would say that this is a very silly, over-the-top thing to buy, but it's the end times, everything is crazy, and if you want a Han Solo fridge, you deserve a Han Solo fridge.
Article continues below advertisement
Purple cowboy boot roller skates
OK, these may be fabulous, but if you spent $1,200 on them, I'm sorry, you got very ripped off. That being said, I would love to see anyone use these. I would pay a pretty penny for that.
Article continues below advertisement
Louis Vuitton goldfish
Obviously, Louis Vuitton-patterned fish don't actually exist, but if they did, this might be a good investment. I had a goldfish named Fred that I won at a carnival in sixth grade. Literally brought him home in a plastic bag, and he lived for 10 years!
Article continues below advertisement
"Bold and brash" Squidward painting
Um... So... I don't... Artists are entitled... But... This... Um... Squidward... Spongebob... However... Disturbing... I'm so sorry. This painting, which is being sold for nearly $1,200, broke my brain there for a second.
Article continues below advertisement
Batman costume
Not gonna lie, this is pretty dope. If it wasn't about to be 100 degrees every day, I would consider spending the rest of my quarantine in a full Batman costume. I think it would make me feel powerful. But also way too sweaty.
Article continues below advertisement
Gucci hot dog
That's not a Gucci purse. I know that's what you probably thought. But no. this is a hot dog. Yes, I'm talking mystery meat log, bun, ketchup, relish, and a Gucci logo made out of mustard. I know. You've never seen a hot dog look so good.
Article continues below advertisement
"Indoor" pool
This makes sense. We're quarantining. We can't be spending time outside. You obviously have to put your pool in your basement, even if it's one of those inflatable ones that almost always collapses and bursts. It's the socially responsible thing to do.
Article continues below advertisement
Several swords
You laugh, but the apocalypse is coming. It may not be this pandemic, but when the zombies arrive, this dude is going to be prepared, and you're not. He's thinking about his future here.
Article continues below advertisement
A *chef's kiss* emoji
We have all been awaiting the official introduction of a chef's kiss emoji into the emoji oeuvre, so I understand the impulse, but this one only costs a buck! I bet that means Taryn wants to buy this for 1,200 lovely people. If they pay it forward, eventually the whole world will have access to the world's greatest emoji.
Article continues below advertisement
18-carat gold coronet
Listen, if you want to reenact Robin Hood and play the prince while we're all quarantined, that's your prerogative. You should probably ask yourself how this crown is going to be perceived by those around you, though.
Article continues below advertisement
Black cat bedding set
It is true that bedding in general is way more expensive than it should be. Sheets and pillow cases alone cost a ton, forget about duvets and comforters. So before you make this purchase, just ask yourself whether this is really what you want your bed to look like for the foreseeable future. I can't imagine the answer will be, "Yes."
Article continues below advertisement
Very expensive burger
I looked it up, and there is actually a $1,200 burger you can buy at a speakeasy / cocktail bar in Las Vegas. It's made with A5 wagyu beef and sake kasu cheddar from Japan, served on a potato roll with roasted Campari tomatoes and matsutake mushrooms. On the side, there's poutine made with fries cooked in duck fat, duck confit, duck gravy, and crispy duck skin, topped with a poached egg and shaved white truffle.
It also comes with a flask of the bar's signature cocktail and it's all served on top of a suitcase record player. People who buy it can pick a record to play while they eat.
Article continues below advertisement
Cow statue
I feel like there's a story behind this cow statue that makes it totally worth $1,200, but we'll never know what it is. And while I am curious about the cow, I am also very intrigued by what's happening around and behind the cow. Is this a museum? Does this person collect movie props? I have so many questions.
Article continues below advertisement
Jet ski motorcycle
You laugh, but this is super cool. I like to think that this is an amphibious vehicle that can move from land to water and back again, but I doubt it. $1,200 only buys you the illusion. You need way more money for the actual thing.
Article continues below advertisement
Squirrel finger puppet
This should not have cost you $1,200. You should have been able to buy 100 of these and still have $1,199 left. That being said, this is probably great to prank your loved ones with.
Article continues below advertisement
Lots of instant ramen
You could buy so much instant ramen with $1,200. With $1,200 worth of instant ramen, you could probably build yourself an ark and float away and live a wonderful life at sea with everyone you love.
Article continues below advertisement
Astronaut ice cream sandwiches
Astronaut space food is good to have in an apocalypse because it never goes bad. So obviously, you should spend all $1,200 on astronaut ice cream sandwiches because they're probably delicious.