Vacationers Arrive at Hotel, Discover Someone Else Already Checked into Room Under Their Name
A couple vacationing in Greece were shocked to find that someone else checked into their name using their name, and that they even presented an ID.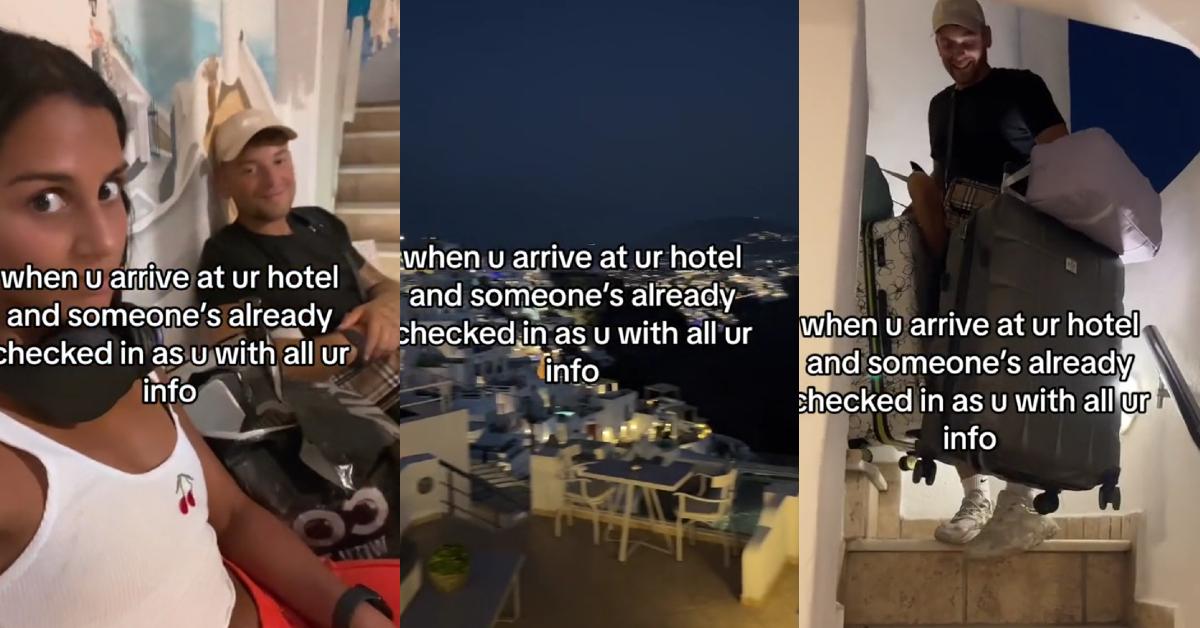 TikToker Phoebe Cruz (@pheebs16xox) was shocked to discover that the room they booked for a vacation for two wasn't already taken when she arrived: by a person the hotel guest said had their same name and that they even presented an ID indicating it was them so that they could take the reservation.
Article continues below advertisement
This spawned a litany of concerns from other users on the social media platform who suspected that Phoebe could've been a potential victim of identity theft, but there were other people who thought that this was just an instance of overbooking, or the hotel not owning up to a clerical error.
Phoebe writes in a text overlay of the video as she records her travel companion coming down the stairs with a smile on his face. He carries luggage down the steps along with several bags: "when u arrive at ur hotel and someone's already checked in as u with all ur info"
Article continues below advertisement
The clip then transitions to a scenic night sky, and judging from the hashtags placed in the video, it would appear that they were vacationing in Santorini, Greece.
Article continues below advertisement
She then shows a recording of someone at the counter on the phone, which seems like it was recorded from the lobby of the hotel. Phoebe then flips the camera around, eyes widened in what looks like disbelief and distress over the situation.
A number of commenters who replied to her video expressed their secondhand fear and shock that a mix-up that big would happen: "no ways that's scary," one person wrote.
Article continues below advertisement
Phoebe agreed, writing: "i know I'm still a bit spooked wtf !!"
What's even crazier is that Phoebe said the folks who checked in even said that when they checked in they had an ID card with her name on it to prove that it was them, not the TikToker, who booked the room.
While some folks were worried that the guests somehow managed to steal Phoebe's ID in order to claim the hotel room she booked as their own, there were others who thought that there was a much simpler solution to this mystery: that the hotel made a mistake and was just trying to cover their tracks.
Article continues below advertisement
"They didn't need to the hotel is deffo lying," one person wrote.
This seems to be corroborated by another anecdotal tale from one TikTok user who said that they work at the front desk of a hotel.
"I'm front desk and I have only done this once on accident when I was starting gave the poor guy an upgrade he was so nice"
They mentioned that in order to make it up to the guest, they gave them an upgraded room free of any additional charge for the inconvenience.
Article continues below advertisement
This is what appears to have happened in Phoebe's case, as she uploaded a second video to her TikTok page stating that the hotel booked them into a premium suite after the mix-up occurred.
Article continues below advertisement
The video features her in a bathing suit top sitting beside her travel companion in a hot tub as they both hold glasses and look into the camera. She writes in an overlay: "POV: ur hotel checks someone else into ur room so they have to upgrade u to their premium suite"
Many users remarked that they saw this outcome as an absolute win for the duo. Phoebe appears to feel the same way in the clip, as she lip syncs someone saying: "Oh really...that sucks," but then goes to show off the beauty of the surroundings she's currently enjoying with the person she's sitting with.
Article continues below advertisement

Santorini, Greece is a travel destination hotspot for its blue water and scenic coast lines, but numerous folks have stated that they've been either scammed or duped by local businesses and shady con artists posing as property renters/hotel managers before flying out to the island.
Article continues below advertisement
Wiki For Travel has posted a lengthy guide delineating some of the more popular scams that are associated with the area.
Travel Agent Central also posted a story back in 2017 about how a "scam Greek holiday website" offered villas under false pretenses, getting down payments from people who thought they were booking accommodations for their trips.

Article continues below advertisement
Instead, travelers ended up at the destination realizing that not only were they out the money they paid to book their stay, but that they also had nowhere to reside during their trip to the scenic tourist spot.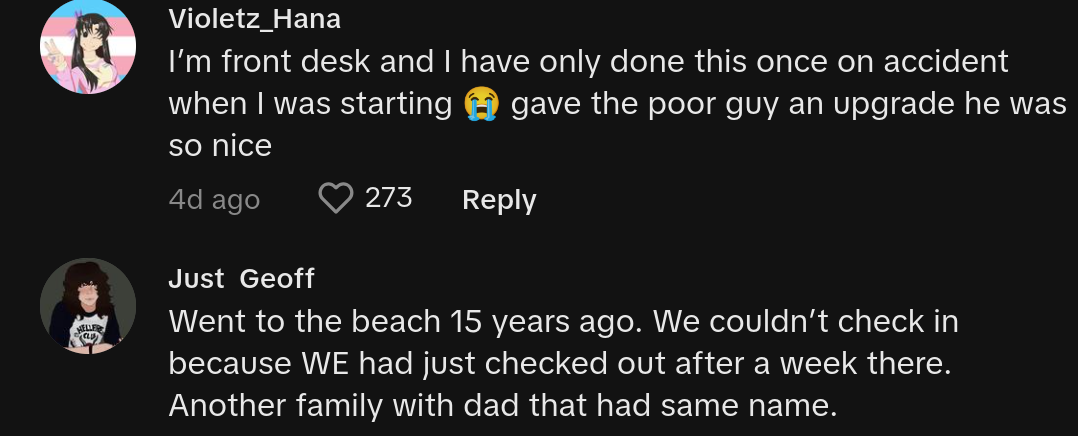 Has this even happened to you while you were on vacation, where you ended up booking a room at a hotel, only to find that the business double-booked or couldn't find your reservation?