Subway Customer Records Employee Falling Asleep While Making Their Sandwich
A TikTok user recorded a Subway falling face first into their sandwich they were making for them.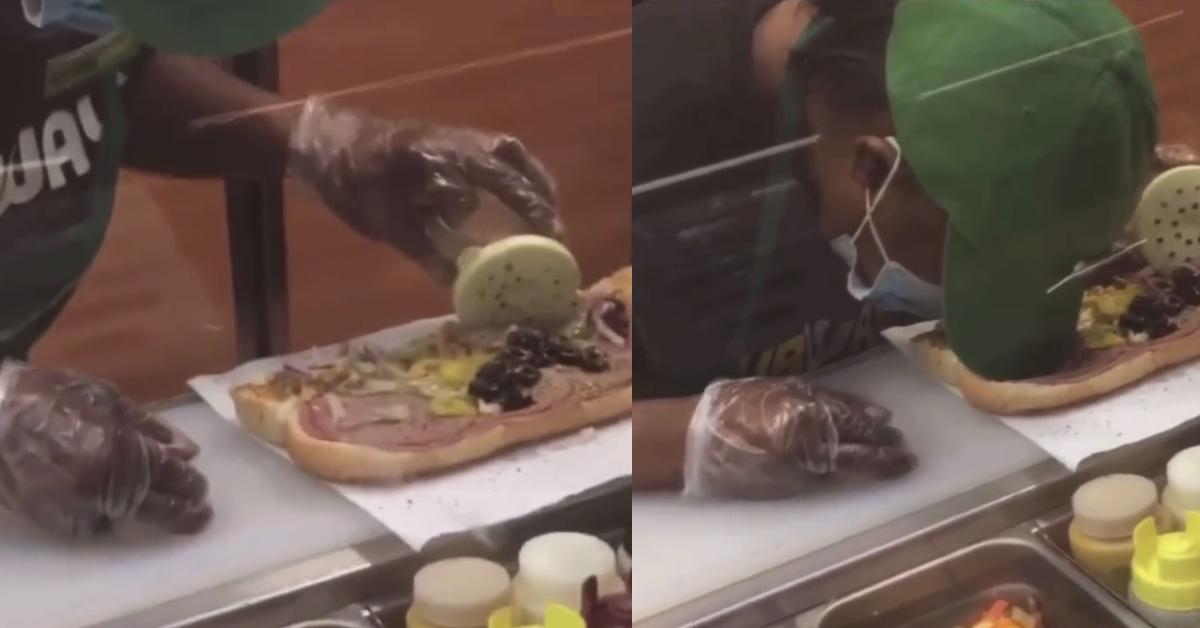 Love or hate Subway, there is something special about watching the employee from behind the counter make your sandwich to your exact liking and specifications.
Article continues below advertisement
From picking your bread to the type of protein you want to be placed in it, and all of the additional toppings/accouterments placed on your meal, to the condiments/dressings spritzed on top, it's an experience.
Article continues below advertisement
A user named Ashley (@aviles1017) recorded a worker at a Subway location she frequented putting the final touches on a sandwich she ordered from the chain fall asleep on the sub she was putting together.
Article continues below advertisement
She writes in a text overlay of the video: "This lady fell asleep on my sandwich," as she records the employee sprinkling what looks like oregano on the meal as she lightly begins to doze off over the sub.
As they nod off over the counter, they mush the spice container into the sandwich, their head keeling closer and closer to the containers of toppings and sauces before them. It's but slightly funny and heartbreaking at the same time, leading many to question the cause of it.
Article continues below advertisement
It doesn't take very long for their hat to dig into the sandwich, too, and then it becomes obvious that they're completely passed out and have fully fallen asleep on the meal.

Article continues below advertisement
The video had a litany of different responses. There were some folks who expressed concern that the employee was overworked and was more than likely working multiple jobs in order to make ends meet that her body just couldn't keep up.
That could be one possibility that appears to be backed by both anecdotal and statistical evidence gathered from surveys. A Vox article written by a journalist who had to forego writing and took up working in fast food thoroughly discussed the heightened levels of burnout that they weren't prepared for.
Article continues below advertisement

Article continues below advertisement
However, there were other TikTokers who joked about the employee snoozing over the sandwich, remarking that the music playing over the Subway's loudspeakers didn't help matters either, which forced the woman into a pity of sleepy despair.
Another quipped, "She just seein if it smell fresh"
However there were others who thought that the woman wasn't falling asleep because she was overworked, but because she was stoned to the bone off of some type of drug/narcotics.
Article continues below advertisement
"Heroine is no joke," one person wrote.
Another said: "All the innocent ppl be like "omg she's over worked" 'poor baby so over tired' bruh she on oneeeeee"

Article continues below advertisement
If you've ever interacted with regular opioid users, you have probably become accustomed to them "nodding out" mid-discussion. It's a common sight: the inebriated person will be engaged with you mid-conversation, or texting on their phone, and their head will start to droop slightly before they ricochet themselves up into position, suddenly alert.
What do you think the cause of the Subway worker's sudden sleepiness is? Have you ever been in a situation where the person preparing your food passed out on it? Thankfully she was cooking some pasta over an active stove top.