"They Better Be Getting Paid Extra" - Taco Bell Employees Filmed Removing Tree Stump
Two Taco Bell employees were filmed removing a tree stump outside of a store, sparking debate employers asking too much of workers.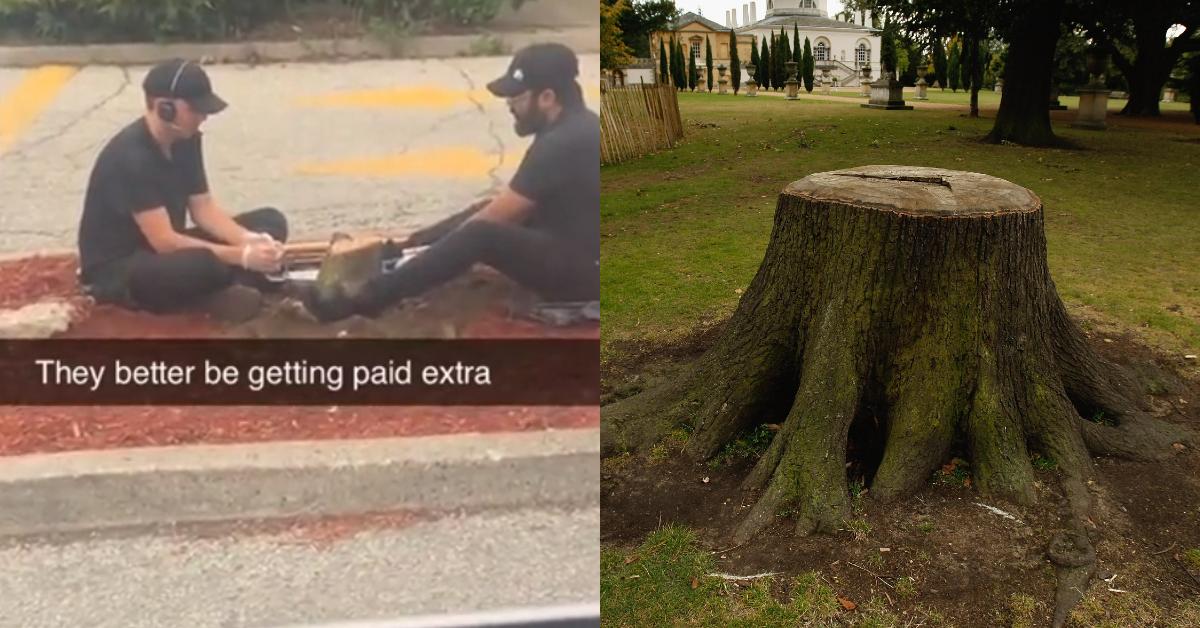 "This wasn't in the job description." If you've worked in the service industry, you've probably said or thought this same exact phrase to yourself while you're on the job. Maybe you've heard a co-worker say it.
Article continues below advertisement
And there's a good reason for that: it's a common occurrence for many workers to have to take on duties that aren't immediately expressed in the descriptions for the jobs that they take on.
Harvard Business Review posted an article that delves into specific instances employees may or may not want to cause a stink if they're asked to complete a function that isn't directly associated with their job description.
Article continues below advertisement
Overall, the outlet states that it all depends on the situation and urgency associated with the task: if it's something that needs to get done by a specific deadline and waiting for an "okay" isn't feasible, then go ahead.
Redditors are finding it difficult to imagine, however, the circumstances that would call for 2 Taco Bell workers to be tasked with removing a stump from in front of the store.
Article continues below advertisement
In a viral TikTok that was re-posted to Reddit, a video shows two fully uniformed workers for the "Live Mas" brand sitting across from one another, attempting to saw through a tree stump located on an island outside the exit of a Taco Bell drive-thru.
A text overlay in the clip reads: "They better be getting paid extra" as the employees strategize among themselves as to the best way to cut through the wood surrounded by redwood chips.
Article continues below advertisement
Commenters who saw the video left a litany of sardonic responses, highlighting how they couldn't understand why food service workers would be tasked with stump removal.

Article continues below advertisement
"'That counts as your break, guys, since you're spending time outside', their manager," one Reddit user wrote.
Someone else chimed in: "The guy on the left still has his headset on too! Probably taking drive-thru orders as they saw"
Another remarked that they worked in fast food and came to learn that, in their experience, they were asked to do things that technically don't fall under the umbrella of preparing and serving food all the time: "I worked fast food for far longer than society likes to think people do. There is nothing out of your job description"
Article continues below advertisement
But there was another user who said that they'd much rather spend their work day removing a stump than dealing with dense customers: "I'd rather remove a tree stump than stay working the drive through dealing with morons asking me if the cheeseburger has f---- cheese on it"

Article continues below advertisement
While being asked to take on duties that aren't directly linked to your job description may be a reality that many employees would rather not face, it's not exactly illegal for a company to ask that their workers to perform duties outside the original scope of what they were hired for.
At least, unless one's work contract specifically delineates otherwise.
A USA Today article states: "the short answer is, yes, your employer may assign you tasks not specifically outlined in your job description. Unless you work under a collective bargaining agreement or contract, your employer can legally change your duties."
Article continues below advertisement

Of course, if what you're employer is asking you to do is expressly potentially injurious to your health or is illegal, then you have every right to decline the additional job duty that is outside of the description for which you were originally hired.
Article continues below advertisement

What do you think? Was it wrong for managers to expect two fast food workers to remove a stump when they should've been serving up Crunchwrap Supremes?
Or are folks just assuming that the employees were instructed by management to do so and instead volunteered their services to get out of a hot kitchen?