Man's Body Rejects Water After He Drinks It for the First Time in 2 Years
Water is many people's drink of choice. But when one man drank a gallon of it for the first time in years, it harmed his body.
As we get older, there are just some non-negotiable routines we must set in place to thrive. Some prefer exercise to boost their energy and mobility, and others eliminate certain things from their diet or add nutritious foods and drinks.
Article continues below advertisement
While a smoothie here and there does wonders for the body, simply drinking more water during the day has proven to be a simple yet effective way to boost your healthy lifestyle. Unfortunately, some folks despise the taste of water. But one man on TikTok proved that his distaste for the clear beverage is more profound than most.
Keep reading to see what went down.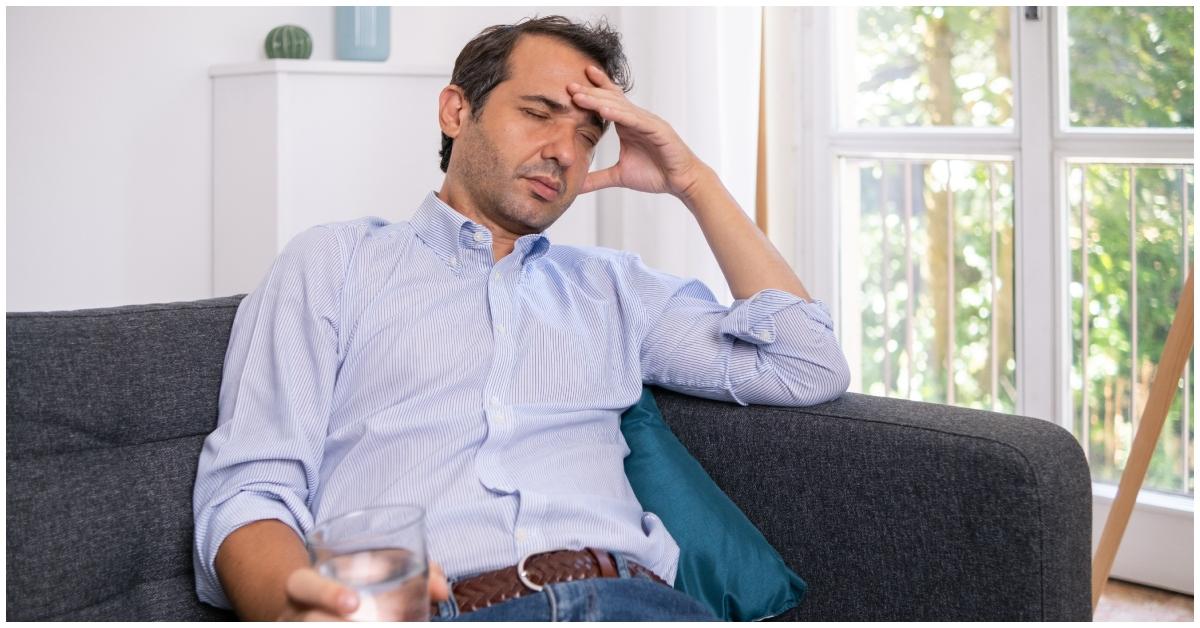 Article continues below advertisement
A man asked TikTok to "save" his friend's life after he admitted to not drinking water for two years.
In June 2023, rapper Tigo B (@tigobmusic) posted a TikTok of him and his friend Flynn on vacation. While relaxing in the pool, Tigo tells his followers that Flynn admitted he doesn't drink water. As he's explaining the conversation to the audience, Tigo pans the camera on Flynn Facetiming his family, who also confirmed he doesn't drink water — and hasn't in two years!
In the video, Flynn said water isn't for him, but he prefers to drink orange Gatorade to keep himself hydrated. Two of his family members also "verified" their water bottles were perfectly safe around him.
Article continues below advertisement
As Tigo expressed his genuine concern for his friend's health, he asked his followers to help him and his family "save his life and drink water." He challenged the audience to leave "100 comments" on his video and said Flynn agreed to drink a gallon of water upon Tigo reaching the 100 mark.
Article continues below advertisement
Of course, I skimmed through Tigo's comments and was not disappointed. Various people asked the real questions, like "why" Flynn hadn't had water in two years and how his skin and teeth remained flawless during his water abstinence.
Article continues below advertisement
The next day, Tigo posted Flynn accepting his challenge to drink water — this is where the genuine concern for Flynn's health came in.
Article continues below advertisement
The man became extremely ill after drinking water for the first time.
Tigo's TikTok update about his friend not drinking water was a short video of Flynn drinking the gallon of water as promised. The friends went to Trader Joe's to pick up the gallon for Flynn, with Tigo recording him the whole time.
Outside Trader Joe's, Flynn began drinking out of the bottle while explaining to onlookers that he hadn't sipped H20 in the last two years.
In between the appalled responses from fellow Trader Joe's customers, Tigo showed Flynn's body "rejecting" the excessive water. No, seriously. On several occasions, Tigo recorded his friend puking on the street, in a nearby trash can, and in their hotel's lobby.
Article continues below advertisement
Tigo, who also gave a hilarious voiceover describing the situation, showed Flynn rushing to public restrooms multiple times. During one of his bathroom dashes, Flynn admitted to Tigo his urine had never been "so clear" upon downing the gallon.
Article continues below advertisement
The video wrapped with Flynn completing the challenge by "finally, finally" getting to the end of the bottle. After watching him jokingly pass out on the hotel lobby floor, Tigo's followers had even more questions than before.
Article continues below advertisement
"I need the thought process behind this," one TikTok commenter demanded. "What did y'all think would happen after literally chugging that much water without easing into it?"
"I have so many questions," another admitted.
Article continues below advertisement
Flynn's water challenge caused even more uproar on Twitter. Once the video circulated, multiple users were floored by it, and even more, were concerned for Flynn's well-being.
"How in the world has this man survived for two years without water? I'm calling cap," one user tweeted.
"Bro is hydrophobic," added a second commenter.
Understandably, many suspect Tigo and Flynn's TikTok is fake, and the friends were trolling all of us. If that's the case, give Flynn all of the awards!