Woman Gets $2,800 Worth of Free Groceries During Trader Joe's Pandemonium
A woman happened to go shopping at Trader Joe's, discovers the store's giving away all refrigerated/frozen goods.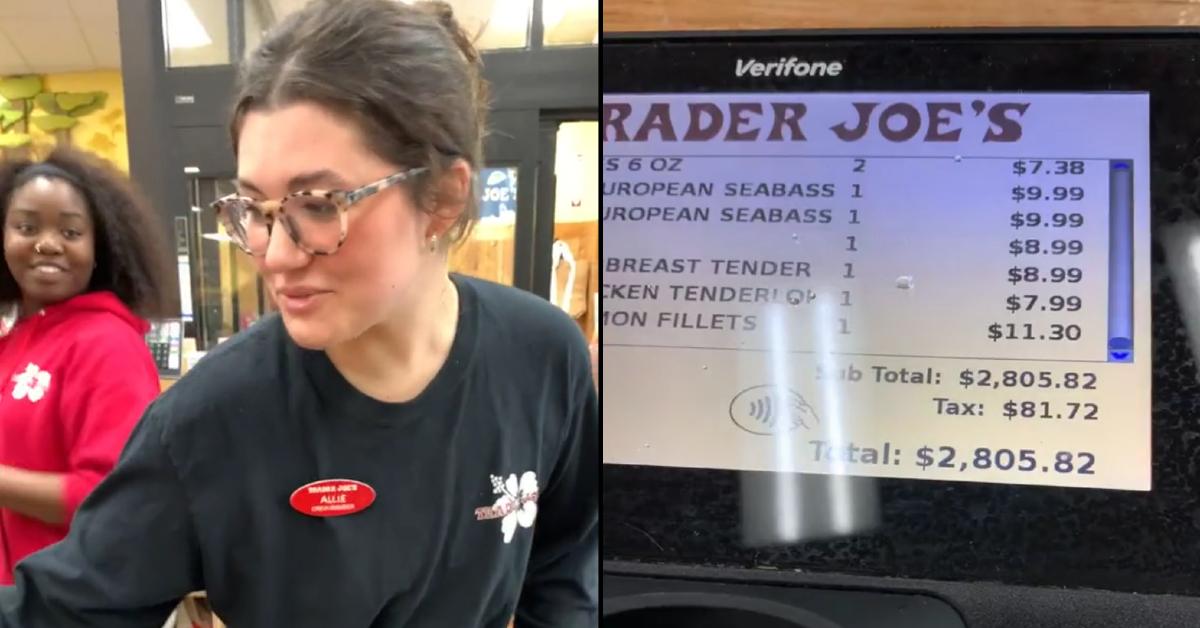 Article continues below advertisement
This means that any type of relief, whenever you're out shopping, is a welcome one, so you can imagine the relief and happiness one TikToker felt while heading into a Trader Joe's store to discover that the retailer was giving away tons of free food to customers.
Article continues below advertisement
"All right so can y'all tell us what's going on today?" The TikToker asks while recording the POS screen of the total amount of food costs she incurred while at the register. The figure approaches nearly $3,000, before she aims the camera at a Trader Joe's employee.
Article continues below advertisement
The worker answers her question as another smiling employee stands behind her, "So our refrigeration went out -"
"Because I don't think people believe me,"
The worker smiles and replies, "Yeah I know. Refrigeration went out and so we're giving away everything that is cold or frozen."
The TikToker then points the camera to the POS machine again and clarifies that the total on the screen isn't just the total amount of food that she's bringing home for herself, but the grand total of all the food folks have gotten for free at that register.
Article continues below advertisement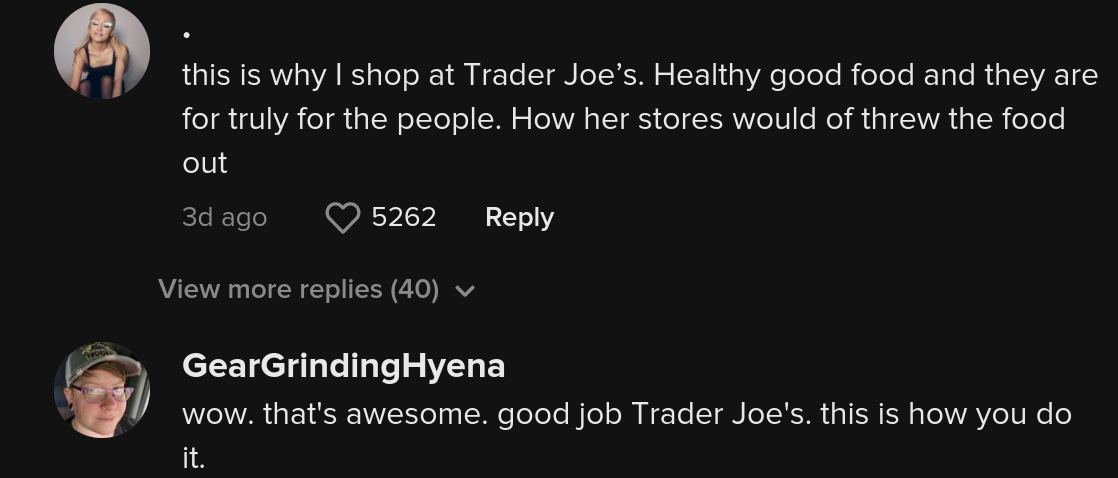 The employees can be heard confirming this off-screen before the video cuts out. @registerednerd_ uploaded another video to her account that shows what the Baton Rouge, Louisiana location looked like with throngs of shoppers walking through the store, packing their carts with items.
Article continues below advertisement
"Trader Joe's refrigerators are down so they are giving away ALL their REFRIGERATED GOODS for free," she writes in a text overlay of the clip.
Article continues below advertisement
She shows off long lines of shoppers who have carts filled to the brim with products waiting patiently for their turn to exit the store with the free refrigerated goods, along with other dry goods that are not part of the 100% inoperable refrigeration discount.
A number of TikTokers who saw the post said that they were touched by the generosity of the store.
"What a blessing may that store stay in business for generations to come because they really care about the people," one user wrote.
Article continues below advertisement

Another said, "Let's support Trader Joes instead of Walmart because they care about people unlike Walmart"
However, there were some who weren't too thrilled at the scene that was recorded by @registerednerd_, saying that they thought the folks piling into the store were probably taking more than they needed.
Article continues below advertisement
"Crazy to see how greedy people can be, taking everything they can that will probably be thrown out instead of sharing and leaving some for others"

Article continues below advertisement
@Registerednerd_ mentions in the caption of one of her videos that wasn't in the store because of the free refrigerated goods, but that her trip there was a "random" one that ultimately turned into a "blessing."
Many commenters also applauded Trader Joe's for their generosity, with many saying that they will be sure to always shop at the store for their grocery needs in the future because of moves like this.