Airplane Passenger Reports Kid to Flight Attendant for Spilling Glitter
In a viral post, a man said he reported a mother and her kid to a flight attendant for making a mess with glitter. Read on for details.
If you think a delayed flight is rough, try traveling alongside unruly children! There's truly nothing worse than settling into your seat and hearing a child scream and cry at the top of their lungs — or in this one person's case in the wildly popular "AITA" subreddit, spill glitter all over you and your things.
Article continues below advertisement
On June 28, 2023, a man took to the popular subreddit to discuss his recent experience on a long-haul flight. The original poster, who goes by the handle u/Fit-Lab5312, revealed that he reported a mother and her "glitter monster" of a child to a flight attendant after the kid spilled glitter all over the plane. Read on for more details.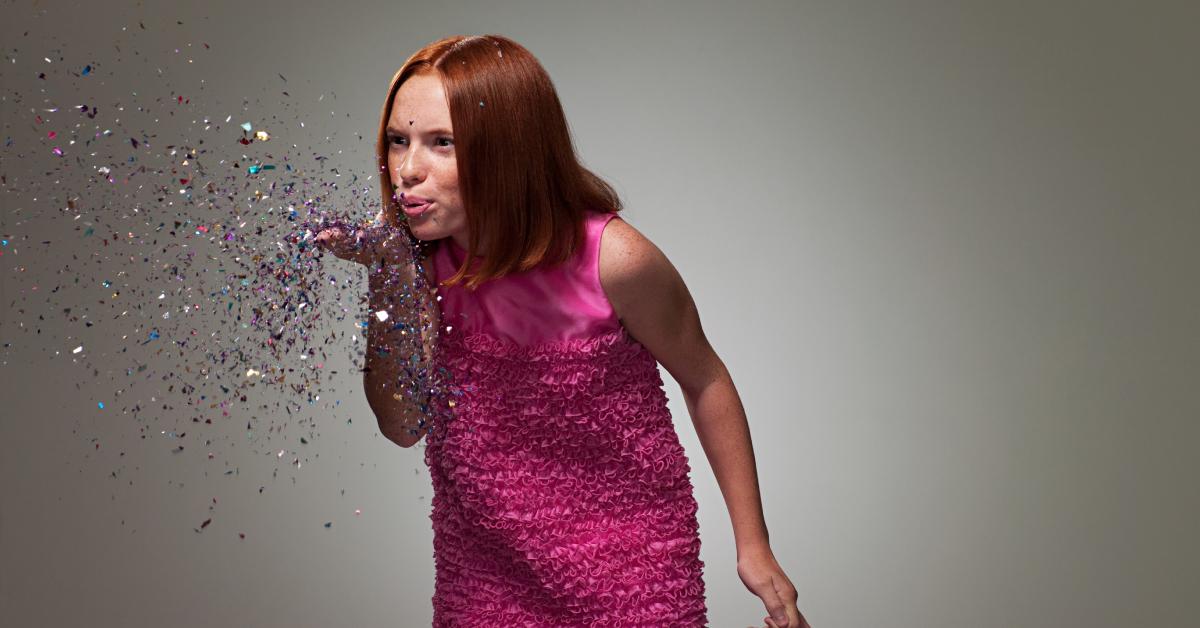 Article continues below advertisement
A passenger on a plane reported a mother after her child spilled glitter all over him.
The man first provided context, stating that he paid for an aisle seat in the main cabin extra because of his long legs. He said the plane was packed, and his seatmates were a mother and her young child. Mom brought various arts and crafts activities to keep her kid busy, including a "glue stick, markers, paper, [and] craft sticks."
Everything was fine until the kid started playing with glitter. The OP said the child, aka "Glitter Godzilla," was making a mess — and since she was in the middle seat, the glitter spilled onto the Reddit user and his things, including his shoes, jeans, and backpack. The OP said he hoped the mother would step in, but she didn't.
Article continues below advertisement
After a while, the OP got up to use the bathroom — on the way there, he "quietly shared" the situation with a flight attendant, who promised to handle it discretely. However, when the OP returned, the mother was furious.
Article continues below advertisement
"[I don't know] what the flight attendant said, but the mom claimed I was being discriminatory against mothers, and since the flight was delayed she was just trying to keep her child entertained," the OP said. "Then she started raising her voice, accusing me of being a 'selfish man with no understanding of children.'"
The OP — whose lower half was covered in glitter by this point — said no other seats were available, so he had to deal with the mother's "verbal attacks" the entire flight. Ugh, talk about a nightmare.
Article continues below advertisement
Redditors agree that the OP didn't do anything wrong.
The viral social media post immediately racked up thousands of comments, with many fellow Redditors sharing their thoughts on the situation and deeming the mother the wrongdoer.
Article continues below advertisement
"If even a few pieces of glitter work their way into the plane's avionic systems, the entire flight is coming down. ... I mean, probably not, but that's what you say to the kid with a deathly serious face," the top commenter joked.
Another person said, "Which freaking moron brings glitter on a flight. Whenever I'm packing activities for my kids, I have a list of no no's. Does it make noise? It's a no. Can it be used as a projectile? Also a no. Does it make a mess? Nope, nope, nope. Is it generally annoying? It's a no."
Article continues below advertisement
"I mean, I get that the mother was trying to keep her kid occupied, but she made a horrible choice of activity," a third wrote, while a fellow mother asked, "Who the f--- brings glitter on a plane? Even if you're adamantly against screens, there's a TON of other things that don't involve thousands of tiny sparkly things that inevitably get everywhere."
Article continues below advertisement
Others agreed that the mother should've been a "glitter shield" and given her kid the window seat. However, the OP followed up and said, "I think the mother wanted the window seat and not a middle for comfort."
"She was kinda curled up against the window just on her phone [for] the first part of the flight," they added. "Middle seats suck, but I agree with not seating a child next to a stranger."
Whose side are you on? Let us know!