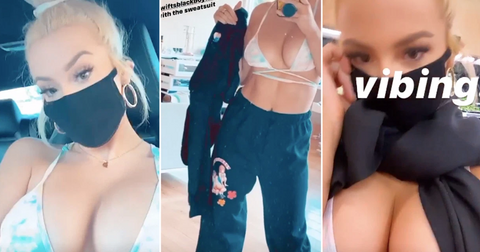 Tana Mongeau Wore a Bikini to the Grocery Store, but at Least She Had on a Mask
By Larry Stansbury

Updated
These days, it seems like everyone is wearing sweatpants and T-shirts as their daily quarantine outfits because we are all stuck at home. Since the weather is getting nicer, though, some people are putting on their swimsuits — like YouTuber Tana Mongeau.
Except unlike Tana, they're probably not wearing a bikini to the grocery store.
Yep. It turns out Tana paired her mandatory face mask with an interesting outfit during a visit to Whole Foods to buy some snacks. Let's take a closer look at her adventure.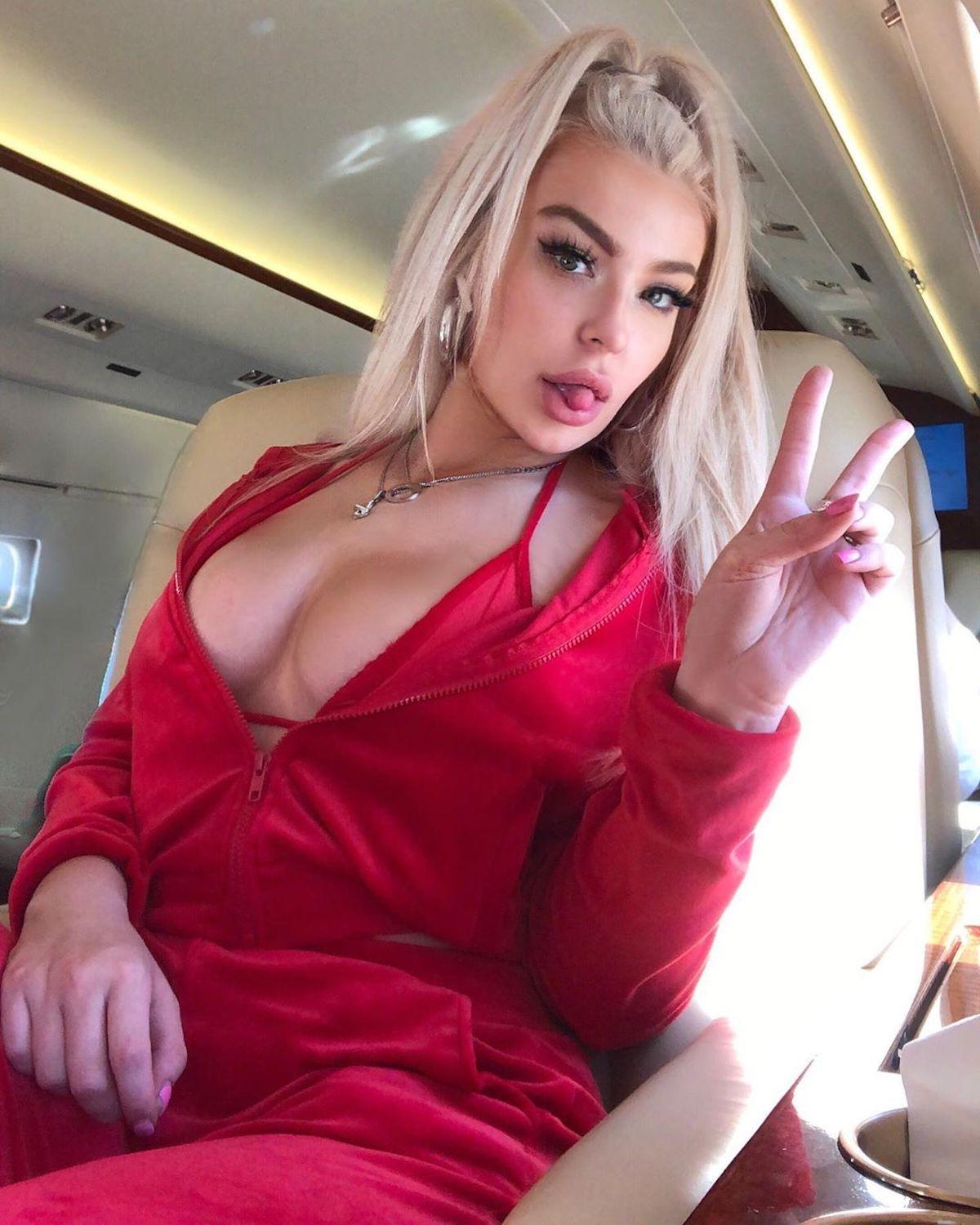 Tana decided that pairing a bikini with her mask was a winning combination.
The YouTuber donned a blue and pink tie-dyed For Love & Lemons swim top ($115) as well as Pornhoodies sweatpants featuring an NSFW anime graphic.
Tana shared a number of photos from the outing — including one of herself having fashioned her sweatshirt as a mask. And we have to admire the ingenuity.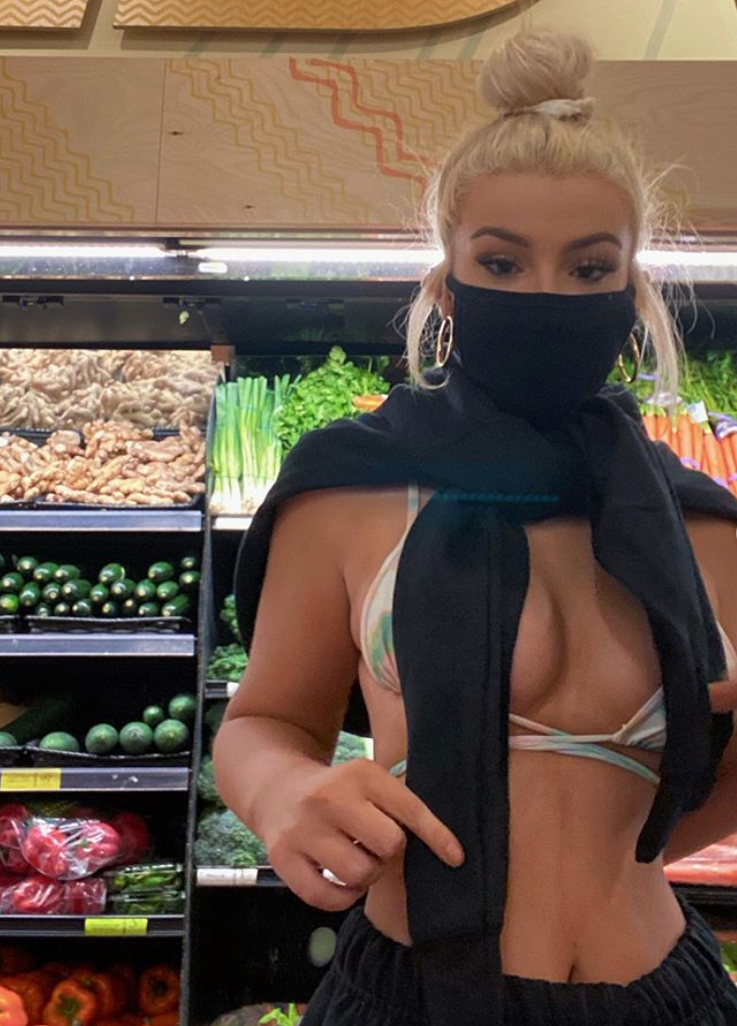 Considering Whole Foods is among the grocery stores requiring customers to wear masks, it makes sense Tana would be wearing one. Her choice to wear a bikini, however, is puzzling. (Although highly entertaining.)
"This is all the content i have to provide this week," Tana captioned the Instagram post. "I cleaned up & paid for the pineapple. Also Ashley and I are on fire, stay tuned."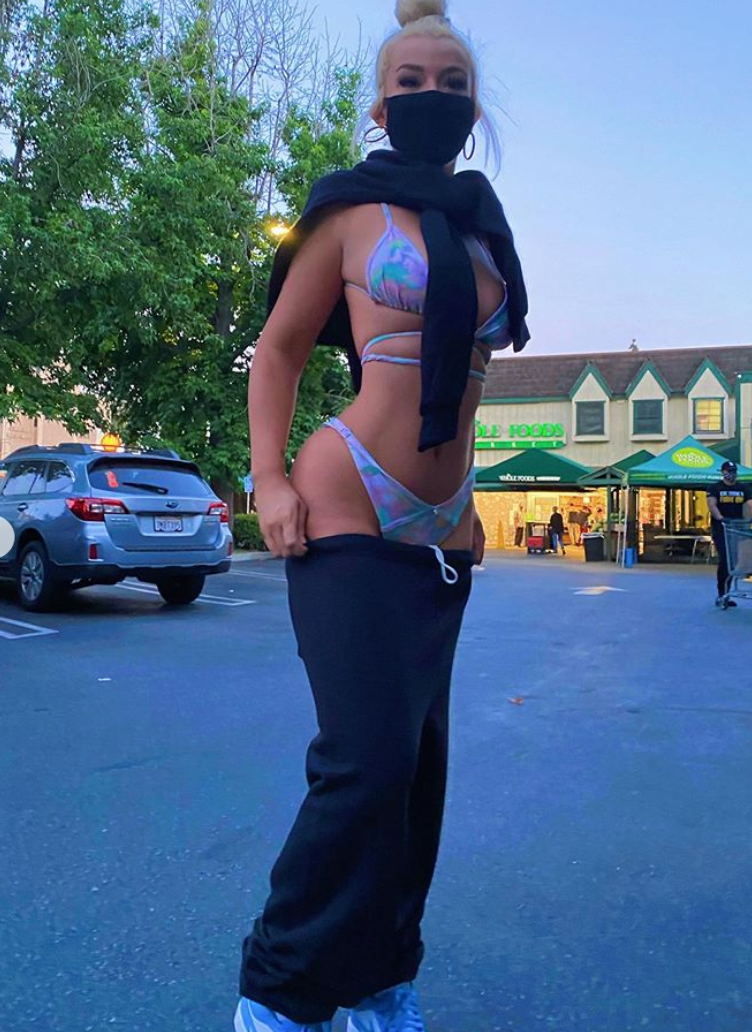 Tana snapped photos wearing a bikini and rubber gloves while social distancing.
In recent weeks, the YouTuber has been blowing up everyone's social media feeds with butt content. While everyone is social distancing, Tana has posed on her rooftop, wearing nothing but a tie-dye thong bikini and matching rubber gloves. Hey, at least she's cleaning and staying away from people.
Tana is also using social media to fight the stigma against female masturbation.
Tana decided to partner with a female self-love brand, Vush, to stop the stigma against female masturbation.
"I am partnering with a female self love brand called Vush. Together we are breaking the stigma of female masturbation," she said in the Instagram post. "With the whole world in lockdown, it's a perfect time to give it a try lmao."
The YouTuber previously dated Jake Paul and Bella Thorne.
Tana and Jake started dating in April 2017 after meeting each other at Coachella. The couple broke up a few months ago and decided to stay best friends.
"For right now we both are taking a break to focus on our own very crazy lives," Tana wrote on an Instagram post. "I'll never know what the future holds and I will always love Jake and everything we did."
Tana and I aren't together anymore, pls stop asking. We love U guys ❤️

— BITCHIMBELLATHORNE (@bellathorne) February 26, 2019
Source: Twitter
After Jake, Tana dated Bella Thorne for a little over a year before they went their separate ways in February 2019. The two still remain friends.
"Tana and I aren't together anymore, pls stop asking. We love U guys," Bella wrote on Feb. 26, 2017. Then, Tana wrote, "I love her forever don't get that twisted. She changed my life forever. Don't really wanna talk on it."
Following Tana's breakups, she wants to start focusing on putting herself first and practicing self-love.
"I'm just really focusing on loving myself, doing good things for myself," she said to Page Six. "Trying to really focus on my mental health and physical health and help my followers do the same and see where life takes me."
Kudos to you, Tana.