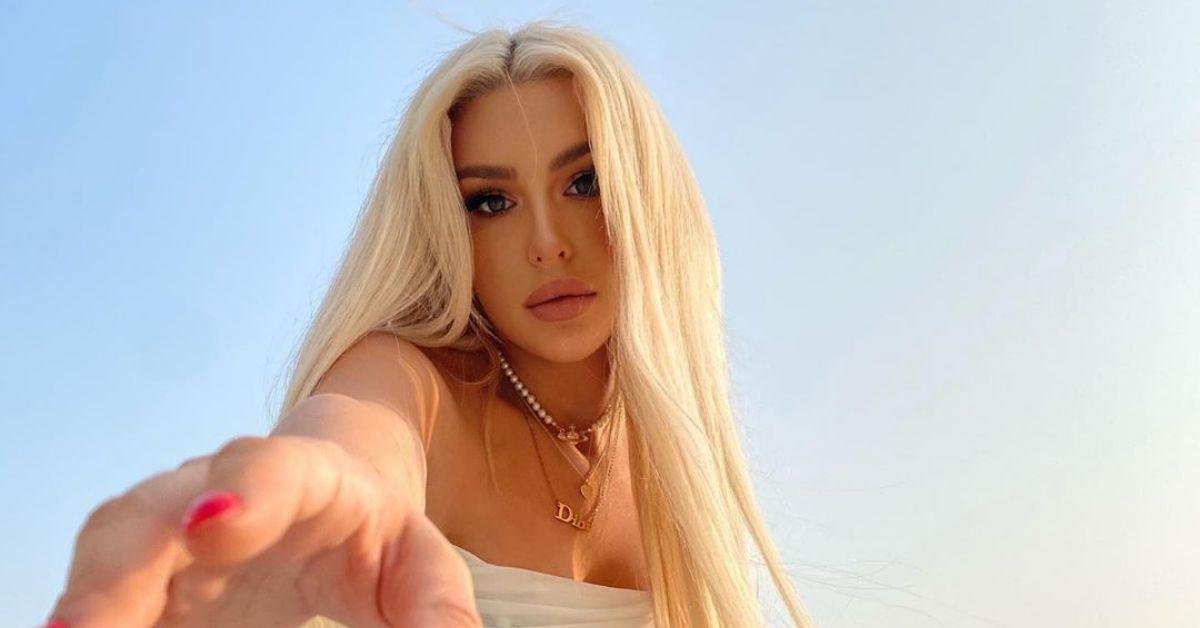 Booty for Biden? Tana Mongeau Reportedly Offered Nude Photos in Exchange for Votes
Tana Mongeau has seen her fair share of controversy over the last several years but it doesn't seem to faze her too much. However, the latest issue centered around the social media star seemly resulted in her getting de-verified from YouTube. Did Tana Mongeau commit voter fraud?
Article continues below advertisement
Tana Mongeau is in hot water after offering nude photos in exchange for a vote for Joe Biden.
According to TMZ, on Sept. 30, 2020 Tana tweeted a proposition to her followers that may have broken U.S. election laws. The social media star shared that she would send her Onlyfans followers a nude of herself free of charge. The catch was that they needed to send proof that they had voted for Joe Biden, the Democratic nominee, in the upcoming election.
Article continues below advertisement
Tana included the link to her OnlyFans account and the hashtag #bootyforbiden, which didn't take too long for it to be noticed. Not only by her 2.4 million followers on Twitter, but by others who pointed out the tweet may be violating a law.
According to Cornell Law School, U.S. Code § 597 states, "Whoever makes or offers to make an expenditure to any person, either to vote or withhold his vote, or to vote for or against any candidate; and Whoever solicits, accepts, or receives any such expenditure in consideration of his vote or the withholding of his vote— Shall be fined under this title or imprisoned not more than one year, or both; and if the violation was willful, shall be fined under this title or imprisoned not more than two years, or both."
Article continues below advertisement
And that's where it appears the law was reportedly broken. It's also known as vote-buying, TMZ says, and is a felony under the law. However, it's not 100 percent clear on if Tana broke this law with her tweet, which has since been deleted.
Article continues below advertisement
Following her tweet, Tana posted to Instagram writing, "update #bootyforbiden broke tana uncensored. love to see so many ppl who want change as badly as i do," Adding, "u don't need my ass to know what's right for America so go VOTE! today was fun, ily 🇺🇸"
Following the potential issues with #BootyforBiden, Tana had her YouTube verification removed.
Tana's fans noticed, not too long after her #BootyforBiden tweet went out, that her YouTube channel, which has close to 5.5 million subscribers, had its blue checkmark verification removed. For those of us who don't have a verification and don't realize what comes along with that, the removal can mean lots of lost money for the 22-year-old who makes money from her views on social media.
Article continues below advertisement
Tana hasn't mentioned anything as of yet to why her checkmark was removed, and YouTube itself hasn't issued a statement, but TMZ is speculating that its removal is tied back to the potential voter fraud she committed on Twitter.
Article continues below advertisement
However, it's not confirmed either. TMZ wrote, "her loss of YT verification could also just be a technicality over her recent name change -- if you recall that whole Jake Paul wedding fiasco -- or a host of other reasons."
And TBH, we never really know with Tana.