Tanner Fox's Girlfriend Is a Self-Proclaimed "Aussie Baby" and Model
Tanner Fox's girlfriend is a source of curiosity, especially for fans who loved his ex, Taylor Alesia. Here's what we know about the new girl.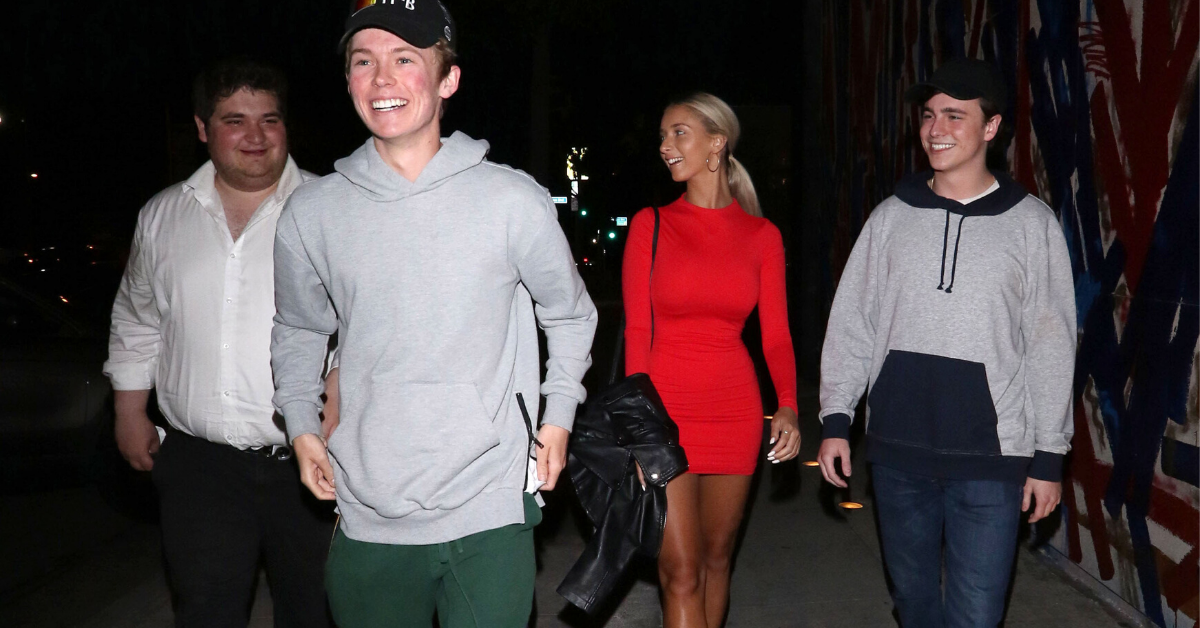 Tanner Fox needs no introduction as one of the biggest names in the wide world of YouTube influencers.
At just 20 years old, Tanner has become a sensation just by broadcasting about his daily life, which — at 10.1 million channel subscribers and counting — people find really interesting.
He started sharing videos in 2011, quickly gaining incredible traction and 1.9 *billion* views to date.
Article continues below advertisement
Yes, Tanner hosts challenges, dares, and self-made music and travel videos like so many fellow YouTubers. But he also lets fans in on his real life, and that includes who he is (or isn't dating).
He's got fame. He's got money. He's got cars. He has his own brand.
Article continues below advertisement
But does Tanner Fox have a girlfriend?
That's a yes! Tanner has gone public about his relationship with Avalon Nadfalusi.
Tanner posted an introduction video in late September 2019, and naturally, fans went bananas. Here's what he said to the 2.8 million people who have watched it so far.
"After many months of me and my Beautiful Girlfriend, Avalon Dating for month and months, we both agreed it was appropriate too finally sit down and film a youtube video together and introduce her to you all... this is a huge deal for not only me, but for her as well... I hope you love her as much as I do [sic]."
Article continues below advertisement
Here's what we know about Avalon Nadfalusi.
The 19-year-old Australian model calls herself an "Aussie baby" and shares her hustles and hobbies in her public Instagram bio. Made evident by her photos, Avalon is heavy into the fitness scene (have you seen those abs?).
Article continues below advertisement
Article continues below advertisement
She rarely posts about Tanner.
Now that Avalon is best known for being Tanner's girlfriend, people are more curious about her than ever. It seems to be a title she's proud of.
But fans have publicly wondered why she doesn't post much of him on her own public social accounts, although she does appear on Tanner's accounts regularly.
Article continues below advertisement
For anyone who missed the memo that they're together or just enjoy some light detective work, there is one Avalon and Tanner social connection that left fans to connect the dots. Or butts.
In early February, Avalon and Tanner both posted on the same day. And the butt that Tanner was resting his head on in his own Instagram photo matches the one from Avalon's account (which, yes, Tanner's hand is grabbing).
Article continues below advertisement
Tanner previously dated Taylor Alesia for years.
Before Avalon, Tanner was in a long-term relationship with fellow YouTuber Taylor Alesia, who his fans came to adore.
The breakup was massive news, and people are still out here trolling nearly all of his Avalon photos (and content in general) saying that they miss Taylor. Ouch.
Article continues below advertisement
In 2017, the couple posted about a breakup, then said it was fake. Rumors surrounding their relationship status were swirling ever since, but basically came to a halt the following year, when Taylor posted a breakup video on May 5, 2018, and Tanner was the first to add a (very heartwarming) reply.
"We have mutually agreed that we are taking steps in different directions. This is honestly the healthiest decision for both of us," she shares.
Article continues below advertisement
But drama was inevitable.
Since videos are what they both do, it's no surprise that there have been videos since by both Tanner and Taylor about blocking one another on social, responding to hurtful comments, and so on.
They have since removed photos of one another from their accounts.
And fans on both sides are here for it.