Target Employee Exposes Clever Way They Know When Someone's Stealing at Self-Checkout
A Target Employee's now viral TikTok shows off a "secret" room that sports two-way mirrors which are presumably used to spy on customers, but are they?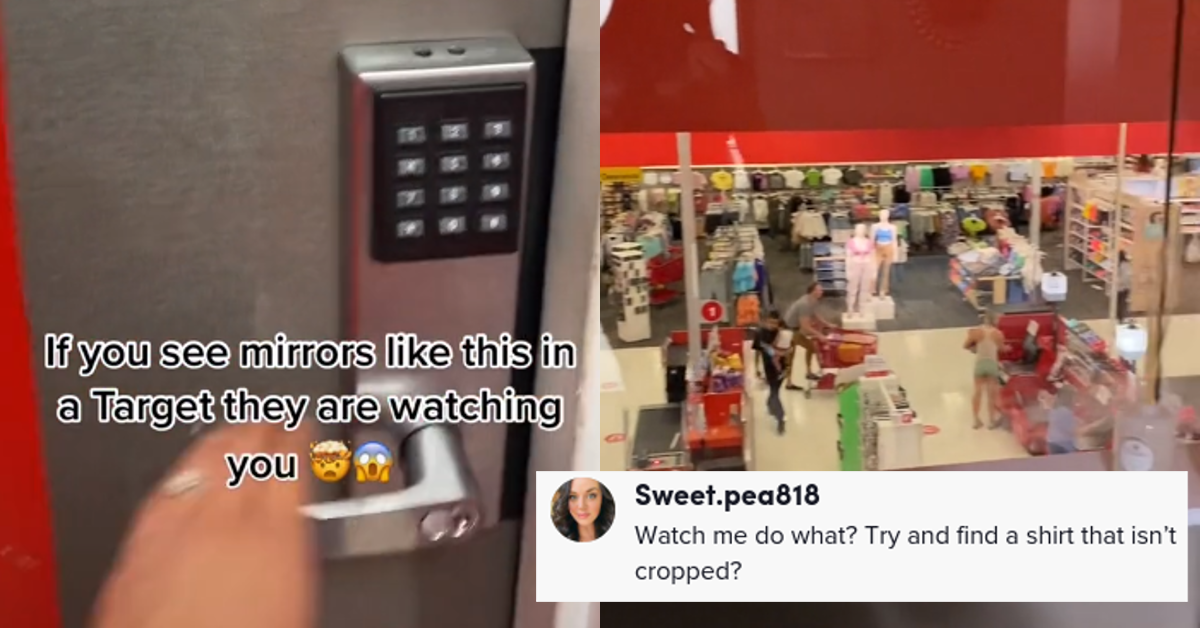 You should always assume that while you're shopping at a major retailer that you're being watched. Heck, even local businesses have security cameras installed in their establishments, which has helped them catch thieves.
But major retailers spend a lot of money on loss prevention every single year. Take Walmart for example the global chain recently plopped down over half a billion dollars to ensure that folks aren't burgling from its stores.
Article continues below advertisement
Granted, a lot of the loss prevention solutions aren't as complex as the Sam Walton established brand, which incorporates a series of A.I. cameras and weighted self-service checkout stations. And of course, there are camera systems manned by folks who are paid to ensure that big-ticket items aren't being lifted out of the respective locations where they work.
Apparently, some of these loss prevention set-ups are a bit more involved than others, like this "amphitheater" of sorts that a TikToker showed off in a now-viral clip at a Target location that gives whoever is in the room a Skybox view of the entire store so they not only presumably have live video monitoring feeds of the location, but an actual grand view of the retailer's layout.
Article continues below advertisement
Santi, who posts under the handle @santi._s gave viewers a sneak peek into what many are speculating is a part of Target's loss prevention process, after spilling the beans on the suspicious look elevated mirrors that can be found in some locations.
Article continues below advertisement

At the onset of the now-viral clip, she shows the mirrors and then we see her head through some doors in the back of the store. Through this pathway, Santi ends up at a stairwell, which she traverses to ultimately end up directly behind the mirrors.
Article continues below advertisement

As it turns out, they're the kind of mirrors you'd recognize from any police movie interrogation scene. The two-way glass allows whoever's inside the box to covertly snoop on anyone who is ambling about the store while all we see are our own mugs staring back at us.
Article continues below advertisement

A text overly on the clip simply reads: "If you see mirrors like this in a Target they are watching you" along with a caption, "They really do be watching us from above."
Article continues below advertisement

It's worth mentioning, however, that there actually weren't any employees manning the "spy station" while Santi was recording, so the room may only be in use during high-volume shopping times or when a specific situation needs to be monitored by staff.
Article continues below advertisement

And while the prevailing belief is that the rooms are being used to watch potential shoplifters, or to spy on employees in the store to make sure that they're doing their jobs, there were many who thought that since there was no one up there during the time of Santi's filming, that those particular spaces are just offices that aren't in use anymore.
Article continues below advertisement

Instead of knocking them all down, the construction team responsible for putting the Target together opted to just put up some mirrors in an attempt to try and make things more aesthetically pleasing. However, why would there be two-way mirrors, and not just some key art showing the Target dog or other imagery/promotional materials for the store?
Article continues below advertisement

Other people chimed in and said these are simply offices for the store's managers, and the reason why they're empty is that they're probably on the floor assisting customers or other members of the location's team.
Article continues below advertisement

According to folks in the comments section, they've said that other retailers, like CVS and supermarkets do the same thing. The two-way mirrors are there for visibility, but also offer some privacy for employees who are on break.