"That's So Sick of Him" — Woman Discovers Ex Tattooed His Side Chick's Face on Her Arm
A woman dumped by her tattoo artist ex-boyfriend scrolled through his Instagram to find "the other woman" and noticed a familiar face.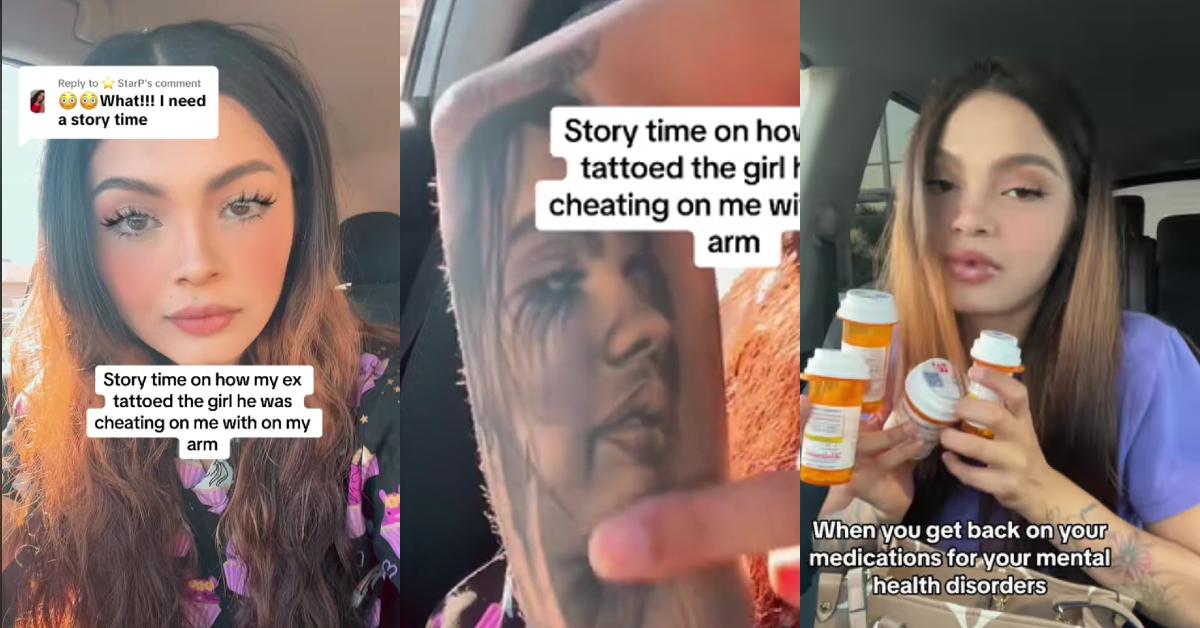 A tattoo artist secretly inked the face of his mistress on his girlfriend's arm when she thought they were in an exclusive relationship without her knowledge.
A TikToker named Jasmine (@jazzklassy) went viral with her unbelievable story time, racking up 734,000 views and thousands of comments from other incredulous users on the platform.
Article continues below advertisement
Jasmine relays her story as to how she made the shocking discovery that she is now rocking the face of the woman her ex-boyfriend cheated on her with: "I'm really not good at these story time things but everyone wants to know what happened. So let me just show you guys, this is the tattoo."
The TikToker displays the tat on her arm to the camera: it's an intricate blend of realism with fantastical elements, showing off the artwork that covers the entirety of the top of her forearm. "This is the one I'm talking about I'm not talking about the one on my inner arm," she specifies, indicating that the demon on the interior of her arm is a separate piece of ink.
Article continues below advertisement
Jasmine goes on to say that she was reluctant to show the "side chick" in question's face so as to save her from the wrath of internet sleuths "And I don't know if I wanna show you guy's a picture for reference because I really don't want you guys harassing the girl but basically what happened is me and my ex were dating at the time, he was a tattoo artist."
Article continues below advertisement
She explains her initial request of her former flame, Inkmaster Ex: "I had told him I wanted Lilith from the Bible."
According to Biblical Archaeology, Lilith is only mentioned once in the bible, and the description of her is pretty darn metal: "She makes a solitary appearance in the Bible, as a wilderness demon shunned by the prophet Isaiah. In the Middle Ages, she reappears in Jewish sources as the dreadful first wife of Adam."
The latter mention of Lilith is primarily lifted from Hebraic biblical story-telling according to Brittanica: "In rabbinic literature, Lilith is variously depicted as the mother of Adam's demonic offspring following his separation from Eve or as his first wife."
Art imitates life and so on, but it's kind of ironic that many view Lilith as "the other woman," so the fact the tattoo artist literally inked his side chick's face onto his girlfriend's arm
Article continues below advertisement
Jasmine continued with her story: "No one knows what she looks like so I just said do what you think...just freestyle it. He showed me the design and I didn't know that that was the girl he was cheating on me at the time, with, and so, of course, I was like yeah I love it, let's go for it, he does the tattoo, really good into there."
Article continues below advertisement
Everything was fine with the tat and her relationship with her man, or so Jasmine thought. It wasn't until months later that she was contacted by her boyfriend, telling her that he was dumping her, which came at an inopportune time. He also admitted to cheating on her as well.

Article continues below advertisement
"And then months later he literally dumps me the day before my sister's funeral, admits to me that he's been cheating on me the entire time with his ex-girlfriend. And then me being me, crazy, I go researching, I find her TikTok, I see exactly what she looks like and it's the same exact face on my arm."
It's one thing to have to deal with the daily, painful reminders of a relationship gone wrong, but to have one permanently inked on your body is another thing altogether: "And everyone t first I thought was gonna call me crazy but after showing them a picture of her, right next to my arm they were like no girl that definitely is her."
Article continues below advertisement

"Long story short, I didn't get no really revenge or nothing he already called the cops for me 'allegedly' doing something to his mom and sister in his house, I don't know, I have no idea what he's talking about cause I didn't do anything."
Article continues below advertisement
Jasmine wrapped her video by stating that she was thinking of pursuing legal action against her ex-boyfriend: "But if anyone of you guys know a good lawyer in Arizona, let me know cause I don't even know if I can sue him because I didn't know that that was his ex's face, the girl that he was cheating on me with. If I had known that, I would have obviously never gotten the design."

Article continues below advertisement
Commenters who saw the post sympathized with Jasmine's story and were astounded by the heartlessness of her ex tattoo artist to do that to her: "Nah that's a different type of evil to do to someone. I'm so sorry"
There were others who seemed to think that she could make a case to get him to pay for the tattoo's removal: "You can take him to court so he can pay for the removal. Gather evidence and get a lawyer."
"Get a quote on how much the removal will cost and take him to small claims court. If you can, get him to admit to it in writing (text, email etc..)," another said, while someone else also came up with an idea on how to gather evidence for the court case: "You should directly text him and ask him why he did that (in detail) so anything he says will probably be admittance"