15 Tattoos That Could Only Happen in 2019
Tattoos are forever, but these are so 2019 it's kind of ridiculous. Here are the ridiculous very 2019 tattoos people put on their bodies permanently.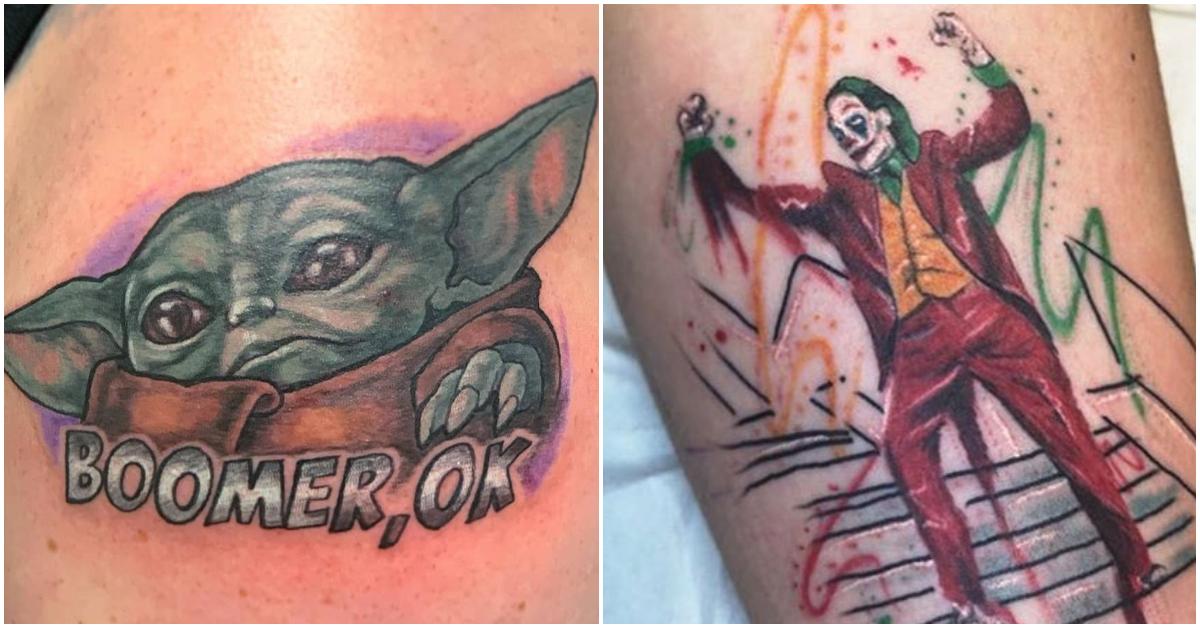 A tattoo is often something a person plans for years. After all, it's a permanent mark on your skin. But as a haver of tattoos, I can attest that you get a little less precious about each tattoo you get, until eventually you're like "sure, I want to have a flash-in-the-man pop culture reference on my forearm forever.
Now I'm not saying the tattoo recipients on this list are going to regret their decision to get the following ink, I will say it's very clear these are not the kinds of tattoos that had years of planning, because they're all based on things that happened in the past year. Years from now, they won't even have to tell people the year they got them done — we'll all know.
Article continues below advertisement
Baby Yerrrda
It's one thing to get a Star Wars tattoo; that's an enduring franchise that has been around for over 40 years. However, I'm less sure about the staying power of Baby Yerrda, a meme where Baby (AKA 50-year-old) Yoda from The Mandalorian is dressed in a North Face puffer jacket and a Yankees cap. Still, that's a pretty cute tat.
Boomer, OK
Two 2019 tastes that taste great together: Baby Yoda and the "OK Boomer" meme. Of course, It differently the Jedi might phrase, hmm? I swear this isn't just a list of Baby Yoda tattoos, but there are quite a few out there, which is kind of astonishing considering The Mandalorian debuted in November.
Article continues below advertisement
White Claw Yoda
OK, last one, I promise. Here's baby Yoda with his claws on the hangover cocktail of the summer, White Claw. I don't know who needs to hear this, but you could just put vodka in a La Croix for way cheaper, and I feel like someone as wise as Yoda would know this.
Article continues below advertisement
Chuggin' claws, breakin' laws
White Claw hard seltzer also inspired quite a lot of tattoos this year that I'm sure were entered into with completely sober minds and clear judgment.
Article continues below advertisement
Forky
Forky was the breakout star of Toy Story 4 and I get why someone would want to have him permanently inked on their body. First of all, he's a Pixar character, so he's sure to be relevant for years to come. But there's something very 2019 in that "WTF IS HAPPENING?!" expression on his face.
Article continues below advertisement
Not today
Even though the finale season of Game of Thrones was disappointing to many fans, it delivered a few great moments. This tattoo commemorates one of them, when Arya Stark utters her stock answer to the God of Death "Not today."
Article continues below advertisement
I love you 3,000
Even though the phrase "I love you 3,000" was meant for Tony Stark and Pepper Potts' daughter, this Avengers fan also pays tribute to Iron Man's surrogate son of sorts, our friendly neighborhood Spider-Man with this Endgame inspired tattoo.
Article continues below advertisement
Captain Marvel
I personally find it a little creepy when people get hyperrealistic portraits of living actors on their bodies, but this tattoo of Brie Larson as Captain Marvel, AKA Carol Danvers, is impressive nonetheless.
Article continues below advertisement
Popeyes chicken sandwich
The U.S. went briefly insane this September when Popeyes debuted its chicken sandwich. Supplies ran out, people got shot over them, it was nuts. At least this person who had the sandwich tattooed onto their body will always have them, even if another shortage comes about.
Article continues below advertisement
Scoops Ahoy
Season 3 of Stranger Things brought a new mall to Hawkins, IN, and with it one of the favorite Halloween costumes of 2019: Steve Harrington's Scoops Ahoy uniform (and his coworker, Robin Buckley). As for the text — it will only make sense if you watch season 3.
Article continues below advertisement
Joker on the Shakespeare Stairs
Whether or not Bronx residents like it, after the 2019 debut of Joker, this staircase connecting Shakespeare Ave and Anderson have become an iconic photo op. Much like the steps to the Philadelphia Museum have become known as the Rocky steps, this staircase is sure to be called the Joker Stairs for years.
Article continues below advertisement
'Fleabag' statue
This line drawing is a match for the headless torso statue Fleabag was always stealing from her rotten stepmum in Fleabag, and while that technically makes this a 2016 tattoo as much as a 2019 one, the Amazon series definitely hit the height of its popularity in 2019 with the second and final season. I'm sure there's someone out there walking around with a Hot Priest tattoo as well.
Article continues below advertisement
TikTok
TikTok has been around for a few years but 2019 definitely signaled the rise of its inffluence on youth culture. Still, as someone who has seen many a social media network rise and fall, I guarantee this will be as regrettable as if someone got a MySpace tattoo 15 years ago.
Article continues below advertisement
Billie Eilish
Billie Eilish was one of the top artists of the year, and several fans fell in love with her debut full-length album enough to commemorate it on their bodies. This one pays homage to two tracks, "Bad Guy" and "You Should See Me in a Crown," the video for which is definitely not for arachnophobes.
Article continues below advertisement
Lizzo
Lizzo's "Truth Hurts" has been out for over two years, but it was a slow burner that didn't reach the height of its popularity until this year when her album Because I Love You dropped.