There's Maximum Drama Between Designers Tay BeepBoop and Kaarin Joy — Here's What's Up
The online DIY community is losing their minds over drama between maximalist interior designers Tay BeepBoop and Kaarin Joy. Let's break it all down.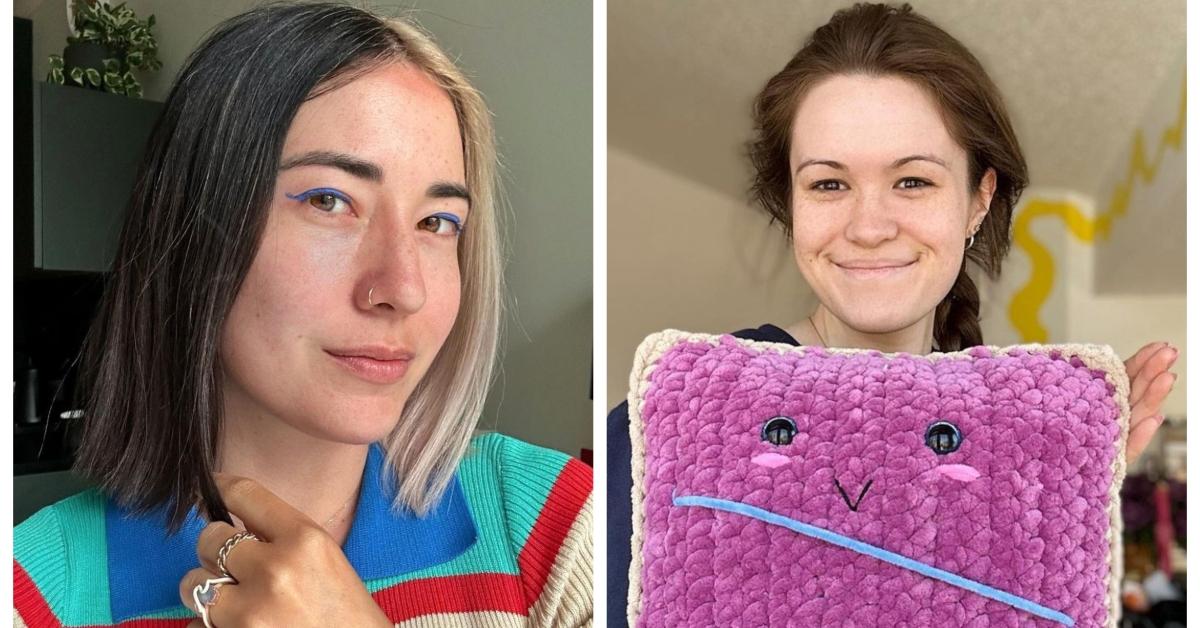 We couldn't be less surprised by the fact that two DIY maximalist interior designers have engaged in some over-the-top drama. After all, if mossy mirrors and painted walls that would put Jackson Pollock to shame are the norm, then the unnecessary in-fighting should be equally as colorful.
Article continues below advertisement
The first shot was fired by TikTok star and wallpaper designer Tay BeepBoop, whose journey decorating her Victorian house has been documented by the likes of Apartment Therapy. Tay's glue gun was aimed at Kaarin Joy, a fellow TikTok creator and self-described fiber artist with a fierce love of patterns and crochet that's nothing short of adorable. What in the world is going on between these two and can this tear be stitched back together? Here's the Tay BeepBoop and Kaarin Joy TikTok drama, explained.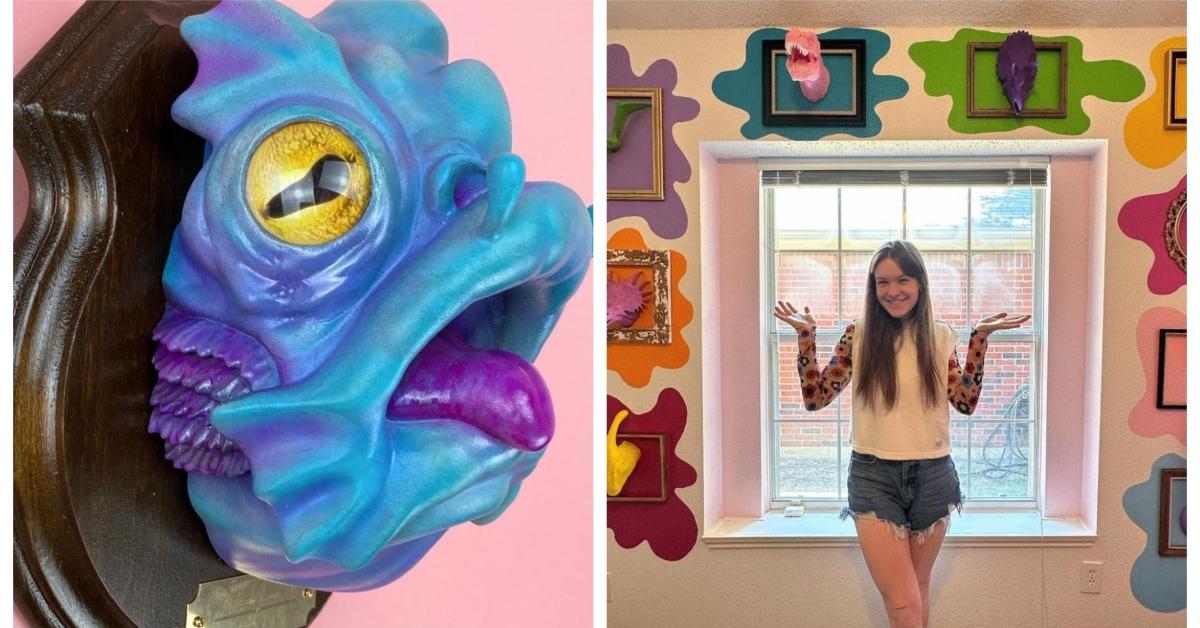 Article continues below advertisement
Why do Tay BeebBoop and Kaarin Joy have TikTok drama?
In a since deleted TikTok that was snagged by user @sillygeorgie, Tay BeepBoop reveals she's about to be petty and you know what, she absolutely was. Over this admission, Tay posts a screen shot of someone telling her that Kaarin Joy was copying her designs. Tay added a caption stating that she reached out to Kaarin and asked her to stop ripping off her ideas. According to Tay, this has been an ongoing problem for two years.
What follows are examples of Kaarin allegedly aping Tay's designs. We're shown a mossy mirror Tay made followed by a different mossy mirror Kaarin created. Tay's boyfriend makes monster head masks that she then frames, so Tay points to framed dinosaur masks in Kaarin's home. When Tay painted a green squiggly line and affixed artwork to it, Kaarin did the same but with different artwork. The most "damning" piece of evidence comes in the form of Kaarin buying Tay's wallpaper and using it.
Article continues below advertisement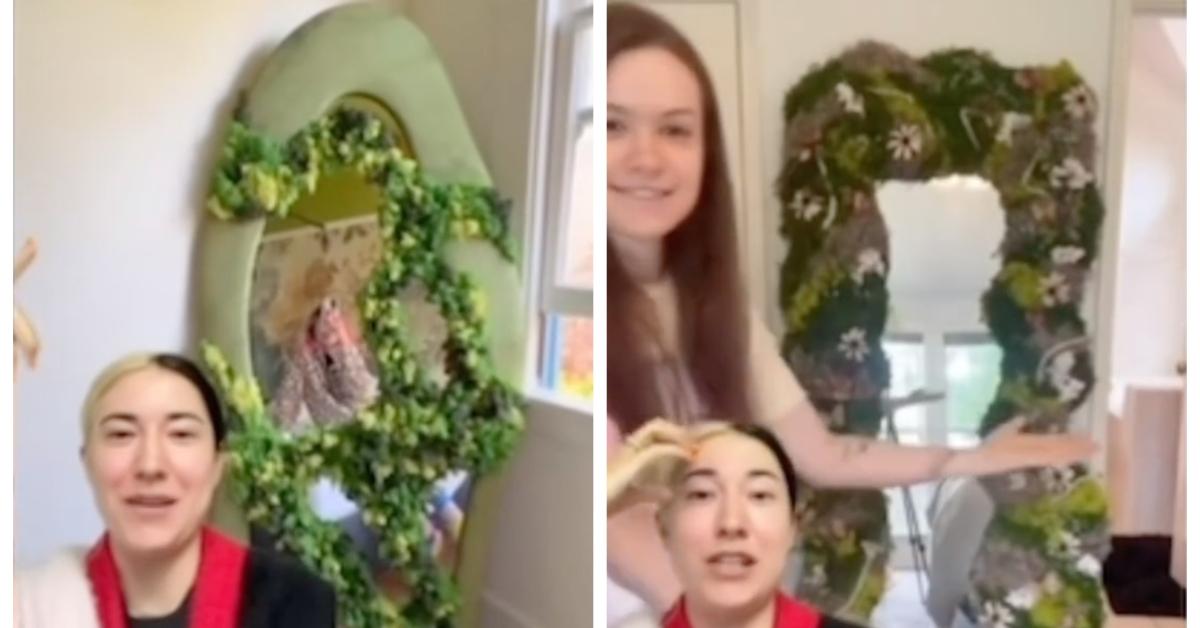 Many people criticized Tay's video, pointing out the fact that the very definition of do-it-yourself suggests that Tay shows people how to do something, so they can do it themselves. Is that not the purpose of a DIY community? Her annoyance would probably make more sense if Kaarin was profiting off of Tay's ideas, but she only seems to be inspired by them. So, Tay uploaded an apology that said her grievances should have been aired privately, but she did wish Kaarin had credited her.
Article continues below advertisement
Kaarin Joy responded to Tay BeepBoop with a TikTok of her own.
Looking distraught and pretty bummed, Kaarin dropped a TikTok wherein she responded to Tay's accusations. "I haven't seen this video because she posted it, then blocked me," shared Kaarin who was made aware of Tay's allegations via comments and DMs. "I don't know what's being said about me, but I know I'm getting a lot of mean and hateful comments and messages."
Article continues below advertisement
Kaarin opens up about how disappointed she is because she genuinely looked up to Tay as a creator and as one of the first designers she followed on TikTok. After profusely complimenting Tay's work, Kaarin said she and Tay have exchanged some messages in the past. "She was so nice," gushed Kaarin. "And about two months ago she did ask me not to do any of her DIY's which I totally understood." The chat was overall pretty pleasant, until Tay's angry TikTok.
Then Kaarin says what most people have been saying in the comments, that it's wild to expect no one else to work with color. Tay doesn't own the rainbow. We would argue that Lisa Frank does, and maybe Tay owes Lisa Frank an apology. Regardless, Kaarin would have preferred another private conversation versus the virtual flogging she received from Tay. She said that their corner of social media encourages people to feel motivated by other creators and shaming them makes no sense.
Article continues below advertisement
Tay BeepBoop apologized for her actions, but social media isn't having it.
This TikTok skirmish resulted in Tay losing her partnership with Otto Studio, the company that sold her wallpaper designs. Naturally, another apology from Tay came down the pipeline. In a follow up TikTok that many are comparing to Colleen Ballinger's ukulele apology, Tay said her behavior has been "wild and inappropriate." Tay also didn't think she had done anything wrong, which is a larger issue.
Article continues below advertisement
Essentially, Tay keeps using apology buzzwords like "accountable" and "learning" which certainly sounds like a public relations spin. The reactions have been nothing short of extraordinary, as Tay was roasted pretty heavily in the comments.
"Can I dye my hair black and white or do I need permission," asks one TikToker. Yet another chimed in with, "Hey, I want to get my right nostril pierced. Can I do that or do I need your permission?" Most folks didn't believe that the apology was heartfelt at all, and publicly sided with Kaarin. To her credit, Kaarin has continued making her usual content and has seemingly moved on.
Under a TikTok of Kaarin explaining how nervous she was about using her dishwasher after painting it, someone said, "The amount of love and support I'm seeing on my fyp for you is so touching. Keep being a good person and having a good heart and people will always." To which Kaarin replied, "I feel honored to be loved."