Tayler Holder Accused of "Stealing" Merch Designs
There's always issues in the influencer world so it's not a surprise there's controversy around Tayler Holder's merch. It's a he-said-they-said situation.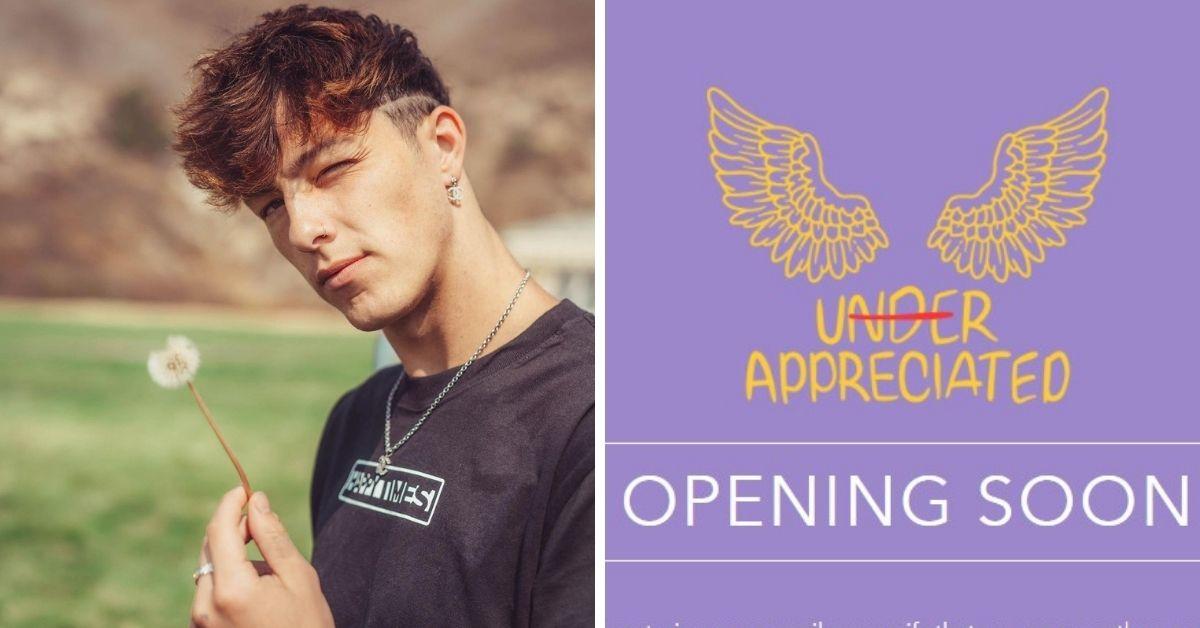 The world of popular influencers is a really interesting one. They always seem to have drama going on whether it's real and scary or fabricated to bring more attention to themselves. They make a living off getting views from social media and often have several revenue streams — like merchandise that they promote to their fans. For Tayler Holder, merch controversy surrounds his latest collection with fans calling him out, and here's what we know.
Article continues below advertisement
Tayler Holder's merch controversy is related to his relationship with the late Corey La Barrie.
On Oct. 27, 2020, the 23-year-old social media star tweeted a teaser for his latest merchandise collection. He wrote to his followers, "Should I drop the Merch this weekend?" He's had several lines of merchandise available for fans who want to support him before, but this one almost immediately started controversy.
Why? Because the logo printed on his merchandise website looks really familiar to another influencer's work. Fans noticed and called him out on social media.
Article continues below advertisement
"no, don't," one person tweeted to Tayler. "'under appreciated' is not your brand, it's corey la barries brand. do not announce it as your new merch collection. if it's a tribute to corey, mention him. give him all the credits, make sure you get permission from his friends and family. it's not yours."
Article continues below advertisement
"no you should not, especially if you're going to use something that has already been done," another wrote. "you knew corey and it is very disrespectful for you to practically copy this line."
"very original design," someone else wrote. "totally didn't steal the under appreciated COREY LA BARRIE MERCH THAT HIS FRIENDS MADE TO HONOR HIM."
Article continues below advertisement
So, what exactly happened? Well, Tayler was friends with another social influencer, Corey La Barrie, who had a merchandise line named "Under Appreciated." Corey passed away on May 10, 2020, after he and Ink Master star Daniel Silva got into a car accident after leaving a party for Corey's 25th birthday celebration. Corey didn't survive the accident (Silva did and was charged with second-degree murder over the death of Corey).
Fans are calling out Tayler for announcing his "new" merchandise when it's clearly a play on the work that Corey did. The name is the same, however there's an addition of angel wings above the words and the letters "NDR" from "Under" is crossed out in red.
Article continues below advertisement
A Twitter user pointed out that even this design difference from Corey's was originally made by a fan of the late influencer. "To add onto this tayler didn't even come up with the design himself," someone tweeted. "it was made by a fan of coreys in his remembrance. (the letters are written the exact same way)."
Article continues below advertisement
On Instagram, Tayler said this merch was designed with the help of Corey's family.
The social media star took to Instagram to address the controversy saying that he worked in collaboration with Corey's family, given the two were friends. "Guys, in case you didn't know on the merch drop, I teamed up with Corey's family, me and Corey's family have worked really really hard to perfect this drop and we're very proud of it," he said.
Tayler went on to say that the family worked together for a while and that it's been very important to him to honor his friend. He said he's always thought the "under appreciated" message was very important and a portion of the proceeds from his merch will be going towards Corey's foundation.
Article continues below advertisement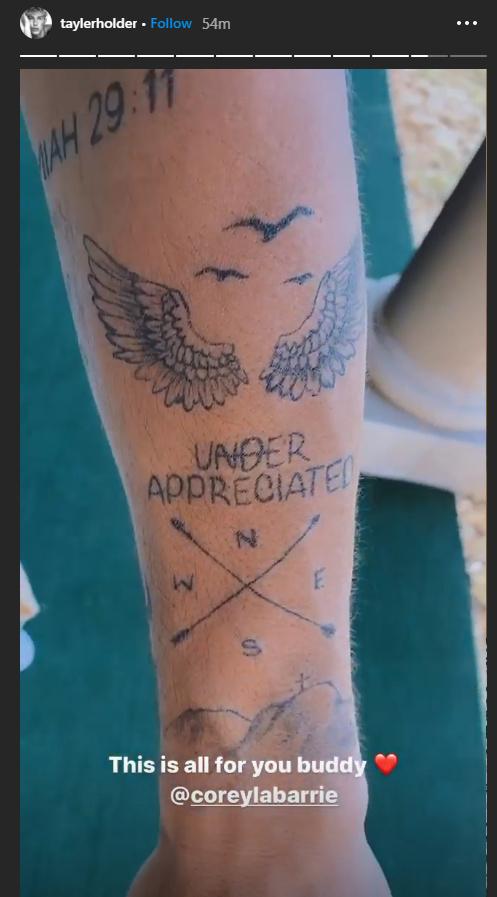 In another Instagram Story, Tayler showed off tattoos of the same logo that's on his shirt design, saying he got the tattoo to honor Corey closer to when he passed away. He wanted his fans and critics to know that there was no stealing here — it was a collaboration, intentional to honor his friend, and he's hoping everyone enjoys the work.
Reportedly, however, one of Corey's fans contacted Corey's mother on Instagram, who responded that she did not know about the merch and was "pretty upset to find out this way."
In response to the controversy, Fanjoy tweeted out the link to Corey's Thank You Collection, with the "under appreciated" logo, the proceeds of which go to FeedingAmerica.org and the Make A Wish Foundation. Alongside the link, Fanjoy wrote, "U R Appreciated @coreylabarrie."