7 Easter Eggs You Might Not Have Noticed in Taylor Swift's "The Man" Music Video
Taylor Swift just dropped "The Man" music video, and fans love the Easter Eggs — from teasing her next album title to calling out Scott Borchetta.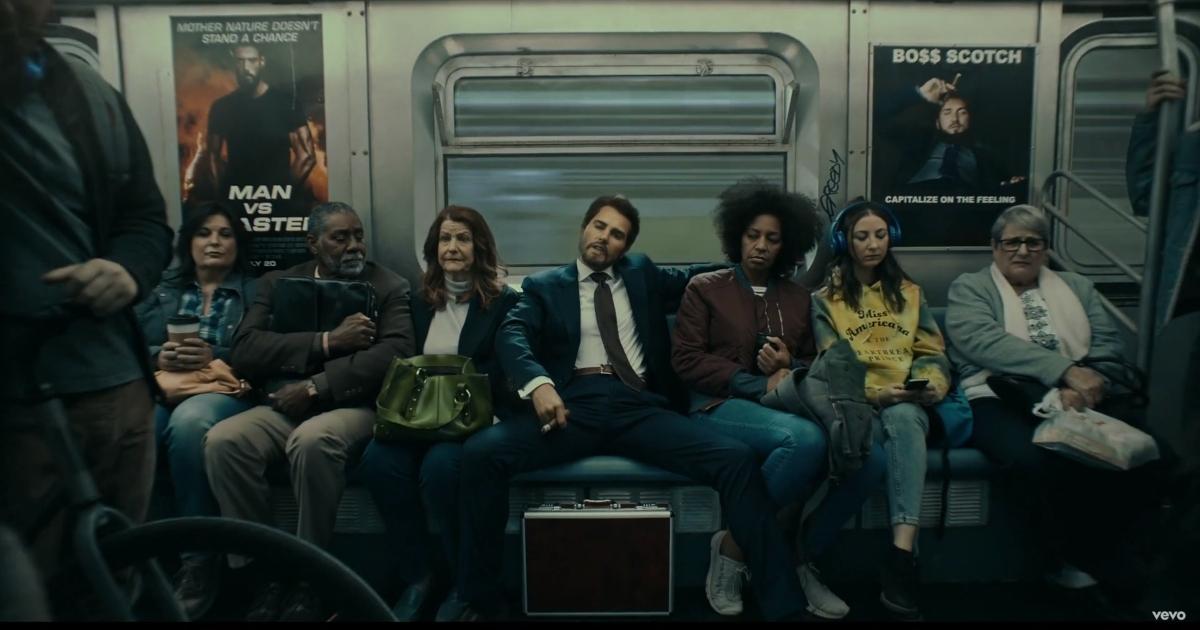 Any time that pop queen Taylor Swift releases a music video, her loyal fans know that there is far more than meets the eye. A Taylor Swift music video warrants multiple watches because she is known to drop clues about her future music, throw shade, and celebrate her hits from the past in them.
The singer dropped the music video for "The Man" on Feb. 27, and she did not disappoint when it came to the amount of Easter eggs she put in it.
Article continues below advertisement
The star of the music video is Tyler, a boss man who has prowess when it comes to business and his personal life. Taylor points out the hypocrisy about how men are celebrated for things that women are ridiculed for.
From hinting at the drama between her, Scooter Braun, and Scott Borchetta (and declaring herself to be the owner of the song) to teasing the title of her upcoming eighth album, we've rounded up seven of Taylor Swift's "The Man" music video Easter eggs.
1. Taylor teased that her next album will be entitled 'Karma.'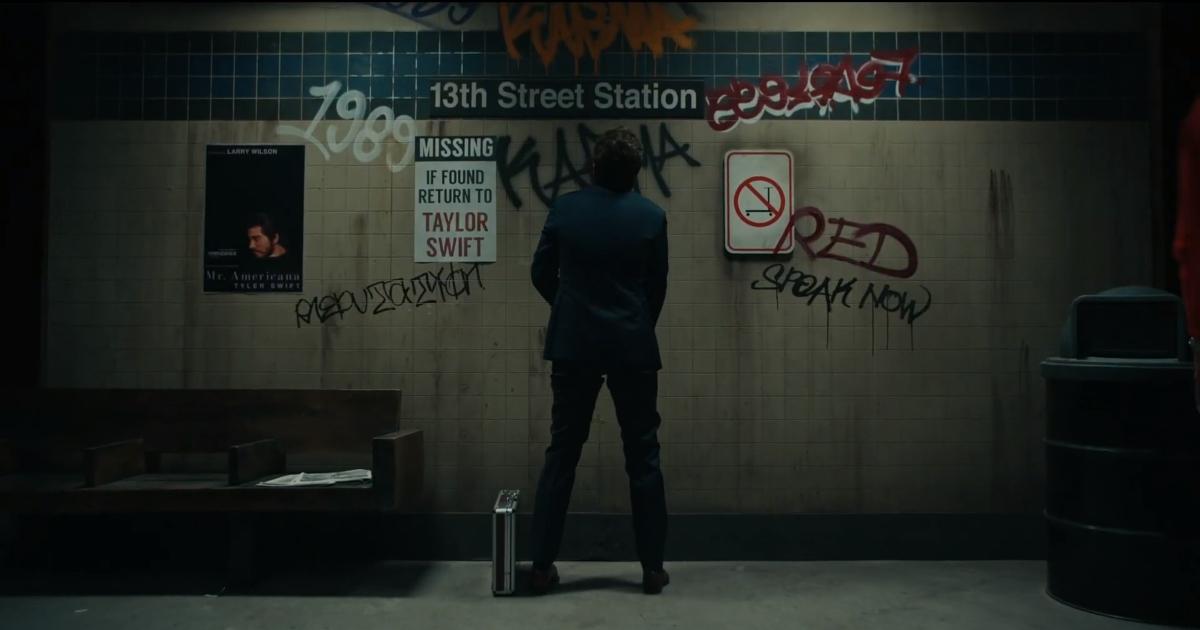 As with any Taylor Swift video, her lucky number "13" was on proud display. When Tyler pees on the wall, it's at the 13th Street subway station, and that's not the only Easter egg in the scene. On the wall surrounding where Tyler is peeing (which is an effort to show that men often get away with this act in public), are the titles of many of Taylor's previous albums in graffiti: Speak Now, Fearless, Red, Lover, Reputation, and 1989.
Article continues below advertisement
A nod to her eponymous first album is also there with a sign that reads "Missing: If Found, Return to Taylor Swift."
The word "Karma" is front and center in the biggest graffiti on the subway station, which many are taking as a clue that it will be the title of her next album. The title would be appropriate, considering many think that the drama with her and Scott Borchetta will be a big theme in the lyrics.
Article continues below advertisement
In another epically shady moment, there's also a "no scooter" sign on the wall, which is certainly a nod to the fact that Scooter Braun won't be a part of her music career.
Of course, on the side of the subway station is a poster for Mr. Americana, which once again is in reference to her Netflix documentary. Instead of being directed by Lana Wilson, the name of the director on the poster is a man's one: Larry Wilson.
Article continues below advertisement
2. Taylor threw some subtle shade at Scott Borchetta.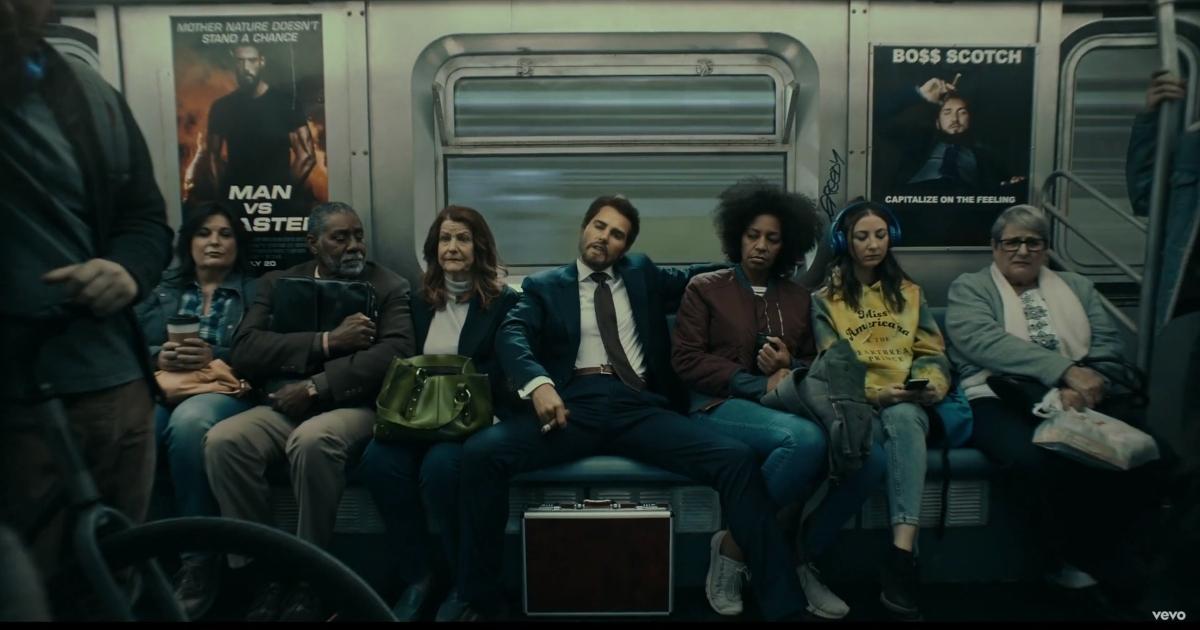 While many were focused on the extreme way that Tyler is manspreading and smoking a cigar in the subway car portion of the video, there was a goldmine of Easter eggs too. The poster on the right side of the video is for "BO$$ Scotch" which may be referencing Scott Borchetta, the former head of Big Machine Records, who has infamously been feuding with the singer for having ownership over much of her catalog of music.
Article continues below advertisement
Next to the poster is the word "greedy" which is done in graffiti. Many are thinking that Taylor was calling out Scott's actions, and referring to him as greedy.
Also, the woman in the yellow sweatshirt who is sitting on the same set of seats as Tyler is wearing a Miss Americana sweatshirt, which is in homage to Taylor's recent Netflix documentary with the same name. The sweatshirt also says "Miss Americana and the Heartbreak Prince" which might be a nod to her beau, Joe Alwyn.
Article continues below advertisement
3. Taylor poked fun at 'The Wolf of Wall Street' and Leonardo DiCaprio's reputation.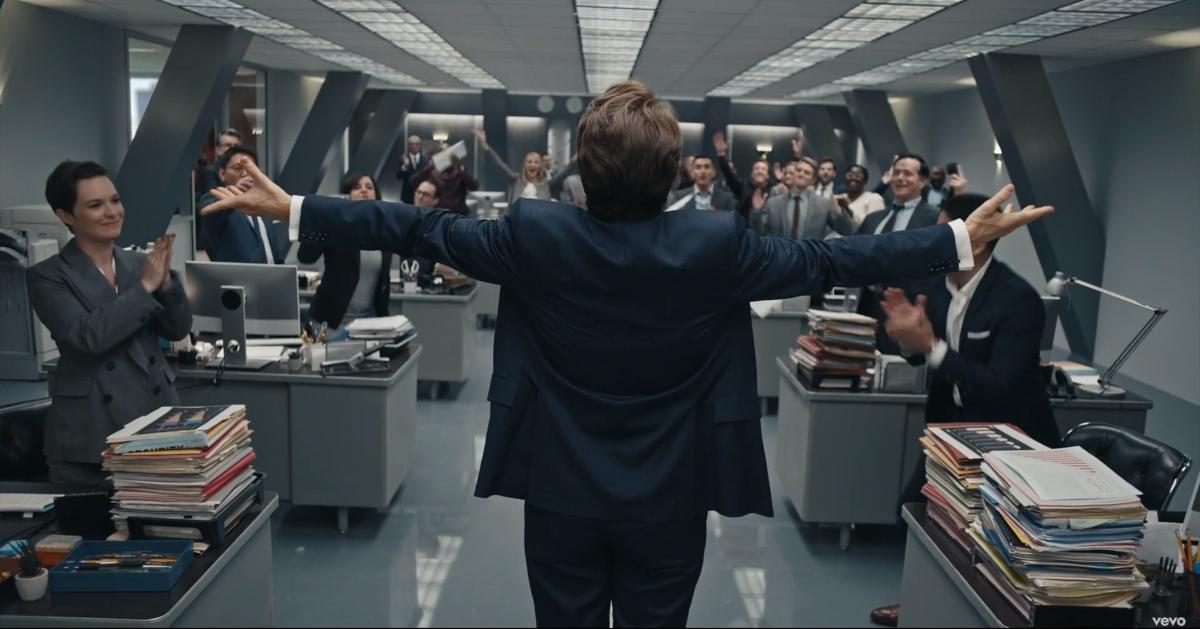 While this isn't exactly an Easter egg, there's no denying that there are major Wolf of Wall Street vibes in Taylor's video, especially when Tyler stands up in his office to the applause of his employees. This mirrors the infamous "I'm not f---king leaving" scene in the movie. Taylor likely made the comparison to call out the fact that people still view Jordan Belfort as a boss even though he cheated people out of money and stepped out on his marriage.
Article continues below advertisement
Taylor also calls out Leonardo DiCaprio, who starred in Wolf of Wall Street later in the video with the lyrics "And we would toast to me, oh, let the players play/I'd be just like Leo, in Saint-Tropez," about how the actor can hang out with models on a yacht and nobody bats an eye at it.
Meanwhile, Taylor's romantic history has often been up for discussion, and she's been shamed for writing songs about her exes.
Article continues below advertisement
4. Tyler's newspaper is a treasure trove of shade at how the media writes about men.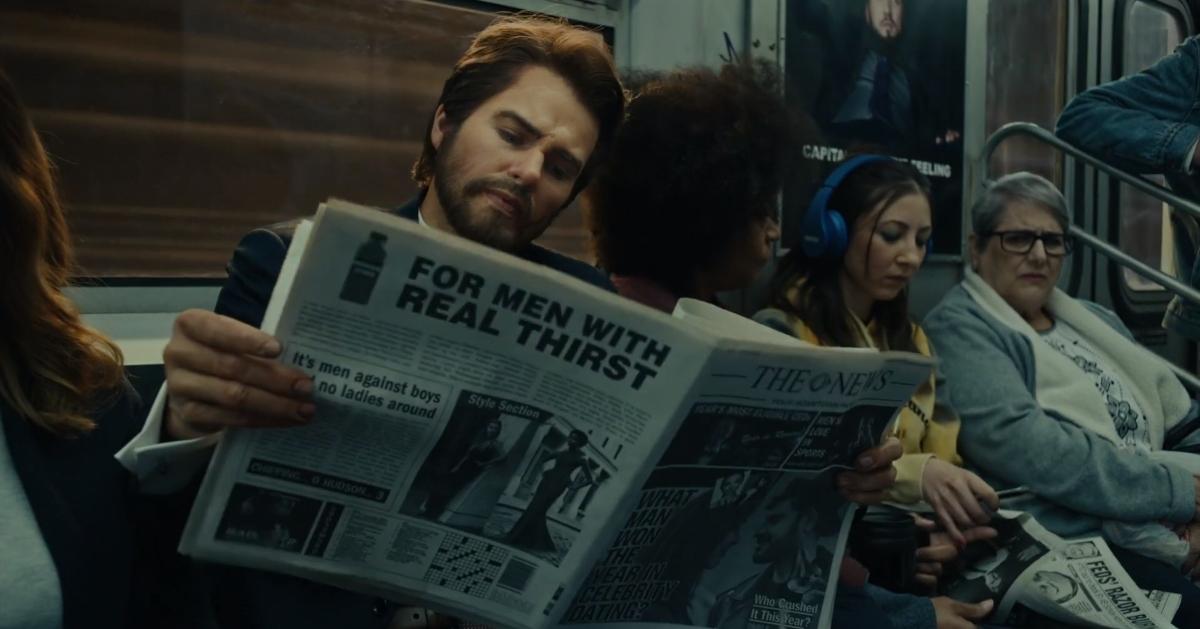 In a blink-and-you'll-miss-it moment, when Tyler is reading the paper on the subway, many of the headlines are written about men in the way that women are often portrayed in the media. One of the ads is for a drink that is "for men with real thirst," while the cover story is about which man who won the year in celebrity dating.
Article continues below advertisement
There's also a headline for the "most eligible CEOs" and the love lives of male athletes. Taylor is definitely calling out how much of a focus there always is on women's love lives, while men are rarely defined by their personal lives.
Article continues below advertisement
5. Viewers think that this scene is hinting at her drama with Kanye West.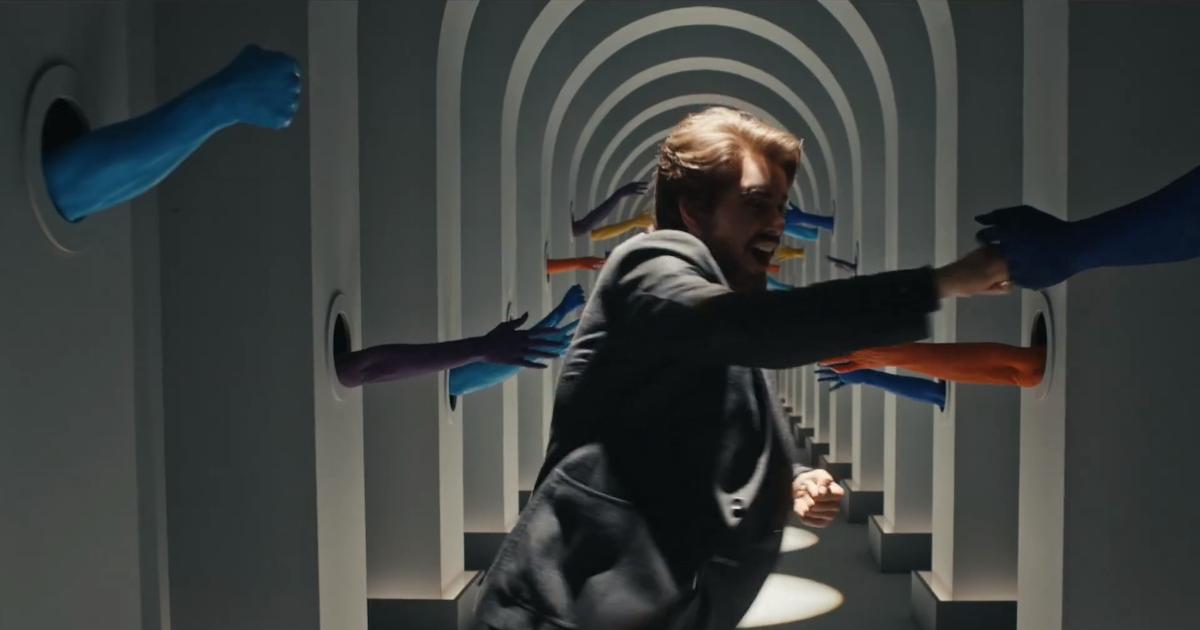 When teasing the music video release for "The Man," Taylor posted a still photo from the scene when Tyler runs down an arched white hallway with colorful hands stretched out to applaud and fistbump him.
Article continues below advertisement
This distinct hallway had many thinking of Kim Kardashian and Kanye West's infamous minimalist home, which features hallways much like the one in the video. Whether Taylor added this element in to further escalate the drama between her and Kanye, or it was to show that the two have patched things up is unclear.
Article continues below advertisement
6. Both Dwayne Johnson and Taylor's dad make subtle cameos.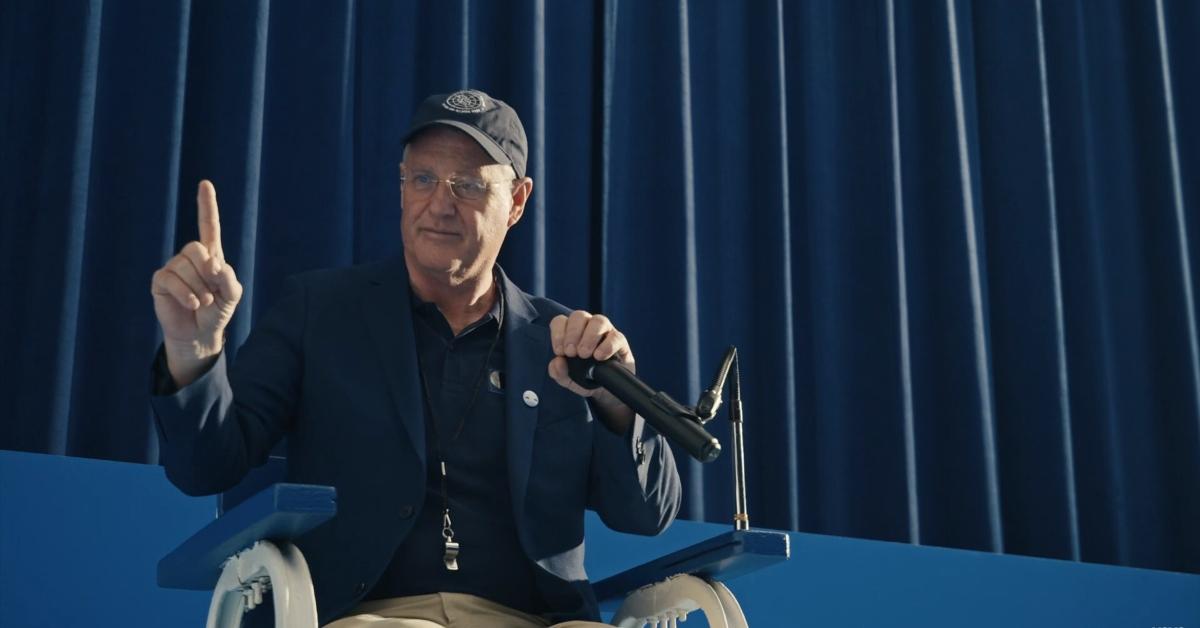 The big reveal at the end of the video is that Taylor is, in fact, the person playing Tyler. If you thought that Tyler's voice at the end of the video sounded familiar, it's because it is actually the voice of Dwayne "The Rock" Johnson. While The Rock had teased having a role in the video days before it dropped, only his voice was included in the end.
Article continues below advertisement
Taylor couldn't exactly disguise her voice (though she did a great job of disguising everything else), so it makes sense that she used The Rock's distinct voice in the video.
The pop star's dad also made a cameo in the video as the umpire during Tyler's meltdown at the tennis match.
Article continues below advertisement
7. Taylor's name is all over the credits — as it should be.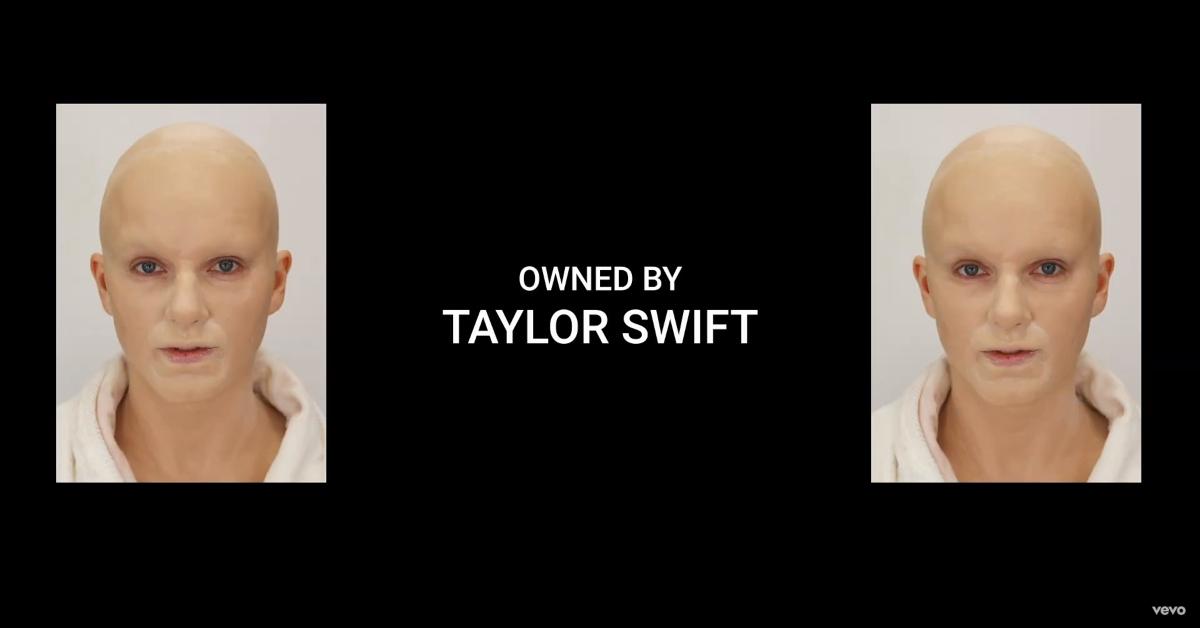 The debate over Taylor no longer owning her catalog of music (up until 2017's Reputation) has been a topic of conversation for months, and she's definitely not afraid to bring the issue back up in this video. In addition to revealing that she was the person playing Tyler, Taylor is also credited for writing, directing and owning the song and music video.
Article continues below advertisement
The owning part is obviously not a regular part of a music video's credits, but this was likely done to show that she has once again taken control of her career.
Plus, the fact that her name is all over the credits shows what a woman can do, and it is ultra empowering for her fans.
Article continues below advertisement
Other potential Easter eggs include the scene when the older version of Tyler marries a much younger version. Some thought that this was Taylor's way of calling out the fact that women are criticized when they date younger men and are called cougars, while there isn't even a word for the male equivalent.
Article continues below advertisement
Of course, Taylor is a year older than her beau Joe Alwyn, and many considered whether this moment was potentially in reference to that.
Many celebrated the park scene, when Tyler is praised for simply picking up his child, because it emphasized the fact that men are seen as amazing fathers when they do any small task when it comes to their kids.
Article continues below advertisement
The director's chair scene also had Taylor asking Tyler to be "sexier" in a take for the video. This pointed out the way that women are spoken to in comparison to men.
Watch Taylor's video for "The Man" below to catch the many Easter eggs she included.
Article continues below advertisement