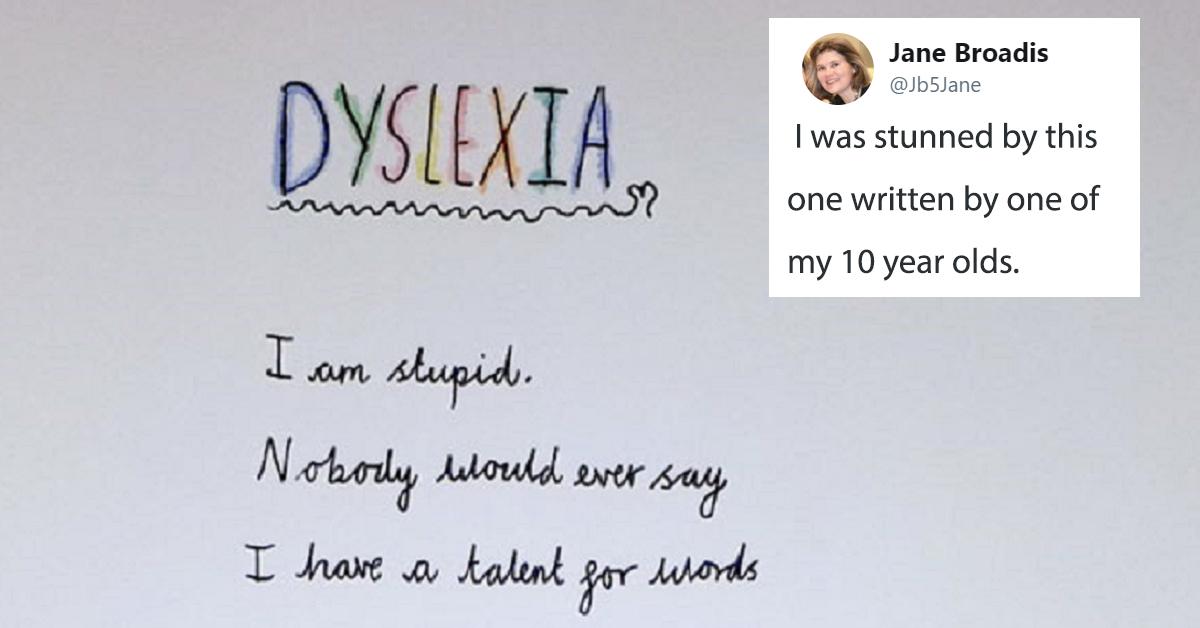 Teacher Shares Student's Dyslexia Poem That Can Be Read Forwards And Backwards
Dyslexia is a common learning difficulty that can cause problems with reading, writing and spelling, that impacts around 1 in every 10 people. While intelligence isn't affected, those with the condition can find it extremely difficult to read and write throughout their lives.
Article continues below advertisement
Jane Broadis, a year 6 teacher at Christ Church Chorleywood C of E School in Watford, United Kingdom, teaches a 10-year-old student with dyslexia. After teaching her class about poems that can be read both forwards and backwards, the student with dyslexia decided to write their own.
Broadis shared the poem on Twitter, where it's since received over 47,000 retweets and 150,000 likes.
Article continues below advertisement
The poem, titled "Dyslexia," reads forward:
I have a talent for words
Nobody could ever convince me to think that
The same poem, read backwards, reads:
Nobody could ever convince me to think that
I have a talent for words
Article continues below advertisement
"I was stunned by this one written by one of my 10 year olds," Broadis wrote on Twitter."Please share - I would love her work to be appreciated further afield. I wonder if it could even find a publisher?"
"Sadly so often in schools children with dyslexia never hear that they are often able to think in ways others cannot," Broadis later added. "It is a privilege to help find, nurture and celebrate the talents of children."
Unsurprisingly, the poem has attracted an overwhelmingly positive response on social media.
One user wrote: "My second grade teacher threw a paper in my face and asked if I was stupid. My parents got me dyslexia training through the Shriners. Result: 2 college degrees and a 40 year career as a journalist/writer."
While another person added: "Wonderful! I was called stupid by my year 6 teacher. 3 years later diagnosed with Dyslexia. We just see things others can not."
Article continues below advertisement
"That is fabulous," a commenter wrote. "I am a special needs teacher please may I share this poem with my staff and children. Pass on my admiration for such a wonderful piece of work to the young poet!"
With another writing: "That's brilliant. You sound like a great teacher too. The encouragement and confidence you give her now, she will remember for the rest of her life. "
It's clear the poem has had some powerful impact on people with shared experiences. We hope it inspires more.