Teacher Fired Over Her TikTok Account Says Coworker "Snitched", Posts the Receipts
A teacher says she was fired after a coworker saw a post she made about not arriving into work early because she was getting Starbucks.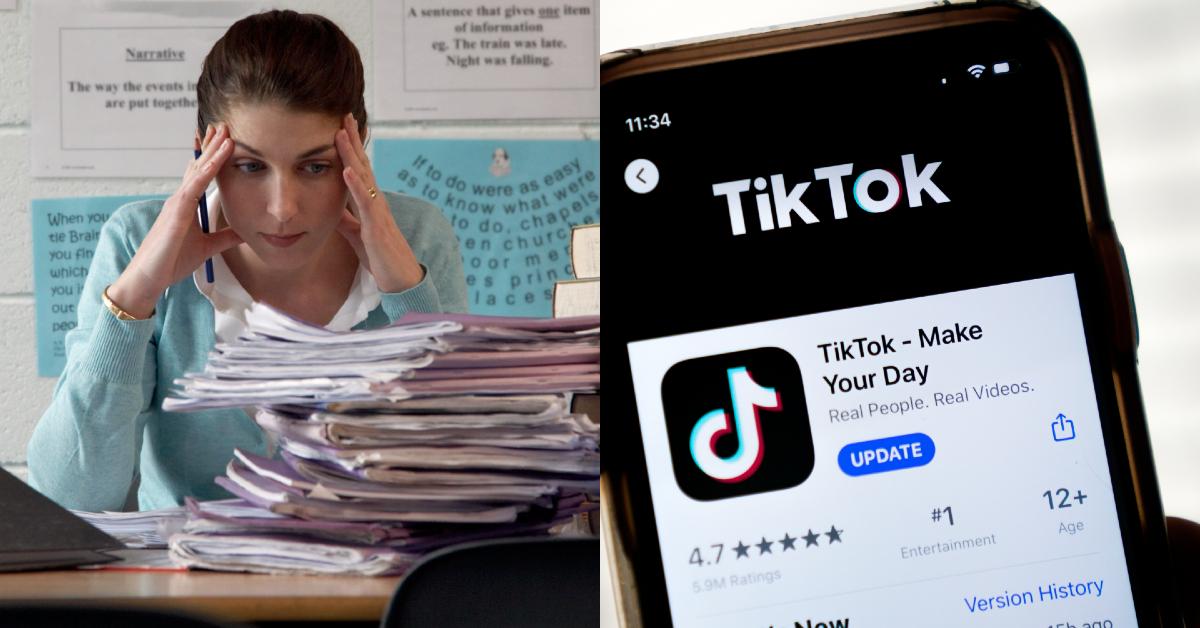 Teacher Nicole Johnson says she was fired from a school she worked for 8 years for posting a TikTok. Nicole explained that a co-worker who pretended to be her friend sent this particular video to an administrator in what appears to be an attempt at purposefully getting her in trouble.
In a series of posts, Nicole shared text messages between her and her co-worker and expressed her disbelief that a jocular clip ultimately culminated in her losing her job.
Article continues below advertisement
The video in question shows Nicole sipping an iced coffee from Starbucks with a text overlay that reads: "Me telling my coworkers there is no way I can come in early cause I have kids but yet I arrive with a Starbucks daily." She then sips the coffee.
Nicole says that a screenshot of the TikTok was taken, printed, and shared with administrators and set off a chain reaction of inquiries into her work ethic and adherence to school protocols. She explains in one of her videos about the workplace drama that she never claimed to be coming in late because she took the time to grab Starbucks in the morning, just that she wasn't coming in early, which she and her co-workers were asked regularly to do.
Article continues below advertisement
In the clip, the teacher explained that she told her coworkers she was unable to come in early because of her kids, and the reason why she posted the video is because she saw a similar clip on TikTok's for you page and thought it was "relatable." She said that it was public for two days before she decided to make it private, which she does with several of her clips she uploads to the popular social media platform.
Article continues below advertisement
In other videos, Nicole states that a 60+ year old coworker somehow saw the video and took a screenshot of it to tattle on her to an administrator, who then began launching an investigation into Nicole's work.
Article continues below advertisement
During this review process, while Nicole was meeting with Human Resources, she claims that she was told the TikTok was posted as an insult directed at her coworkers, and that the #fyp hashtag, which is typically associated with users on the platform attempting to get more eyes on their content, i.e. landing on the "for you" page.
Article continues below advertisement
Nicole says she was told by human resources the #fyp hashtag was interpreted as "f**k you people," and was geared towards others she worked with. According to the now-terminated teacher, she had to explain to HR what a for you page was to administrators, and that her TikTok wasn't a "gloat" over coworkers who were coming in early, while she took an extra ten minutes out of her morning commute to grab a coffee to avoid working hours outside of her contractual work day period.
The teacher posted other clips stating the up-and-down nature of the TikTok drama and how it came about during an emotional time of her life. She says that she was placed on administrative leave and that it appeared like all of it would blow over, only to return back to work to "emails about [her] attendance after 8 years of employment."
Article continues below advertisement
During her discussions with HR, Nicole stated in another TikTok that the topic of her ADHD came up, and Human Resources belittled her with recommendations, stating that it's no excuse to show up to work late. As Nicole stated in another post, however, she wasn't arriving at work late, just not early.
Article continues below advertisement
In other follow-up videos, Nicole posted screenshots of her conversations with the coworker she says "ratted" her out. In a text overlay of one video she writes: "Text messages my old coworker sent me before they turned in my tiktok to admin and I got fired for it."
Article continues below advertisement
In their conversation, the coworker asks if Nicole is "ok" and "what happened" and advises her to "keep on with their [HR] silly requests so they can't make a move." In the video, which shows the texts on a green screen, Nicole shakes her head in the clip. She posted the video as an explanation as to why she "trusted [her] coworker," pointing to the messages to highlight how this "Karen" pretended to be her friend throughout the entire ordeal.
Article continues below advertisement
In her latest series of videos addressing her workplace drama, Nicole stated numerous times that she planned on working in the school for a long time, but what she's going to miss most are the students that she taught there, sharing a picture of a card she received from one of them.
In her most recent TikTok as of this writing, Nicole posted pictures of her check-in sheet explaining that she asked to come in between 7:50 am-8:00 am in the mornings while divulging the struggles she had at home with her children. In the post, she says HR admitted her punch-ins did show she made a consistent effort to come in on time, but that the Starbucks TikTok "shows [she] didn't care about [her] job and it really crossed the line..."