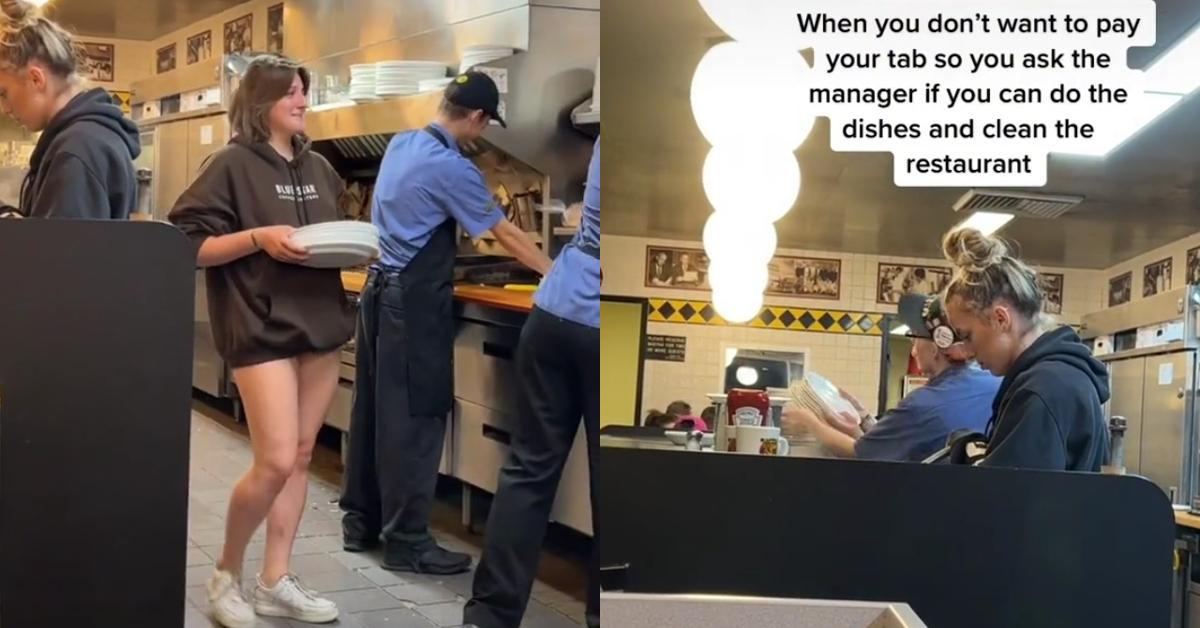 Waffle House Manager Lets Customer Pay by Doing Dishes After She Jokingly Asked
It's a scene we've all probably watched in multiple movies and shows: a customer is unable to pay their meal tab because they forgot/lost their wallet (like the kitchen scene in Pee-wee's Big Adventure with Pee-wee and Simone) and a character is forced to has to wash dishes and perform some tasks in the dining establishment in order to pay their tab.
Article continues below advertisement
It seems like the kind of trope in a movie that's long been outdated, kind of like how easy it was to snap someone's neck in the '80s and early '90s in some movies, but it does seem that there are some establishments these days that will accept chores as a form of payment, at least this was the case at a Waffle House in a now-viral TikTok.
TikToker Victoria Kleimonov posted a now-viral clip that shows her friend following a Waffle House employee with a stack of clean dishes and setting them on a shelf near the grill area. She writes in a text overlay in the video, "When you don't want to pay your tab so you ask the manager if you can do the dishes and clean the restaurant."
Article continues below advertisement
She writes in a caption for the video, "I swear, waffle house workers are some of the most laid back people." Victoria clarified in the comments section that her friend asked it as a joke, and that they ultimately ended up coughing up the dough for their tab: "To clarify - she asked the manager jokingly if she cleans the kitchen if she'll pay our tab and she agreed but we felt bad and ended up paying anyway."
Article continues below advertisement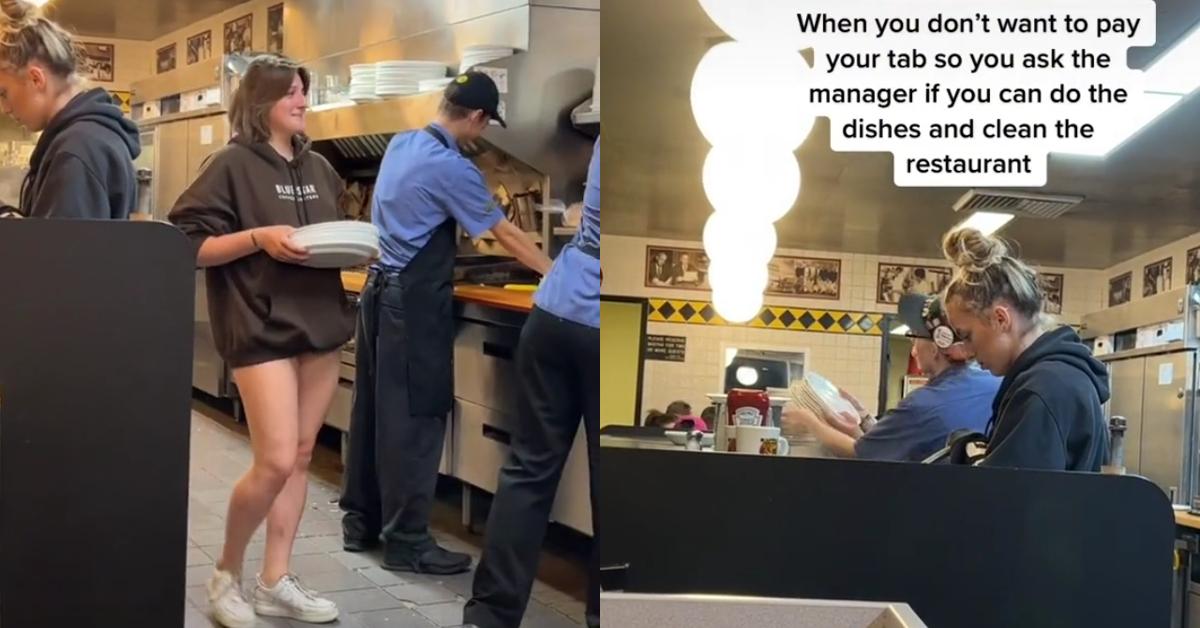 Judging from her hashtags, it seems that the Waffle House location was located in Missouri. According to Wallet Hub, Missouri ranked 29th on a list ranking the "most stressed" states.
Article continues below advertisement
Moving.com seemed to corroborate with the list's choices in most laid-back state's too. The Wallet Hub piece ranked Minnesota as the 49th most-stress state, with Utah ranking at 50th. Moving listed both of these states in its top ten of least stressed states. Missouri isn't listed on there, so maybe the cut-off for finding a restaurant begins at the magic number 29. Or, Victoria just found herself a chill Waffle House to eat at.

Article continues below advertisement
But don't go around planning on emulating the TikToker's tab-avoiding tactic, as The Daily Meal interviewed several restaurant owners in 2017 and asked if they've ever had a customer who couldn't pay for a tab wash dishes or perform chores to cover the cost of the meal they just ate.

Article continues below advertisement
All of the owners unanimously agreed that they wouldn't accept washing dishes as a form of payment. Some cited the fact that having any customer do work in a restaurant would ultimately be a liability as they aren't employees of their establishment.

Article continues below advertisement
Another said that even if they did get a customer work for their meal, they wouldn't have them do something as benign as cleaning dishes or folding napkins and clean silverware, they'd have them perform the most unsavory tasks, like hosing down dumpsters and cleaning the grease off of a grill.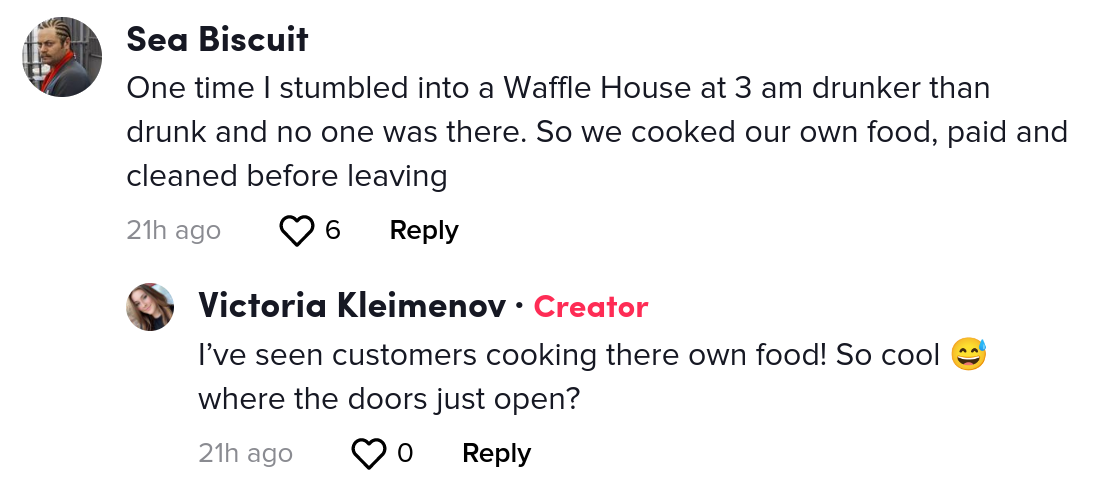 Article continues below advertisement
Most said that they usually don't get authorities involved, but they ask to see the customer's identification and take down their personal information and send them an invoice. This usually does the trick and they usually receive their payment.

Article continues below advertisement
Jason Brunetti of Pizzetteria Brunetti in New York, said: "I had a new customer come in on a date. When it came time to pay the check, his credit card was declined and he didn't have any cash on him. He was clearly embarrassed, all the more so because up until then he'd been making a good impression on his date! I asked if he'd enjoyed the food and had a good time. He said he had and I told him that was good enough for me. He showed up the next day with cash for the bill and a tip for the server. And he's come back any number of times since then."

Article continues below advertisement
Georges Briguet of the now-closed Le Perigord said, "Someone being unexpectedly unable to pay happens every month. We handle it very simply; we get the person's address and send an invoice. About 99 percent of the time we get a check. Expecting or asking anyone — or even accepting an offer — to wash dishes or do any work at the restaurant would be preposterous."

Have you ever attempted to pay a bill by performing tasks at a restaurant? Do you think businesses should be open to that, especially because restaurants all across the country are still experiencing staffing shortages?