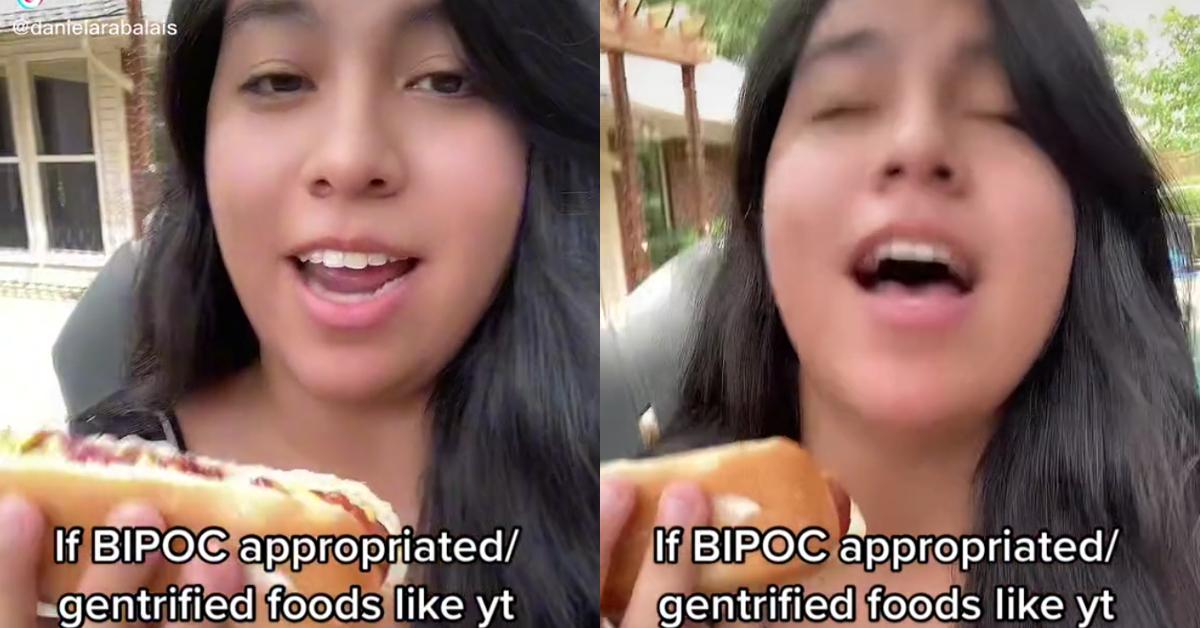 Woman Blasts Influencers Who "Gentrify" Ethnic Foods, Calls out Trader Joes in Viral Parody
TikTokers are going viral for calling out influencers who aren't attributing cultural significance to international foods they claim as their own.
TikToker @danielarabalais posted a now-viral TikTok highlighting cultural appropriation with foods, but in reverse. The video is titled, "If BIPOC appropriated/gentrified foods like [white] influencers do to cultural foods," and in it, she proceeds to show a method of creating "sausage tacos" which are actually just hot dogs with mustard and ketchup.
Article continues below advertisement
She says in the clip, "Hi guys today I'm gonna show you my newest obsession, I call these my sausage tacos that I have been obsessed with lately. I made it up all by myself and they're so good. OK so first you're gonna take these really cute fluffy tortillas and you're just gonna open them up, they kinda do it for you."
She continues, "And then I'm gonna take this American kind of crema thing I'm not really sure but this is what I use. Coat it. OK and then I'm gonna take the sausage, plop that in, and then I like to top mine with this American salsa de tomate and then also this, I'm not quite sure how to pronounce it I think it's moo-stard? I got it all at Trader Jose because it's super accessible to everyone."
Article continues below advertisement
She finishes her video by taking a bit of the "sausage taco" and then urges her followers to "make it blow up." She then caps it off with a text overlay that states: "Brought to you by the same creators of 'spa water' and 'lentil wraps.'"
Several commenters who responded to Daniela's video enjoyed her 'Trader Jose' remark, with many of them slamming Trader Joe's for taking other nation's staples but "gentrifying" them with new names.
Article continues below advertisement


Article continues below advertisement
Daniela isn't the only TikToker to call out cultural appropriation in her videos, and the "lentil wraps" she's referring to was put on blast by another user on the social media platform, Soogia.
Article continues below advertisement
"I'm thinking of starting a new series called, 'What you said vs what I think you meant to say.' Starting with: what you said."
The video then cuts to a clip of a TikToker showing how to make 2-ingredient high protein wraps." In the video, Soogia crosses out the "High Protein Wraps" text and replaces it with the word, Dosa.
Dosa is a dish that originated from South India which is described as being made of a fermented batter created from ground up/pureed lentils and rice.
The Times of India lauded the Desi-cuisine staple as being a nutritious food option: "Made with a batter of urad dal (split black lentils) and rice. Dosa is rich in healthy carbohydrates and proteins, which makes it a healthy and wholesome delight for weight-watchers as it has everything to keep your nutrition count intact and is absolutely delicious."
Article continues below advertisement

If you're especially looking to reduce your carbohydrate intake, but love the thicker texture of bread and ketogen, thinner wraps, or lavash bread just doesn't do it for you and you want more protein per bite, then Dosas can be a great addition to your diet.
Soogia took issue with the fact that the TikToker in question didn't attribute the high-protein wrap recipe to the fact that she was effectively making a Dosa.
Article continues below advertisement
She continues in her now viral TikTok: "What I think you meant to say," and then cuts to the same clip, she added a text overlay to it that reads: "Cultural appropriation is the inappropriate or unacknowledged adoption of an element or elements of one culture or identity by members of another culture or identity. This can be controversial when members of a dominant culture appropriate from minority cultures."

Article continues below advertisement
Soogia says in the "revamped" version of the clip, "I recently learned a very simple 2 ingredient recipe from India called Dosa. Dosa has fed and nourished billions literally billions of people for centuries all across South Asia and India. It's a very simple recipe and one that falls in line with whatever diet and lifestyle it is that I'm living with. And I of course would never dream of claiming this food as my own or giving it a new name why, because it already f**king has one."

Article continues below advertisement
She finishes the video by looking into the camera and saying, "That was what you meant, right?"
Throngs of TikTokers who commented on both Soogia's and Daniela's posts had different reactions. While many in Daniela's post saw the comedy in what she was saying, there were those who viewed Daniela as just "looking to be mad."

Article continues below advertisement
Others echoed these sentiments, stating that "it's not that deep" and that folks advocating for the appreciation of other cultures could be going after more worthwhile pursuits and speaking out against greater injustices if they're utilizing their online platforms to shed light on specific issues.
What do you think? Do you find it problematic when people don't acknowledge/attribute a dish or food that they discovered to the culture that originated/popularized it? Or is the issue not important to you?