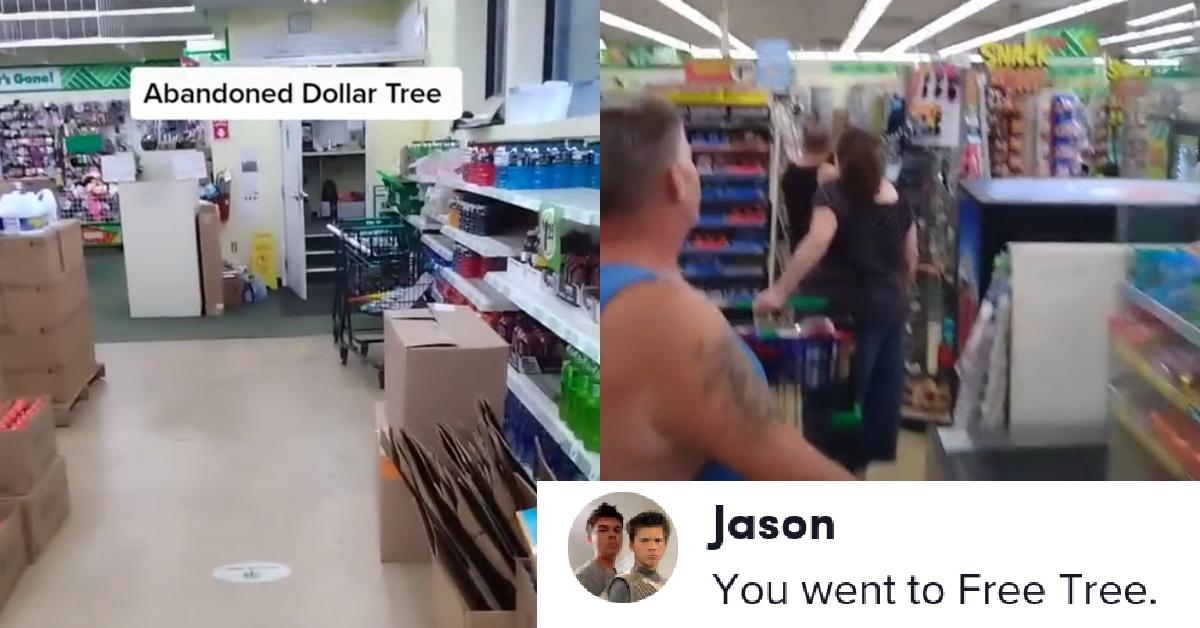 TikToker Films "Abandoned" Dollar Tree Full of Customers with No Employees in Sight
Article continues below advertisement
Article continues below advertisement
In the video, she walks through a Dollar Tree devoid of employees as she tries to discover why there isn't anyone working in a store that otherwise appears to be open. "So I am at the...Dollar Tree...and we've been standing in line for ten minutes yelling through the store. There is not one employee in the store. There's a line for everyone to check out, and no employee in sight. Office door is wide open and uh, nobody can check out."
Article continues below advertisement
At this point in the video she shouts out, "Hello" after someone off camera begins speaking. "I think somebody walked off the job guys," she speculates, recording more of the empty store as other customers wait at the register.

Article continues below advertisement
"Like, seriously? Like they [the customers] are in the back doors back there. And we can't get anybody to respond...nothing. No one's back there? Wow. So yeah, uhhh, Dollar Tree, I'd like to pay for my stuff. But there's not an employee in your building. Is there like a number or something we can call?" she asks other customers who are waiting.

Article continues below advertisement
She then walks into the open office door, which shows an empty work space, "Look at this guys, left wide open nobody's here." She speaks to the other customers again, "There's no number or nothing? Let me just check outside and make sure no one's outside smoking."
At this point the TikToker walks outside, still recording the entire time, when she comes across a discovery: her and the other customers may've been inadvertently trespassing. "I would assume they would be in by now."
They notice, however, that the door leading to the exterior of the Dollar Tree is locked. "So that door is locked, So I think they didn't lock the doors that come in and left. So I don't even think we're supposed to be in this building then."
Article continues below advertisement

"But they had people shopping in here, and didn't lock the doors or shut the lights off. And there's a line of customers I can't even believe this I don't even know if I should continue to stay in here. Maybe, uh, someone should call the police and let them know that this store is left wide open and there's no employees in here."
Article continues below advertisement
She continues, "Cause I'm gonna go back to the back doors I mean the lights are on and everything." She then walks to the back of the Dollar Tree to what appears to be a storage area for the store, again, she doesn't encounter any Dollar Tree employees in the building.

Article continues below advertisement
"Is there an employee back here?" Another customer chimes in, saying that they checked the freezer and the fridge and the back part of the store to ensure that nobody "passed out" in the back.
"Nobody, nothing," the TikToker says. She then informs the other customer that the exit door was locked, however, the entrance one was left open.
"I'm wondering if they didn't lock the way in, and locked the way out?" The TikToker and the other customer agree that calling the police is probably the best course of action at this time in the video. "Otherwise somebody's gonna have their way in here."
The TikToker ends the video by saying, "This is crazy."
Article continues below advertisement

In the comments section of the post, Crystal clarifies that they did in fact call the police and when authorities showed up, they discovered that the reason for the Dollar Tree "abandonment" was a simple case of a worker forgetting to lock the entrance door to the store.
Article continues below advertisement
However, this isn't the first time a Dollar Tree customer happened upon a store that was left alone by employees when it was seemingly open. A TikToker named Yolanda (@yoyololo888) posted a clip in July of 2022 of a Florida location that was apparently left to fend for itself by workers.
Has this ever happened to you at a Dollar Tree or any other stores? Is this a problem that's a direct result of the COVID-19 pandemic and a labor shortage? Or is it just a case of this gaining more notoriety now because folks are engaging in Dollar Tree "slander" on social media?