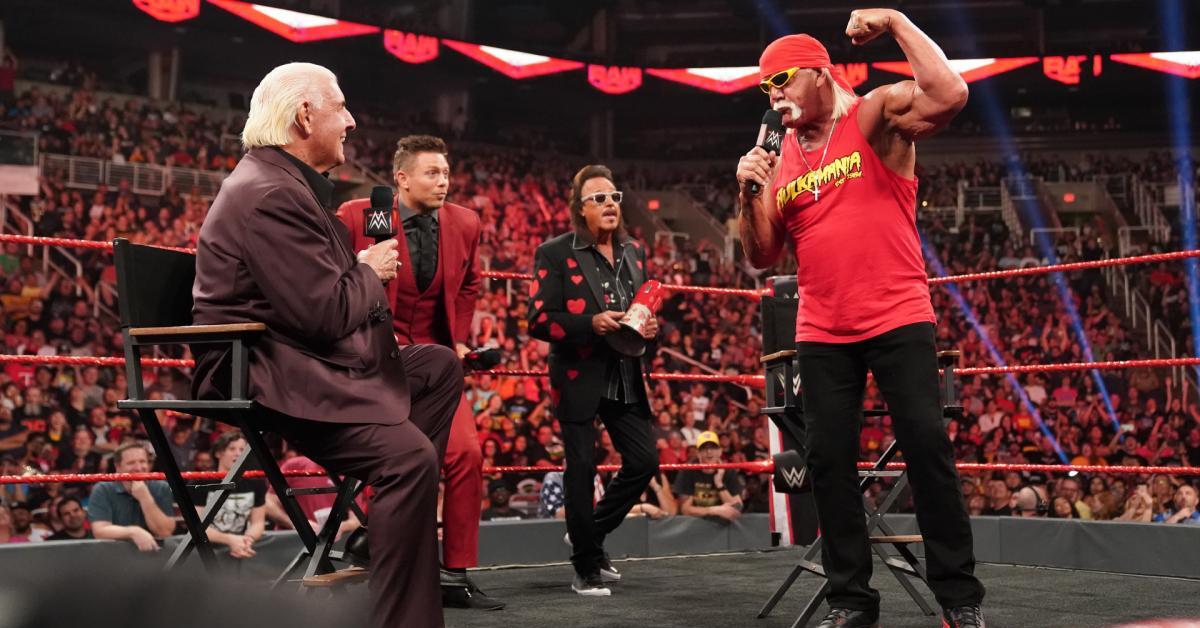 WWE's Crown Jewel Event Features an Epic Showdown Between Teams Hogan and Flair
Let's say you're a Crown Prince of a wealthy desert nation with some questionable human rights violations and you've got a real love for professional wrestling. Let's say you've got so much money that you can buy yourself a conversation with the owner of that pro-wrestling organization to create a special event to be hosted in your country.
If this was the case, then you'd have yourself an event like WWE's Crown Jewel: Team Hogan vs. Team Flair.
Article continues below advertisement
Most people don't know this, but professional wrestling is absolutely huge in Muslim countries. I mean WWE superstars are big all over the world, but there's something about the Muslim fanbase that is absolutely rabid.
Article continues below advertisement
My friend, while on a visit to Pakistan years ago, told me that pro-wrestling highlights aired alongside other pro sports highlights. Imagine watching a countdown on ESPN of impressive touchdown passes, slam dunks, boxing KOs, and they're all followed by a flying elbow off the top turnbuckle and impassioned monologue of why someone should "SUCK IT."
Typically speaking, WWE events aren't held overseas, especially not in the Muslim world. Heck, a lot of the organization's greatest heels played on people's Islamophobia: the Iron Sheikh and Muhammad Hassan are prime examples of this.
Article continues below advertisement
But the times, they are a changin,' and there's been huge growth for the WWE in other countries like China, India, and now, Saudi Arabia, which is using the sports entertainment's specific brand of commercial beatdowns and soap operatics as part of a long-term economic growth plan.
Article continues below advertisement
Saudi Arabia is what it is because it has oil, but that's a finite resource and it's not going to last forever. So there are tons of different initiatives being launched in the country to not only stimulate economic, but social growth as well.
Meet the Saudi Vision 2030 plan, which was started by Crown Prince Mohammed bin Salman. The goal is to diversify investments in the region, as well as developing other sectors of the country like health, education, tourism, recreation, and infrastructure.
So where does the WWE fit into all of this? Well, by bringing popular events into the country, it not only helps to re-shape Saudi Arabia's not-so-great global image, but it'll help to garner a greater interest in sports and alternative forms of entertainment in the country. The Saudi General Sports Authority has a 10-year-partnership with the WWE and this second Crown Jewel event is part of that initiative.
Article continues below advertisement
The news of the second, special PPV event was first introduced by The Miz on Monday Night RAW while he was in the ring with WWE Hall of Famers Ric Flair and Hulk Hogan. Anyone who's watched classic wrestling bouts between the two men know that they hated one another immensely, and it didn't take long for the Nature Boy and Hulkamania to start talking smack about one another in the squared circle.
Article continues below advertisement
That's when the Miz thought of a brilliant idea: Why not have a team represent each of the aging pugilists in Saudi Arabia. Seth Rollins, the RAW champion immediately took the reigns and declared that he would be the leader of Hulk's team, and Randy Orton took full on heel responsibilities as the captain of Flair's squad of superstars.
Details on the WWE Crown Jewel event where Team Hogan vs. Team Flair will face off. 
The main event is a 5-on-5 match up, but we still don't know all of the team members for Hogan and Flair. In addition to Rollins, Rusev will be representing the yellow-and-red handlebar mustache rocking icon, while the rolex-wearing-kiss-stealing-limousine-riding-jet-flying-son-of-a-gun has got Baron Corbin going to the mat for him. All of the action will be taking place in the King Fahd International Stadium in Riyadh, Saudi Arabia.
Article continues below advertisement
There's no official word as to the other matches that'll be on the ticket, but, just like the first Crown Jewel event, expect the WWE to pull out all the stops and bring out even the most aging of superstars to put on one last big performance. Why not? The paycheck is huge — this is Saudi Arabia we're talking about here, and the show's exclusive to the WWE Network, so Vince is lapping up all of that money.
What we do know is that the Undertaker, Brock Lesnar, Kofi Kingston, AJ Styles, Roman Reigns, Big E, Xavier Woods, "The Fiend" Bray Wyatt, Braun Strowman, and Rey Mysterio will all be making appearances at the event, not to mention the first WWE Saudi Wrestler ever, Mansoor Al-Shehail, will be competing in the Crown Jewel.
You can catch the action on Oct. 31st, at 8 p.m ET.