People Are Commiserating Over Stories of Their Terrible Landlords
If you have ever rented an apartment or a house, you probably have your own landlord horror stories. Just know that you are not alone.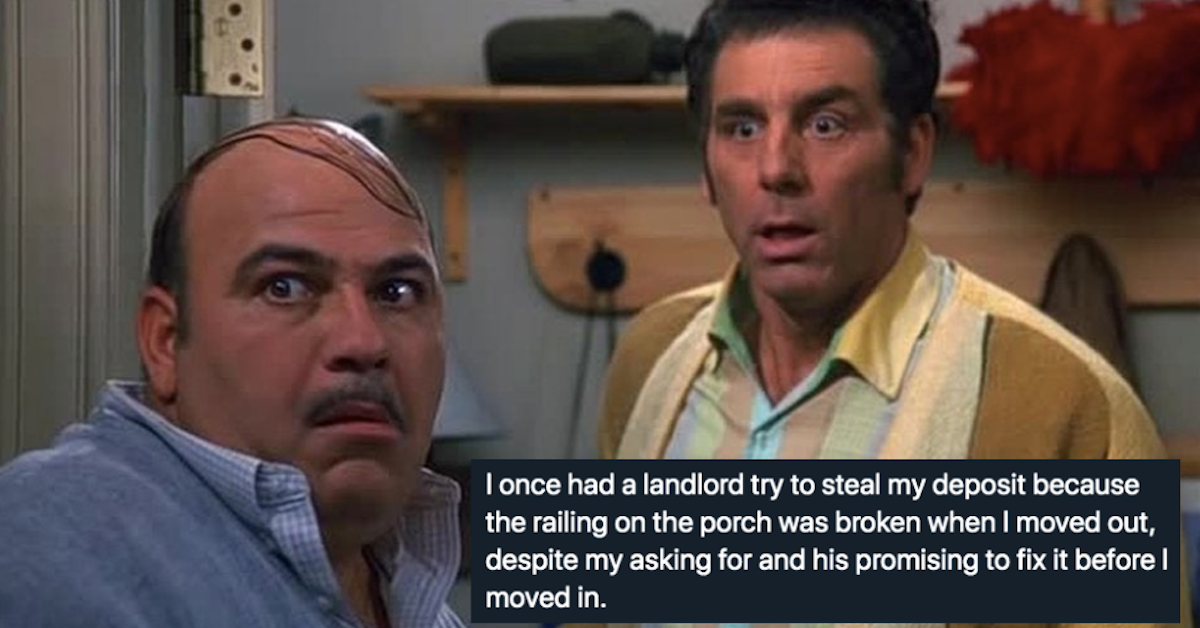 If you have ever rented your home, you've probably had to deal with terrible landlords. That's just kind of... the way of the world. Either they're unresponsive when you have serious safety issues, totally manipulative, or straight-up creepy. Landlord frustration is a pillar of life for any renter, but it shouldn't be that way!
Article continues below advertisement
Recently, one tenant at the end of their rope shared a joking tweet about how the tone of emails to their landlord change with elevating formality. It inspired others to vent about the issues they've had with their landlords, from unfair evictions to ignoring damaged ceilings to installing too many shower heads. Yes, too many shower heads.
Article continues below advertisement
Raise your hand if you've ever threatened to get a lawyer involved in dealings with your landlord. Yeah, me too. Have you ever had to screenshot and repeatedly send them the laws of the land to remind them that ignoring a problem is illegal? Yup, sounds familiar.
One person even got evicted because their landlord wanted to use the property for their family and then wouldn't even sign the form they were required to fill out. That landlord was literally upending their tenants' lives and couldn't be bothered to take the steps they were supposed to.
Article continues below advertisement
One of the most typical scams landlords hit us with is the bogus excuses for not giving back our security deposits. Truly the only way to state your case is to take date-stamped pictures of everything that's wrong with your apartment when you move in, keep every maintenance request email you ever send to them, and threaten a lawsuit. They're counting on you not putting in the effort to get back the equivalent of one month's rent. And it sucks!
Article continues below advertisement
I definitely still have issues in my apartment that I've asked the landlord to address multiple times. Sometimes, they'll ignore the requests altogether. For other things, they might go as far as texting me back and telling me a handyman will be in touch to schedule an appointment and then it just never happens.
Article continues below advertisement
But honestly, for the little stuff, it's better to just fix it on your own. There have been multiple times that I've asked my landlord for fixes and, if they haven't ignored the request completely, they've done the bare minimum to "get rid" of the problem. When we first moved in to one of my apartments, there was mold in the bathroom. Do you know what the landlord did to fix it? They painted over it. Not great! Landlords are notorious for taking the cheap way out.
The person responsible for the below picture posted it to Imgur with the caption, "Each time we ask our landlord to fix the shower they just add a new nozzle..." Guaranteed that's not going to do the job!
Article continues below advertisement
That's super frustrating, but at least the landlord responded before it was too late. This next person told their landlord that there was a leak in their ceiling two weeks before this photo. Of course, the landlord did nothing about it and ignored them. Then, one morning, they woke up, and their ceiling was on the ground.
Article continues below advertisement
Ooooh, I would be so mad. Not only would they have to fix the ceiling, but I would want them to pay for my furniture to be professionally cleaned, too. These pictures and stories are making my blood absolutely boil.
Article continues below advertisement
But we're not done yet. Some landlords aren't just lazy or unresponsive. Some are straight-up mean. Like this (ableist!!) landlord who decided to start charging anyone who wanted to use the elevator in the building in which they lived.
Article continues below advertisement
"The stairs are still free." What a load of crap. I'm no law expert, but I bet there are some statutes barring discrimination against people with disabilities, and this is exactly what this is!
You may think this kind of behavior is specific to the U.S., but nope! Alex, who was renting in London, shared the insane step their landlord took to ensure that they don't drive up the heating bill.
Article continues below advertisement
Their landlord made it nearly impossible to change the temperature in their home without breaking this box. It looks like they'd have to smash the thing with a hammer.
The "bad landlord" seems like it should be an entirely avoidable problem, but really, capitalism created this. Capitalism makes landlords try to cut corners and screw people out of money and fix things as cheaply as possible...or not at all. The laws don't work because they just don't follow them and tenants don't have enough resources to get into a whole legal battle about it. I suppose in order to do away with bad landlords, the only option is to rid ourselves of capitalism. Unless you have a better idea!