CEO Says Sending This Email Will Get You Hired, Sparks Debate on Wanting "Free Work"
A CEO's TikTok about a job applicant that went above and beyond sparked a viral debate on employers expecting too much from applicants.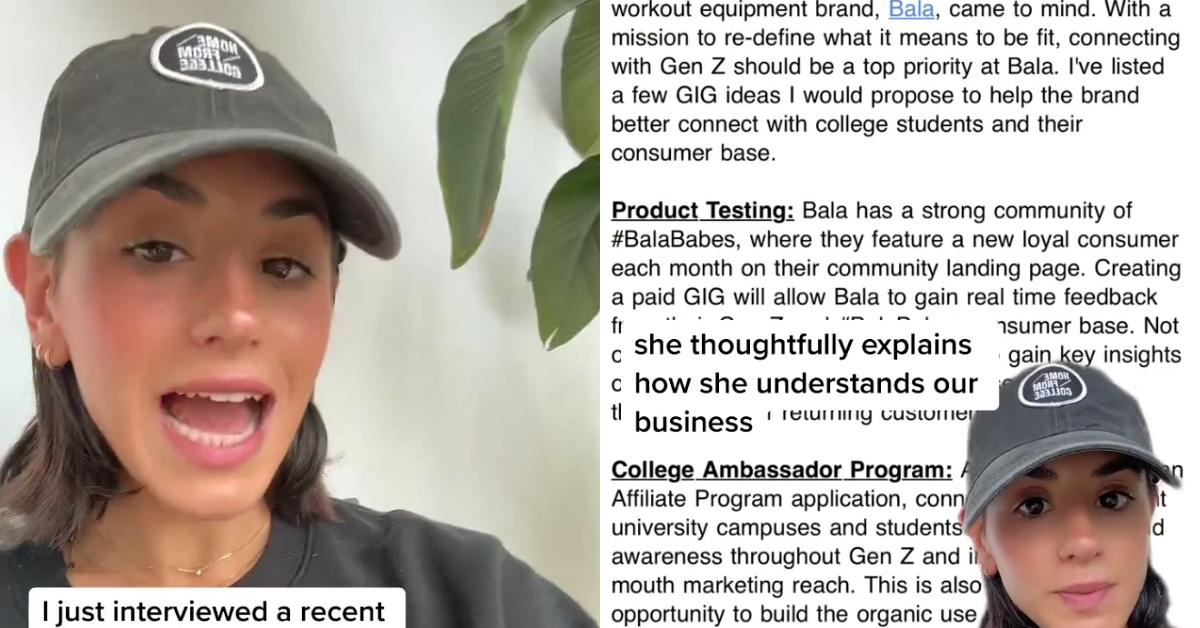 MLB hall of famer and someone who is considered one of the greatest baseball players of all time, Derek Jeter, once famously said: "There may be people who have more talent than you, but there's no excuse for anyone to work harder than you do - and I believe that."
Article continues below advertisement
And suppose you look into the biographies of tremendously successful people. In that case, they usually share one common trait: they're willing to go to greater lengths than most others would, and, consequently, the successful folks that we remember are the ones who have more significant lives than most others do by either surpassing their dreams or at least touching a part of them.
And CEO Julia Haber (@julia.haber) who interviewed a job applicant shared a follow-up email that left an impression on her as it demonstrated a considerable amount of thought and demonstrable value she would be able to bring to the business if she was hired.
Article continues below advertisement
She showed an example of the follow-up message from the applicant showing how she went above and beyond at the opportunity to work for her company, but there were a lot of TikTokers who thought that the applicant went too far.
Article continues below advertisement
"I just interviewed a recent grab for a full-time role and her thank you note alone would be a reason to hire her. I'm gonna break it down so you can do the same."
The clip then transitions to a screengrab of the email and breaks down what the applicant did so well: "She thoughtfully explains how she understands our business. Took of a theme of our conversation. And elaborated on an idea that she could bring to the table."
Article continues below advertisement
It doesn't stop there, "Came up with tangible value for me and my team."
So what did the email say? If you don't feel like pausing the TikTok to read it out, here's a transcription of what the email says.

Article continues below advertisement
The message reads: "Hi Julia, Thank you for taking the time to speak to me earlier today. I really enjoyed gaining a better understanding of where Home from College is headed in the new year and how impactful the GIGs have been for not only college students but the companies as well."
She continues, "After reflecting on our conversation, the functional workout equipment brand, Bala, came to mind. With a mission to redefine what it means to be fit, connecting with Gen Z should be a top priority at Bala. I've listed a few GIG ideas I would propose to help the brand better connect with college students and their consumer base."
Article continues below advertisement
The next part of the email reveals a separate point the job seeker highlights in underlined, bold text: "Product Testing: Bala has a strong community of #BalaBabes, where they feature a new loyal consumer each month on their community landing page."

Article continues below advertisement
"Creating a paid GIG will allow Bala to gain real-time feedback from their Gen Z and #BalaBabes consumer base. Not [this portion of the text is covered by a text overlay]"
In another section of the follow-up email sent by the woman Julia interviewed, she addresses a "College Ambassador Program" that she proposed, showing that she has ideas she's excited to work on should she get the position with the company.
Article continues below advertisement
If you're running a business, this would be the type of applicant you'd probably want to hire as they demonstrate they have initiatives they've already planned out and, like Julia says, they're bringing a perspective "tangible value" to the company.

Article continues below advertisement
However, there were a number of TikTokers who responded to the clip by stating that they thought the job seeker was doing something "ridiculous" by attempting to secure a job in such a manner.
It would appear that their gripe with the woman's follow-up email was that she put thought and careful consideration into it with a demonstrable enthusiasm at the opportunity to get a job she would like to work in, without getting immediate compensation for her thought.
Article continues below advertisement

"This is ridiculous. We have to work before getting hired to get hired," one person wrote. Another said, "We are giving companies way too much audacity with this bs. Any company that hires one candidate over another bc of this"
Article continues below advertisement
"She also just worked for free," another said. "Work b4 im hired? Im good," another penned. "I mean good for her! I sent a thank you email on Monday, but kept it short and simple. It's already a lot applying and interviewing for jobs," someone else said.
There was another individual who replied to the email who said that they thought it was detrimental for the applicant to send a follow-up email like this: "creating tangible value for a team that won't hire or compensate u for ur ideas… i understand the drive needed but also protect ur labor"
Article continues below advertisement

Some folks said that the job seeker used ChatGPT in order to draft the message, but there was another viewer who said that even if it was generated with artificial intelligence that it still showed initiative on the part of the job seeker: "AI or not, this is what it takes to stand out! I love the initiative."
One person penned: "Only hiring people who show this kind of initiative going forward"
What do you think? Do you believe that the job applicant did "too much" with their follow-up email? Or is this kind of practice what separates successful folks from those who don't want it as badly as they do?