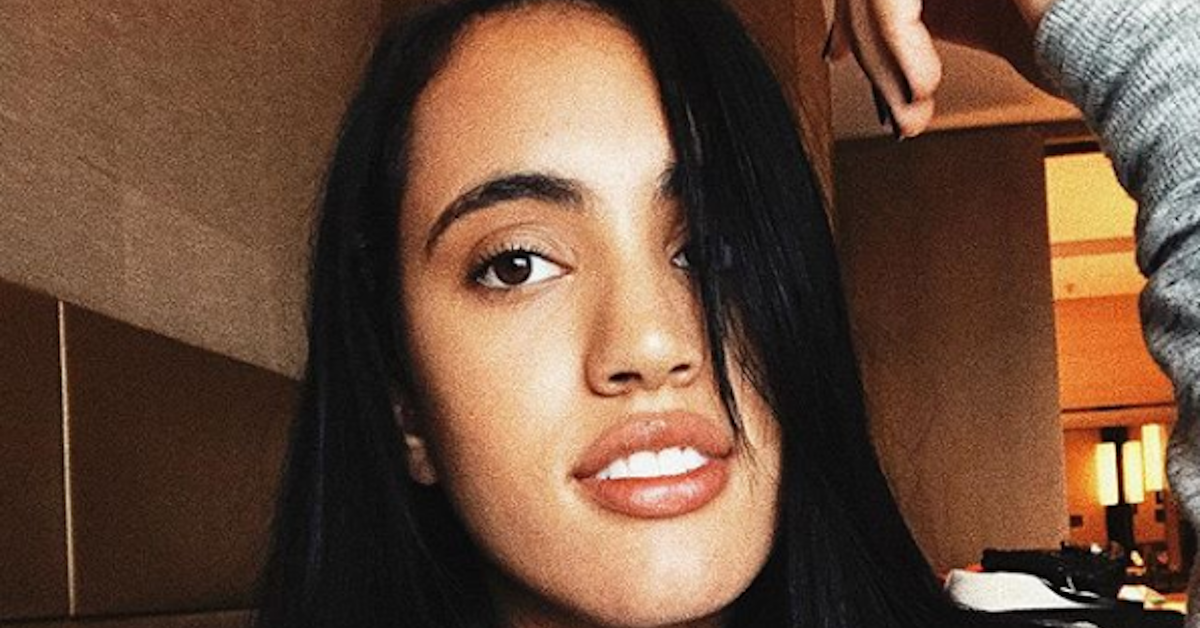 Simone Johnson Is Starting to Follow in Her Father's WWE Footsteps
By Mustafa Gatollari

Sep. 8 2020, Updated 2:06 p.m. ET
When it comes to professional wrestlers that have demonstrated tremendous crossover-entertainment, multi-platform potential, it's Dwayne "The Rock" Johnson. The most electrifying man in sports entertainment was a mega star in the WWE but always set his sights on film endeavors, branching out and doing a darn good job in many of his appearances. The Fast & Furious franchise became a mega blockbuster thanks to Dwayne.
And now, his daughter Simone Johnson is starting a WWE career of her own.
Article continues below advertisement
The Rock's daughter is training with the WWE.
It's been revealed that The Great One's progeny has officially signed with the WWE and has begun training full-time at the organization's performance center in Orlando, Florida. The 18-year-old was previously enrolled in the performance center program on a part-time basis, while finishing up high school, so she's been gearing up to furthering her family's pro-wrestling lineage for a while now.
Her great-grandfather, "High Chief" Peter Maivia, along with her grandfather Rocky Johnson, and her father, were all top talent in their day and are current WWE Hall of Famers.
Vice President of the WWE, Paul Levesque, AKA, Triple H, released a statement on Simone's future with the organization. He spoke to her work ethic, family history with the league, and portents of great expectations from the young performer.
Article continues below advertisement
"Simone Johnson's unbridled passion and incredible drive has earned her a coveted spot training with the elite athletes from around the world at the WWE Performance Center," he said. "Not only does Simone now have an opportunity to cultivate and display her passion for WWE within the Performance Center, but she'll carry on the tradition of her incredible family lineage while creating her own impact as WWE's first fourth generation Superstar."
Article continues below advertisement
How does The Rock feel about Simone's WWE future?
It's no secret that wrestling isn't exactly an easy business, which would lead many to think that The Rock really wouldn't want his daughter to get "wrapped up" in it. The WWE also has a reputation for being less-than-friendly to new employees. However, I'd imagine that they'd treat Simone a bit differently given her family's long-running history of proven success for the organization.
Article continues below advertisement
However Dwayne is incredibly supportive of his daughter's journey and has given off nothing but positive vibes regarding her foray into the world of sports entertainment. "I love the idea," he told Good Morning America. "We had this big conversation, she came with me to Hong Kong [and] Beijing. I said, 'Honey, whatever your passion is, I support that.' And wrestling was good to me, I started my career in Madison Square Garden. So, yeah, bring it on, she's going to be a champ."
What's interesting is that The Rock discussed Simone's interest in professional wrestling as early as 2018 with Good Morning America. To see that the 18-year-old has earned her spot at the WWE performance center attests to her passion for the game along with a sustained level of enthusiasm to accomplish her dreams.
Article continues below advertisement
Now that she's able to dedicate herself 100% to the study of sweet science of wrasslin', expect Simone to appear on a NXT show in a couple of years. Developing her own voice and identity that stands out from her father's will probably be the young woman's biggest challenge, but she is already earning the respect of longtime ring veterans.
Simone talked about the fear of living up to the expectations she's created for herself, and not comparing herself to others in her family.
Article continues below advertisement
"It means the world to me. To know that my family has such a personal connection to wrestling is really special to me and I feel grateful to have the opportunity, not only to wrestle, but to carry on that legacy." She also spoke to the same subject on a recent podcast: "Never meeting expectations that I have on myself, I think that would probably be the biggest [fear]."
"And just, like, not living up to the legacy. But then, when I think about that, I also feel like that's, in a way, comparing myself. So I feel like probably just never falling into that trap of comparing myself."
It seems like Simone has a good head on her shoulders and a realistic approach on how she'll carve out a fulfilling career for herself.