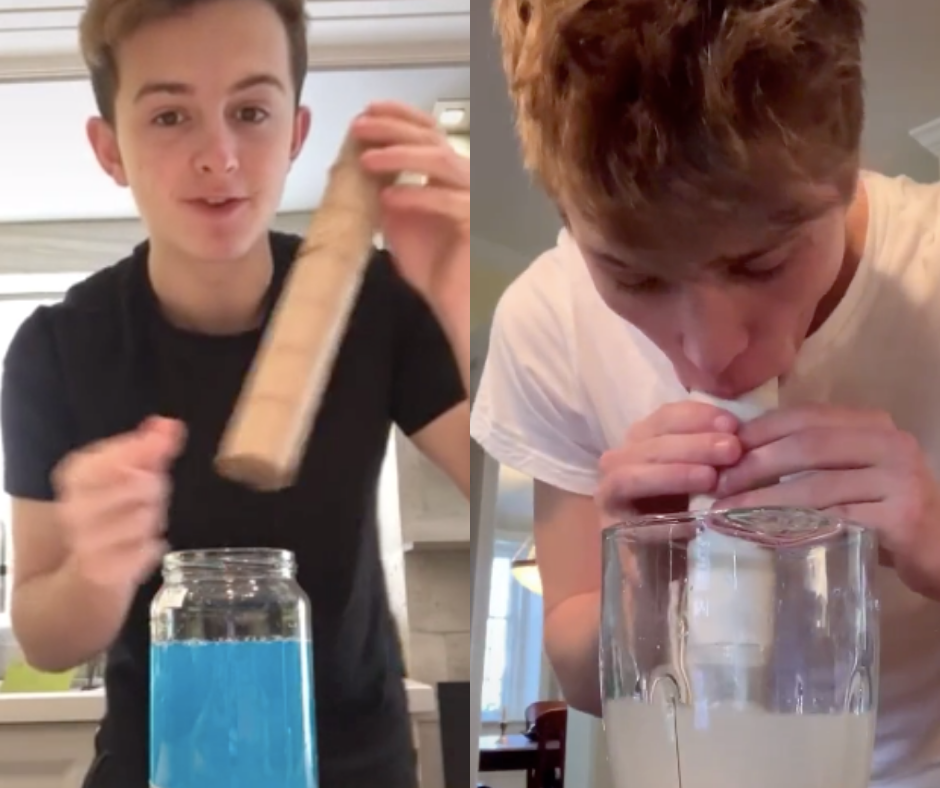 The Straw Challenge on TikTok Is All Sorts of Cringe
TikTok is the wild west of the internet. The insanely popular app is a breeding ground for viral dances, comedy routines, and off-the-wall memes. The app's user base is growing by the thousands daily, and with that, users have invented several "challenges" that have users doing all sorts of wild things, from learning quick and intricate dances to 'Flipping the Switch' with a friend.
Article continues below advertisement
Some of these challenges are all in good fun and are kind of funny while others are just plain cringe-worthy like The Straw Challenge. Ridiculously dangerous and also slightly suggestive, "The Straw Challenge," which has 14.7 million views on TikTok, has users scratching their heads about how something so weird even gets started. Boredom? Maybe. A slight sense of humor in this dumpster fire of a world? Possibly. In any case, we scoured the hashtag, #strawchallenge, to see what exactly this trend was about and how it works exactly.
Article continues below advertisement
What is The Straw Challenge?
The Straw Challenge was started by a TikTok user named Jordan Samm. Jordan, with clearly too much time on his hands, decided to take an entire bottle of Gatorade and pour it into a giant beer mug. From there, he takes his "jumbo mega straw," also known as a paper towel roll. He looks at the camera and tells his followers, "I am going to try to drink all this Gatorade in, like, one second."
Jordan then proceeds to put his entire mouth around the paper towel roll and attempts to suck up the Gatorade. He actually gets about half of it down until he completely gags on the rest and almost chokes. Seems really fun? Jordan totes over 100 thousand followers and over 9.4 million likes on TikTok so, of course, his multiple attempts at this ridiculous challenge caught on and others got in on the action.
Article continues below advertisement
The Straw Challenge seems near impossible.
It seems that while ambitious, this challenge is not possible to accomplish. In fact, the majority of users that try it seem to choke, cough, and gag after. Like popular TikTok creator, @Gabesco, who boasts 1.5 million followers. He attempted the challenge after seeing Jordan's posts and failed. He posted his attempt on TikTok with the caption, "@jordan.samm this drowned me."
Article continues below advertisement
Many others on the app have attempted the challenge to no avail. It seems like most can take one big breath, suck some of the liquid up through the straw and then promptly spit it back out while gasping for air. While most opt for Gatorade, water, or some sort of lighter beverage to make the challenge a bit easier. Some more adventurous TikTok users have opted for carbonated drinks like soda or beer. One TikTok user tried to do the challenge with beer and it looks at though he nearly kills himself.
Article continues below advertisement
After some popular users got a hold of the challenge, things took off.
Some popular TikTok creators, like verified user Aydon Holley, got a hold of the challenge and branded the viral trend more specifically as "the mega straw challenge." He attempted the challenge but captioned his attempt, "Idk how this challenge is possible" after failing miserably like the rest of the TikTok world.
Will this ridiculous trend keep going viral or will someone put a stop to the madness before someone really gets hurt? We hope the latter.