People Are Peering Into Thom Brennaman's Personal Life After Hot Mic Incident
Thom Brennaman has become a subject of controversy after his hot mic incident, and now people want to know more about his wife and kids.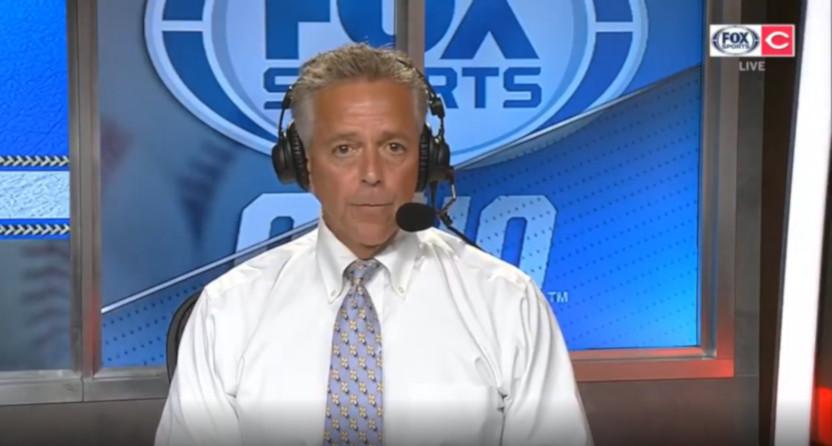 People getting caught on a "hot mic" is usually a plotline lifted straight out of a TV series. A sports personality getting caught on a hot mic literally lost their entire show on Eastbound & Down, and it was quite the doozy. But as the saying goes, life imitates art and there have been numerous situations IRL where hot mic fiascos actually occurred. Unfortunately for Thom Brennaman and his wife and kids, he's a recent example.
Article continues below advertisement
What did Thom Brennaman Say?
The Cincinnati Reds broadcaster didn't realize his microphone was on during a doubleheader between the Reds and the Kansas City Royals that saw the Ohio-based ball club win five runs to zero. A clip of his hot mic began circulating the internet where countless people began posting the audio online of Thom's gaffe. In the segment, it appears that Thom was in the middle of saying something, but the first part of the sentence wasn't heard.
What was captured, however, was the end of something Thom was saying, but that was clear and damning enough for anyone tuning in to hear: "...one of the f-g capitals of the world." His usage of the LGBTQ slur made not only baseball fans uncomfortable, but folks all over the internet.
Article continues below advertisement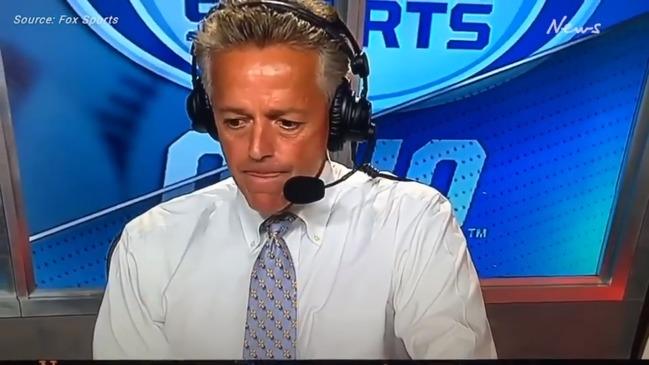 The Cincinnati Reds organization was quick to respond, stating that they were "devastated" by the "horrific, homophobic remark" made by Brennaman. They immediately suspended him from Reds coverage for the comment and said they would be "addressing [their] broadcasting team in the coming days."
Article continues below advertisement
They went on to send their "sincerest apologies to the LGBTQ+ community in Cincinnati, Kansas City, [and] all across this country, and beyond," adding that "The Reds embrace a zero-tolerance policy for bias or discrimination of any kind, and we are truly sorry to anyone who has been offended."
You can hear the clip for yourself in the YouTube clip below. Warning: NSFW / offensive language below.
Article continues below advertisement
Thom Brennaman's wife and kids have stayed silent on the issue.
The Reds broadcaster is married to Polly Brennaman and they have two children together: Ella Mae and Luke. After Thom's on-air incident, there's been a lot of search about his personal life and details, but his close family hasn't commented publicly on his usage of the slur and has stayed silent on social media.
Article continues below advertisement
Thom apologized for the comment during the broadcast, addressing the camera while doing so: "I made a comment earlier in the night that I guess went out over the air that I am deeply ashamed of. If I have hurt anyone out there, I can't tell you how much I say from the bottom of my heart I'm so very very sorry. I pride myself and think of myself as a man of faith..."
He then cut his apology short to comment on the action occurring on the field where the Reds hit another run in a stellar performance.
Article continues below advertisement
He then continued, expressing he knew his days were numbered in his current position: "I don't know if I'm gonna be putting on this headset again. I don't know how it's gonna be for the Reds, I don't know how it's gonna be for my bosses at Fox...I apologize to the people who sign my paycheck. For the Reds, for Fox Sports Ohio, and for the people I work with, for anybody that I've offended here tonight. I can't begin to tell you how deeply sorry I am. That is not who I am..."
Article continues below advertisement
The full video of his apology can be seen in the clip above, and has become a meme of sorts on the internet. There were plenty of reactions to his suspension, with many people believing he won't be back.
Article continues below advertisement
Article continues below advertisement