Most of the time, social media is used for reconnecting with friends and family, making plans, and sharing photos with loved ones. But two weeks ago, a Pittsburgh, Penn. teen named Katie Cornetti went viral upon recording a video and posting it to TikTok in a state of panic immediately after getting into a scary car crash.
A teen posted a TikTok video after getting into a car crash and reactions are divided.
So, why did the 16-year-old decide to post to TikTok after getting into a car crash, and continue to post videos joking about the incident in the following days? Apparently, posting to the app is far more cathartic than you might think.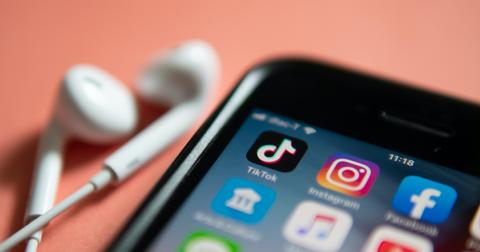 Here's what happened:
Katie's friend Marissa was driving, Katie was riding in the passenger seat, and another friend was seated in the back, according to IBTimes. Initially, everything seemed incredibly normal, but after making an especially sharp turn on a windy road, the car flipped and rolled over.
The girls later realized this freak accident may have occurred because one of Marissa's car tires was reportedly mounted improperly. Luckily for everyone involved, however, the girls were wearing seatbelts, and aside from a few bruises, each of them ultimately made it out virtually unscathed.
Although nobody was injured, the girls were initially trapped in the car.
Since the car flipped upside down, the three teens were trapped in this car until help arrived about 20 minutes later. Because of their rather uncomfortable situation (and due to the terrifying incident moments before), according to The Daily Dot, the girls decided to do something to simultaneously pass the time, and lift their spirits: post a TikTok video.
In Katie's post-car crash TikTok video, the three girls are seen lip-synching to Ashnikko's "STUPID." It's basically your typical TikTok featuring teen girls singing to a popular hip hop song... but they're upside down in a totaled car, with a completely smashed windshield. So really, not your average TikTok.
Some people were outraged that they were making light of a scary situation.
The video went viral on TikTok after famous YouTuber, Zane, of Zane and Heath, shared it to his millions of followers, according to Daily Mail. Several people who viewed the video accused the girls of "promoting being irresponsible" and of being spoiled brats because their attitudes didn't seem to reflect the situation.
Katie, however, takes offense to these accusations, telling BuzzFeed News filming the video helped them manage their stress while waiting for emergency services. Because in the end, panicking wouldn't have made the situation any better.
"There was not much we could do to make anything better, so that's what we decided to do. Literally the week before I got into a small car accident I was freaking out and crying — that was not the best way to cope with anything," Katie said.
The best way to overcome a bad experience is to stay positive — panicking only makes a scary situation worse. And if making a video lifts your spirits, why not make five? Wishing the best for Katie and her friends, and glad they made it out safe!