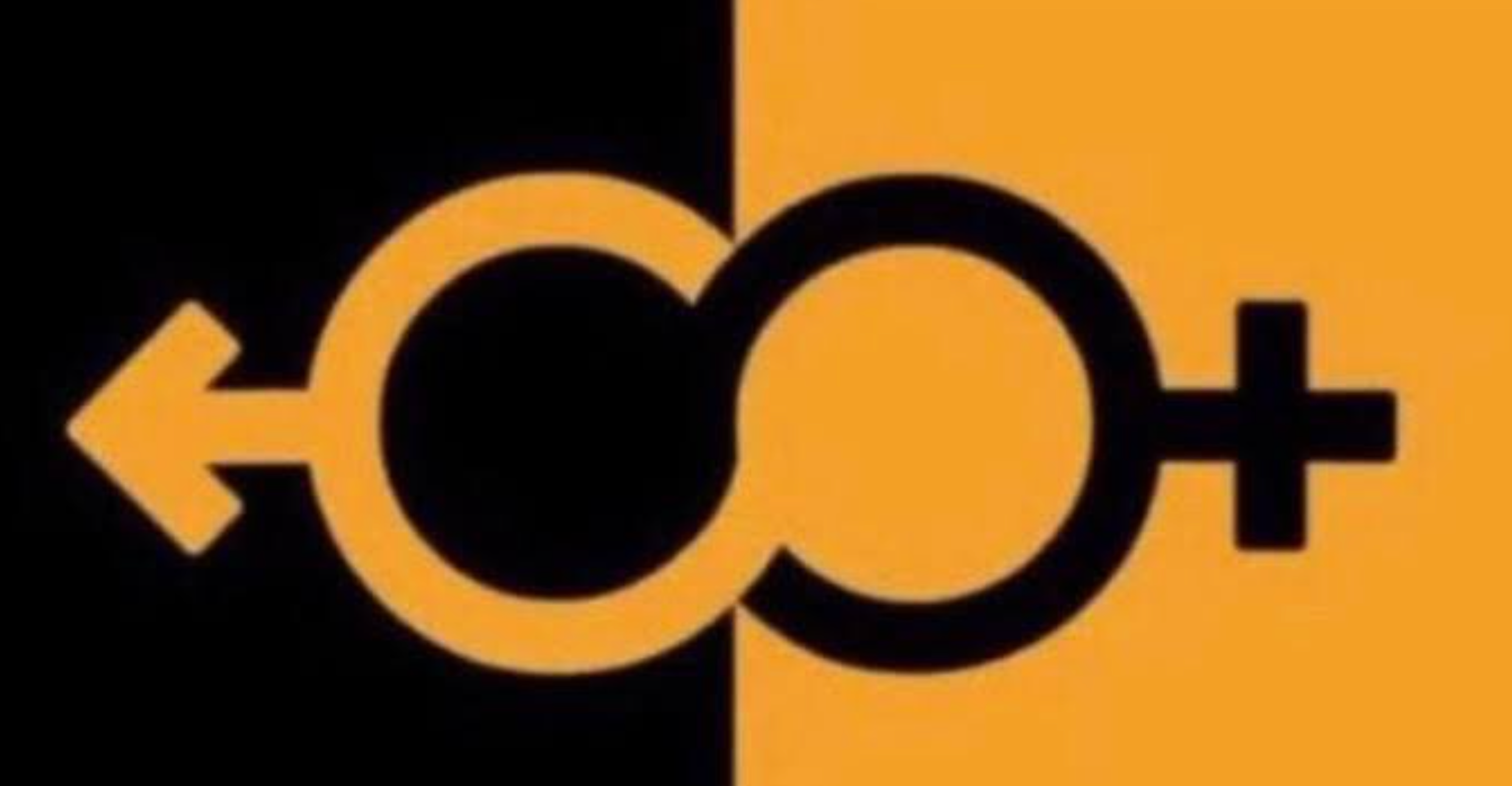 TikTok and Reddit Have Banned the Super Straight Movement From Their Platforms
Warning: This post contains transphobic comments made by individuals
It all started on Feb. 21, 2021, when TikTok user Kyle Royce labeled himself "super straight." He seemingly started a movement that was transphobic to begin with, but quickly attracted hate groups like neo-Nazis.
"Yo, guys, I made a new sexuality now, actually. It's called 'super straight,' OK? Since … I get called transphobic because I wouldn't date a trans woman," Kyle said in a now-deleted TikTok.
Article continues below advertisement
Kyle stated, "You know, they're like, 'Would you date a trans woman?' 'No.' 'Why? That's a female.' 'Uh, no, like, that's not a real woman to me. Like, I want a real woman.' 'No, you're just transphobic.' So now, I'm super straight. I only date the opposite gender — women — that are born women. So, you can't say I'm transphobic now because that's just my sexuality, you know?"
Obviously, his statements are factually incorrect and offensive. "Super straight" is not a sexuality.
Article continues below advertisement
As a result, Kyle got banned from TikTok.
Unfortunately, the "super straight" movement didn't just end with Kyle and his followers. It transformed into something much larger and more insidious. "SS" got picked up by groups on 4chan and Reddit and became linked to radical right-wing neo-Nazi groups which could be found in the subreddit r/superstraight (which got taken down as of March 11).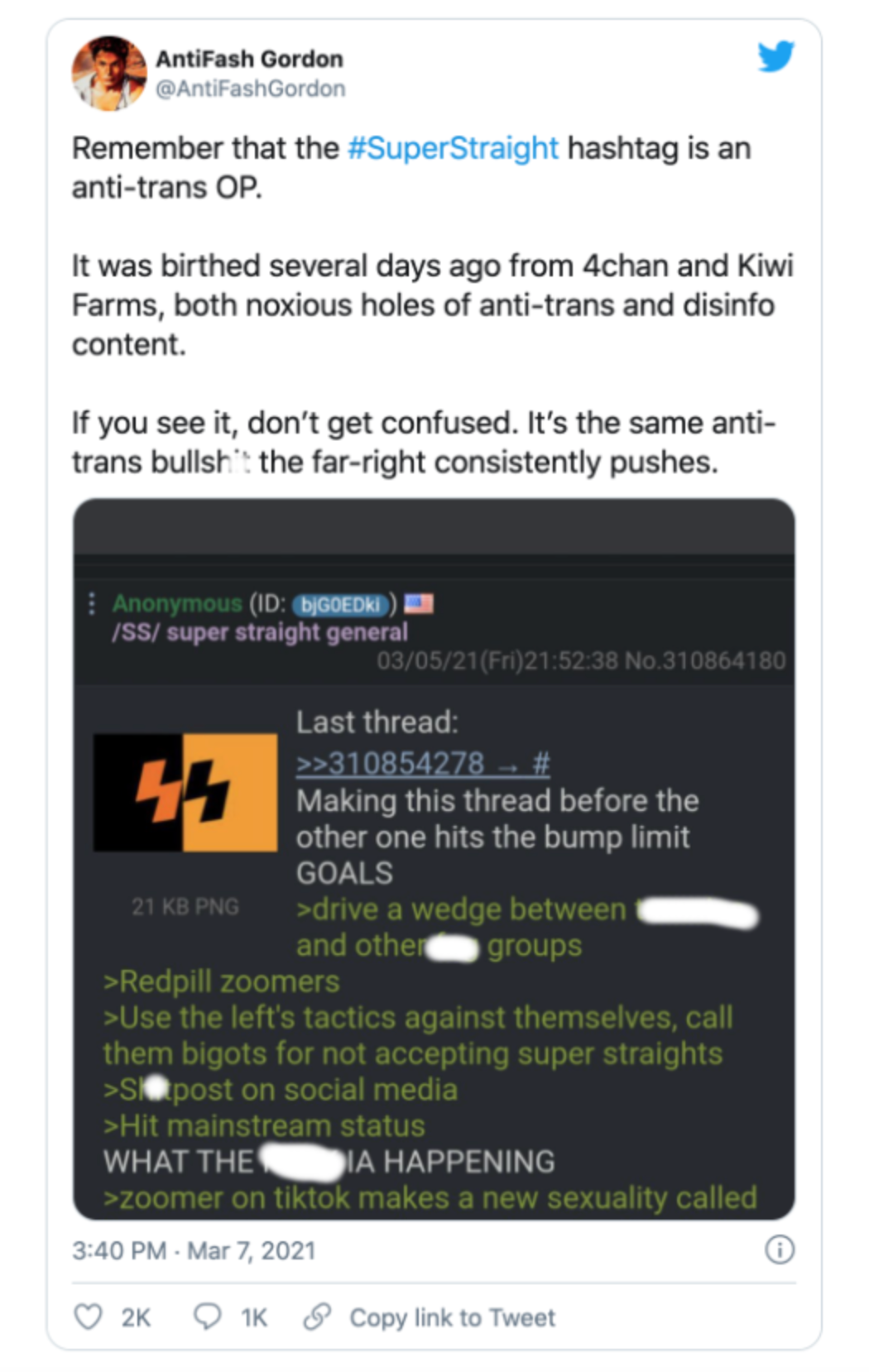 Article continues below advertisement
"SS" turned into the two bolts associated with Schutzstaffel, the symbol worn by the "elite" Nazi soldiers. Basically, neo-Nazis took what was already an incredibly offensive and hateful trend and trolled those people (also trolls) into associating themselves with Nazism.
Article continues below advertisement
TikTok has now banned the super straight movement.
TikTok is banning any post with the hashtag #SuperStraight on their platform (same goes for Reddit). This comes after TikTok took measures to ban Kyle Royce from the platform as well.
Unfortunately, the super straight movement seems to linger on Twitter, where handle @OGSuperstraight (described as "the supreme leader of the revolution") continues to spew hateful rhetoric that is transphobic.
In a statement to the U.K. PinkNews LGBTQ+ outlet, a TikTok representative stated, "community guidelines make clear that we do not tolerate hate speech or hateful ideologies." They added, "[W]e take action when issues are brought to our attention."
Article continues below advertisement
Other "members" of the "super straight" movement exist on Twitter, and they've continued sharing memes and statements aligning themselves with the trend's messaging.
Article continues below advertisement
Unfortunately, "super straight" has gone beyond the internet, and has seemingly infiltrated schools. One high school had to release an explainer on "super straight" and why it wasn't OK to consider yourself a part of that group.
"I don't have any words to say about this whole 'superstraight' bullsh*t but my school said something important about this and I think all of you should know about it," one person shared.
It's currently unclear if Twitter is making any steps toward banning super straight hashtags, but hopefully with platforms like TikTok and Reddit helping suppress this alarming transphobic trend, the movement will disappear on its own.