TikTok's Magnificent Cheese and Charcuterie Boards Will Inspire Your Next Happy Hour
TikTok users are inspiring happy hour spreads everywhere by posting their glorious cheese and charcuterie boards — check out our favorite ones.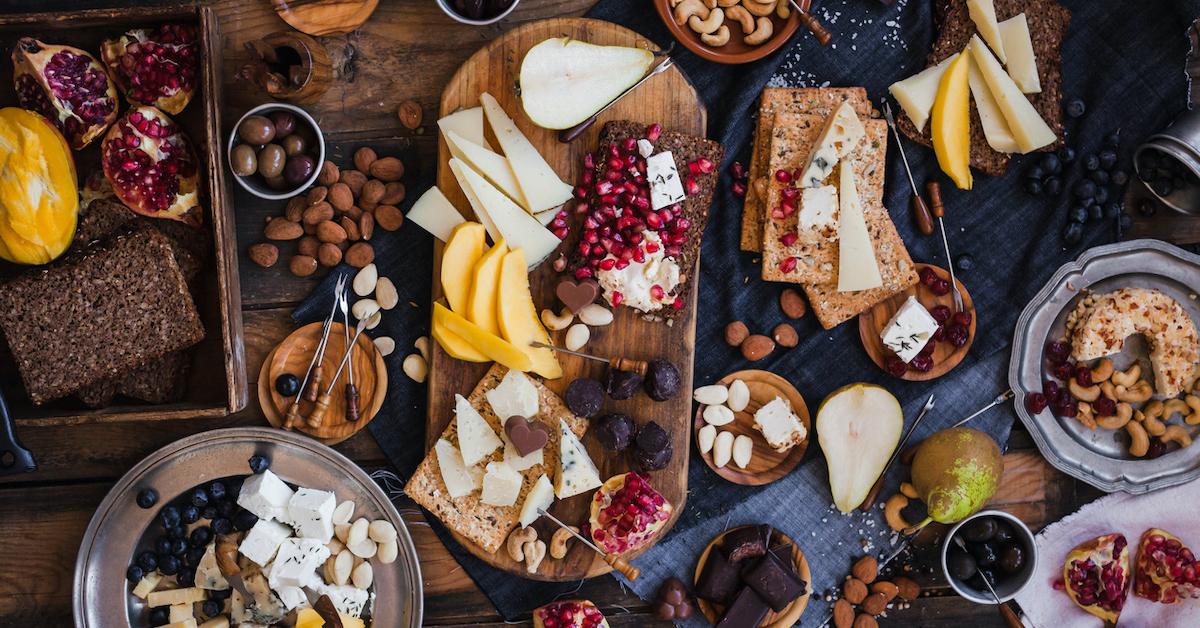 Happy hour is undoubtedly the greatest hour of the day, and while drink selection is incredibly important, everyone knows that no happy hour is complete without some truly next-level snacks. And if you're seeking out the best hors d'oeuvres to complement your 5 p.m. drinks, look no further than TikTok — the app is full of cheese and charcuterie board inspiration.
Article continues below advertisement
First, we have this cute n' colorful cheeseboard
As long as you've washed your hands like @syddrigofit did, we have absolutely no qualms with you copying their colorful and eclectic cheese platter. The way they lined up their cheeses, in relation to other tasty snacks like pickles and meats, is truly inspirational, and like they always say, imitation is the greatest form of flattery.
This chicken tender spread will save you tons
Because buying a bunch of fancy meats and cheeses can certainly rack up quite a bit of cash, there is definitely nothing wrong with going the cheap route, and designing your charcuterie board around chicken nuggets. This may be considered "the poor man's charcuterie," but hey — it's seriously mouth-watering nonetheless.
Article continues below advertisement
J. Biebs was probably singing about this *yummy* charcuterie board
Between all of that salami, some tasty looking bries, and a slew of colorful fruits, there is definitely no denying that this charcuterie board is — in fact — the definition of "yummy." The Wilking sisters certainly had the right idea when organizing this magnificent spread, ultimately slaying the happy hour game.
Article continues below advertisement
The heart-shaped brie really tops this one off
Focusing your cheese and charcuterie boards around a statement piece — like the heart-shaped brie in the TikTok video above — is honestly pretty perfect. Seriously, what better way could you profess your love to someone than presenting them with this drool-worthy selection of meats and cheeses?
Article continues below advertisement
This mini cheeseboard is fit for a (rodent) king
Those hoping to treat their beloved furry friends to something special should look no further than this mini cheese and charcuterie board — with little slivers of fruit, bite-sized cuts of salami, and small crumbs of cheese, it's truly the perfect snack for your beloved little buddy.
Article continues below advertisement
Because y'all know Trader Joe's brings the party
This cheese and charcuterie board solely consists of Trader Joe's products, and I — for one — am totally inspired right now. The grocery chain offers cheap versions of everything you could ever want, from brie, to rosemary salted almonds, manchego, and calabrese.
Article continues below advertisement
Vegan party platters are where it's at
Who says vegans can't have fun at happy hour, too? This gorgeous platter is completely dairy-free and meatless, substituting cashew cheese and almond crackers for the normal fare. It's truly an undeniably satisfying accompaniment to that hefty glass of pinot.
Article continues below advertisement
TikTok's vast selection of cheese and charcuterie boards are seriously going to change your hosting game — happy hour truly couldn't come sooner.